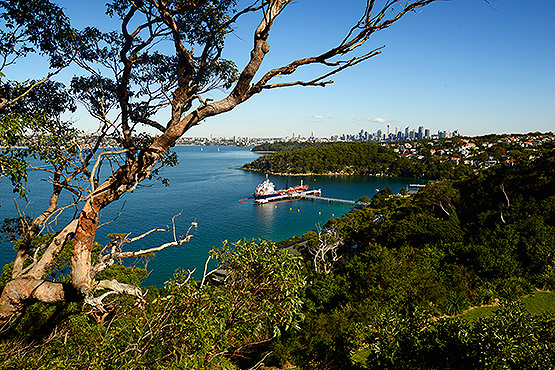 The Chowder Bay to Balmoral Beach walk offers great views of Chowder Bay, Sydney Harbour and the Sydney CBD. Picture: © Sydney.com.au → More pictures below

Chowder Bay a starting point for
a picturesque Middle Head walk
GETTING THERE
The 244 bus service links Wynyard Station in Sydney's CBD to Chowder Bay.
You also have the option of doing this walk continuing on from the Bradleys Head to Chowder Bay walk.
RETURN
A 245 bus service runs from Raglan Street (near interection of The Esplanade) at Balmoral Beach to Wynyard in the Sydney CBD.
This 1.5km Chowder Bay to Balmoral Beach Walk is the second of three harbourside walks that skirt around the shores of Middle Harbour. It follows on from the Bradley Head to Chowder Bay Walk.
This walk takes you around the point at Middle Head before it abruptly crosses Middle Head Road and sweeps down to Balmoral Beach in Middle Harbour. So you in fact walk from one harnour to another. Although this walk is an easy walk for most people, it's not suitable for people with respiratory problems as there is a steep section at the start.
The walk starts at the end of Chowder Bay Road, at the buildings that once formed part of the Submarine Mining Corps, whose servicemen attached mine-laden cables from Chowder Bay to the southern side of Sydney Harbour. The buildings are now under the control of the Sydney Harbour Federation Trust and leased for commercial purposes.
Ripples, a restaurant and cafe, is set up in one of the old buildings. It looks out on Chowder Bay and Clifton Gardens Beach and is one of Sydney's secret cafes and restaurants hidden away at various points around harbours and bays - eateries that are known to locals but mostly missed by visitors.
Restaurants and mine laying aside, Chowder Bay has a darker past as it was once the site of a whaling station. The only building that exists from whaling times is The Barn, some distance away in Avenue Road, Mosman. Ironically, it is now home to a Scout group.
The walk is posted as Bungaree's Walkway. If you're walking on from Bradley's Head, walk to the end of the Clifton Gardens beach and up past the small kiosk. This leads up to a roundabout near the start of the walk.
If, however, you are travelling to Chowder Bay via the 244 bus service, walk to the end of Chowder Bay road where you will find the Bungaree's Walkway sign near a roundabout. There is plenty of parking in quieter times if you're coming by car, but be aware that on weekends in the summer months parking spaces are at a premium. Parking fees apply.
The first stage of the Chowder Bay to Balmoral Beach Walk is on fairly level ground and you get to look back at Chowder Bay and its wharfs. Soon the walk ventures up a steep concrete path and along a high fence that runs along government buildings. As you look back, you will notice the higher you climb the smaller Chowder Bay becomes - such is the steepness of this section of the walk.
Soon you are above the huge tanks that stored fuel for the submarines and the Sydney CBD can be clearly seen in the distance beyond Chowder Head.
The vegetation along the walking path at this point gets thicker and there are only filtered views of the harbour. Soon the path becomes more attractive as dense vegetation gives way to lush, green ferns. It's very pleasant walking on level ground.
Soon you come to Gunner's Barracks Restaurant and Tea Room (another secretive eatery) at Georges Head. There is always the option of stopping here for morning or afternoon tea, or for lunch. The restaurant boasts superb views of Sydney Harbour.
Walking on you quickly come to Georges Heights Lookout, which is part of Mosman's Headland Park, regarded as one of Sydney's most beautiful parks.
The 180-degree views - from the Sydney CBD to South Head - are spectacular. There are many vantage points to sit and soak up the sun and watch ships, boats and ferries pass on the harbour. You're bound to see the Manly ferry a number of times on this walk.
Walking on from Georges Heights Lookout the path is much more open and harbour views more pronounced. There are seats placed at different vantage points.
Walking on, you notice buildings and large sculptures in parkland on the left of the path. These are home to the Headland Park Artist Precinct. You can spend some time here and even have a coffee or lunch at a small cafe called Frenchies.
A little further along a series of artillery fortifications and tunnels appear, with one huge gun still in place and pointing out to sea. The tunnels date back to 1870 and the Harbour Trust runs tours through them on the first Sunday of every month. (Bookings essential, phone 02 8969 2100.)
At this point there are clear views of North Head and Manly Cove. The path is now a mix of concrete sections and gravel, with seats appearing fairly often.
The path soon veers to the left and crosses Middle Head Road before sweeping down a series of timber staircases to Balmoral Beach. As a fitting end to a memorable walk there is a delightful restaurant and cafe called The Boathouse situated beside a wharf on the beach.
The old buildings of the former Submarine Mining Corps, which was based at Chowder Bay. Picture: © Sydney.com.au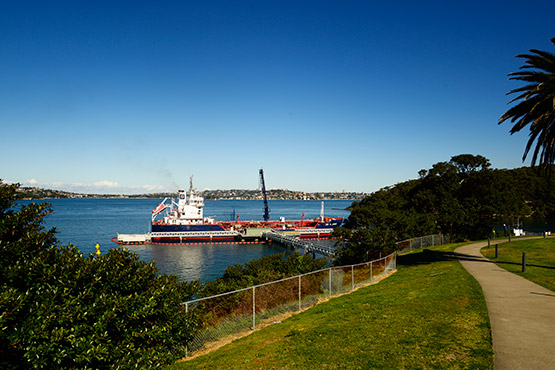 The walking path winds itself away from Chowder Bay. Picture: © Sydney.com.au

Soon the path becomes a steep climb up around a fenced-off government area. Picture: © Sydney.com.au

Above the government buildings and looking down on Chowder Bay.. Picture: © Sydney.com.au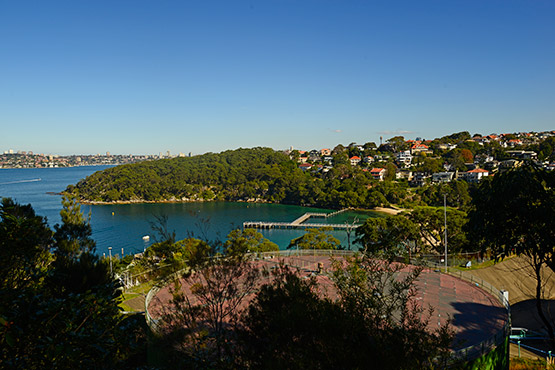 As the path reaches a higher point you are able to look back on the huge fuel tanks used by the former naval base. Picture: © Sydney.com.au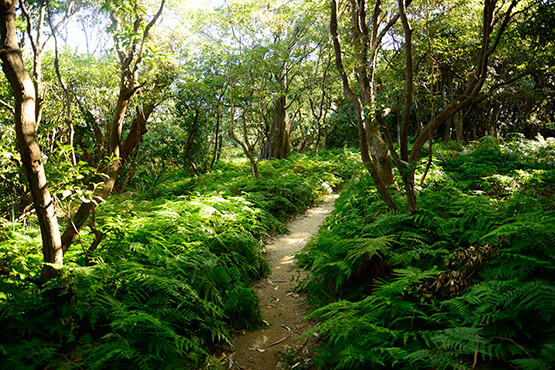 Soon the path is covered on both sides by lush ferns. Picture: © Sydney.com.au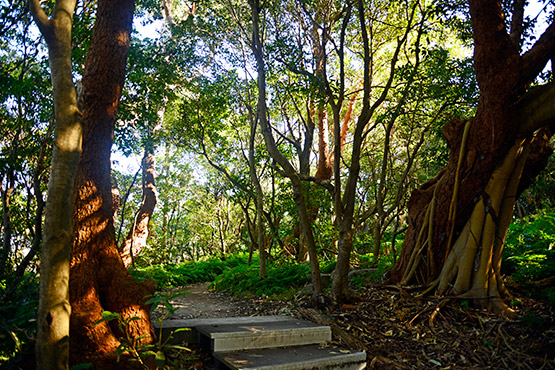 Gum trees add to the splendour of this part of the walk. Picture: © Sydney.com.au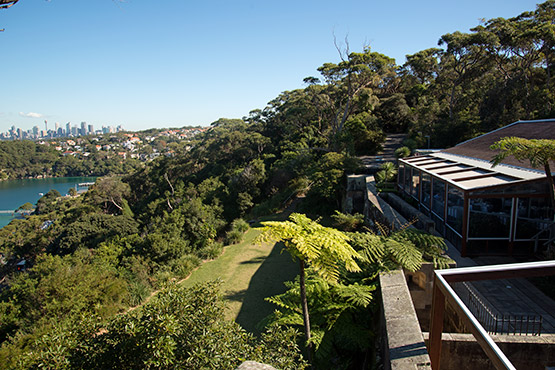 The walking path skirts around Gunnars Barracks restaurant and tearooms at Georges Head. Picture: © Sydney.com.au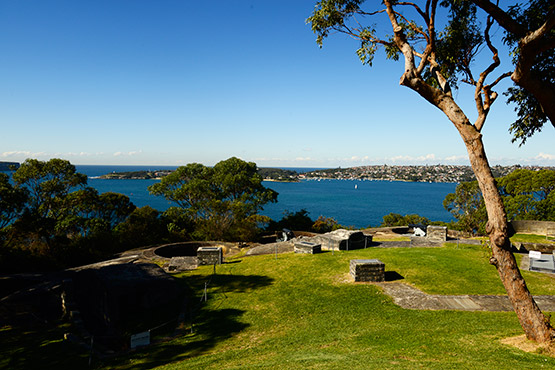 The Georges Head reserve with the remains of its artillery fortifications is the half-way point in the walk and a perfect location to stop and enjoy harbour views. Picture: © Sydney.com.au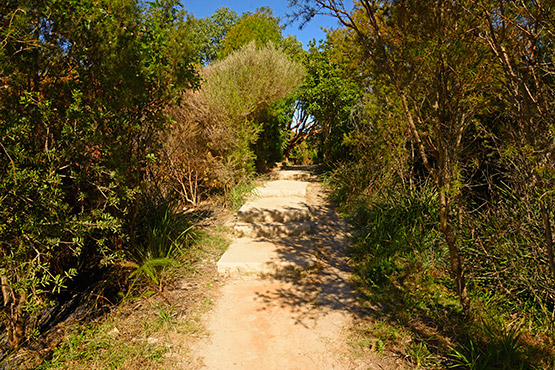 After leaving Georges Head behind vegetation along the path becomes thicker. Picture: © Sydney.com.au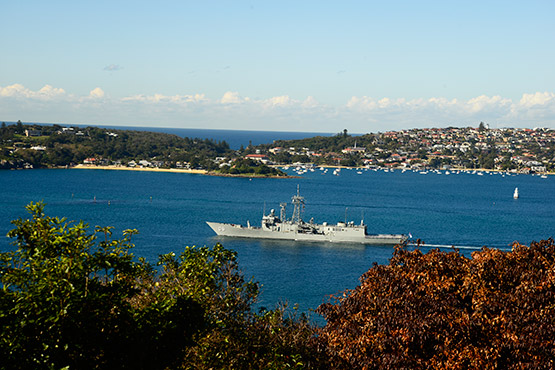 A view from a clearing shows a Royal Australian Navy warship steaming past Camp Cove and South Head. Picture: © Sydney.com.au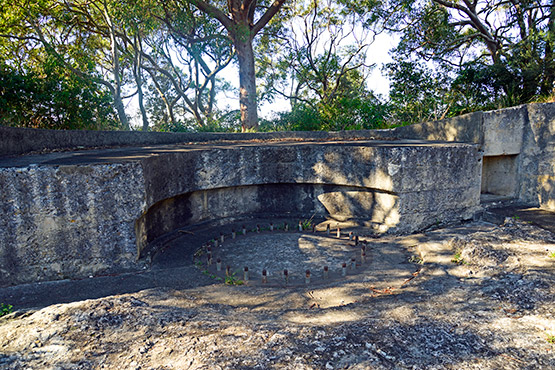 The walking path passes by Headland Park, which contains the relics of Middle Head artillery fortifications and the tunnels that housed the magazine. Picture: © Sydney.com.au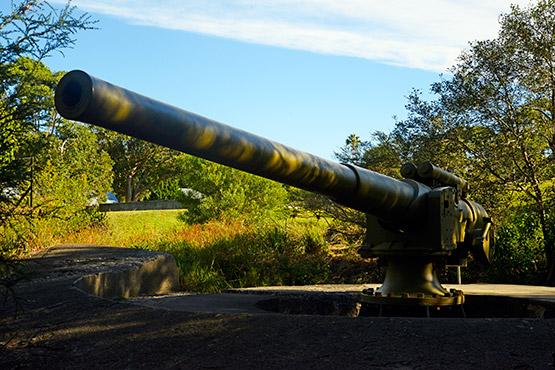 A huge gun is aimed out across the walking path towards Sydney Heads. Picture: © Sydney.com.au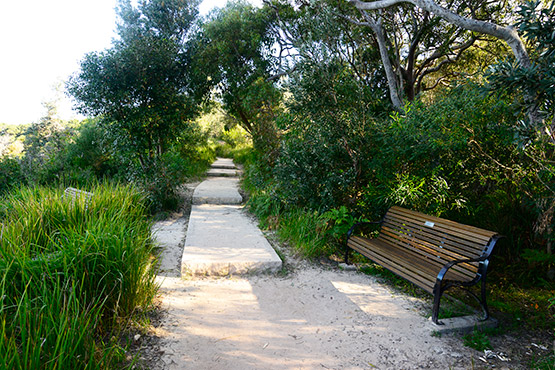 It's easy walking now on concrete and gravel parks with plenty of seats along the way. Picture: © Sydney.com.au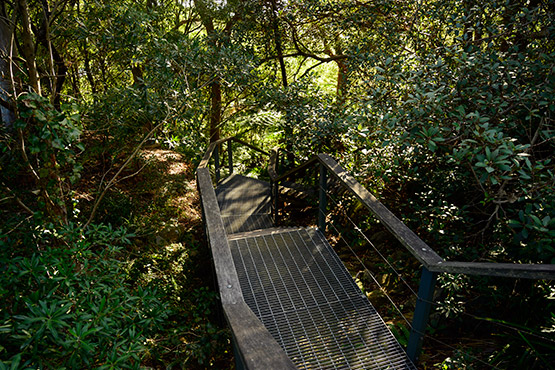 The path crosses Middle Head Road and sweeps down to Balmoral Beach via timber boardwalks and stairs. Picture: © Sydney.com.au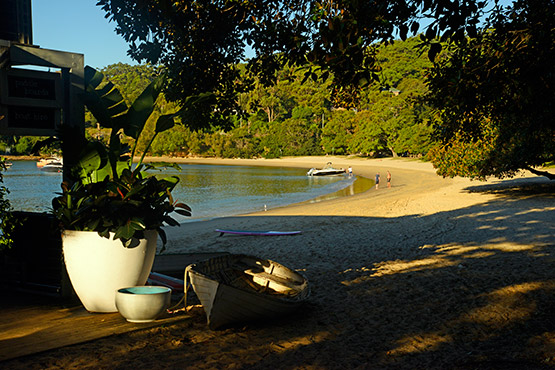 Balmoral Beach, where the walk ends. Picture: © Sydney.com.au