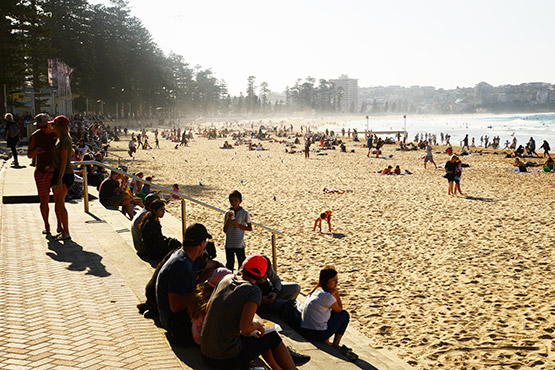 It's just after 10.30am on a Saturday in May and already Manly Beach is buzzing with activity. It's only two weeks before the start of winter, but you wouldn't know it going by the number of people on the beach. Picture: © Sydney.com.au
Manly the pick of Sydney's surf beaches
Bondi Beach has the fame and is an icon for international tourists, but Manly Beach takes our vote for best Sydney surf beach for visitors.
Manly's easy access via ferry from Circular Quay, the beach's position adjacent to the The Corso and its many cafes, restaurants, pubs and shops, the aesthetic beauty of the beach promenade and its row of Norfolk pines, and the added bonus of a delightful walking path to Cabbage Tree Bay at the southern end of the beach all make Manly special.
There is so much to do in the area surrounding the beach that a day out at Manly ends up being much more than a visit to the beach.
On weekends in the summer months the beach is blanketed with tourists and locals alike. If you've wanted to learn how too surf, you can learn here. Local businesses rent surfboards and provide surfing lessons. Most beachgoers, however, are content to lie on the beach and soak up the sun. And for those not used to the hot Australian sun, the towering pine trees provide plenty of shade.
Excellent lifesaving facilities are in place to make the beach a safe venue even for the inexperienced, and although Manly Beach is an ocean beach the conditions for swimming are good.
Drifting away from the beach, there are shops to explore in The Corso and any number of sidewalk cafes to laze about in. For the more adventurous, a "pub crawl" through the large smattering of bars on Manly Wharf is an adventure in itself.

Beaches in Australia once used to be a male domain. Now the women have taken over, making surf beaches like Manly every bit their own - Girls day out on Manly Beach

The Australian Open of Surfing is held at Manly Beach in February each year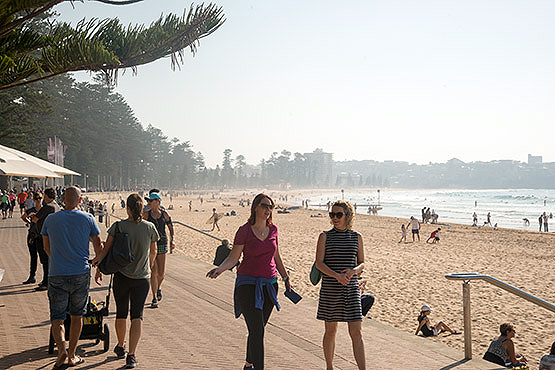 You don't have to lie on the sand to enjoy a day out at Manly Beach.
Picture: © Sydney.com.au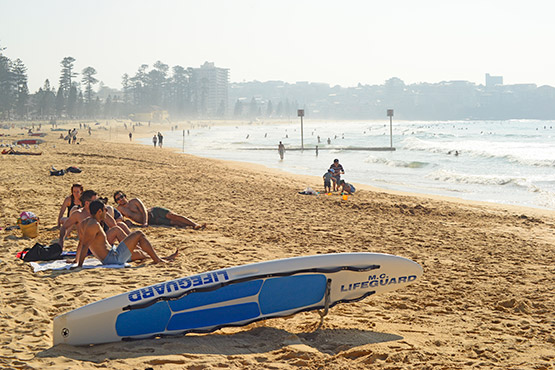 Soaking up the sun. Picture: © Sydney.com.au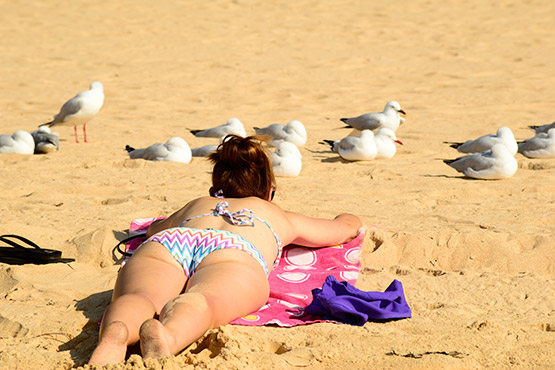 Seagulls are a girl's best friend. Picture: © Sydney.com.au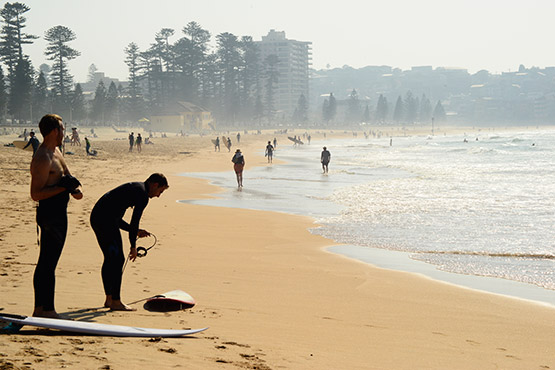 Looking forward to a morning surf at a quieter part of the beach.
Picture: © Sydney.com.au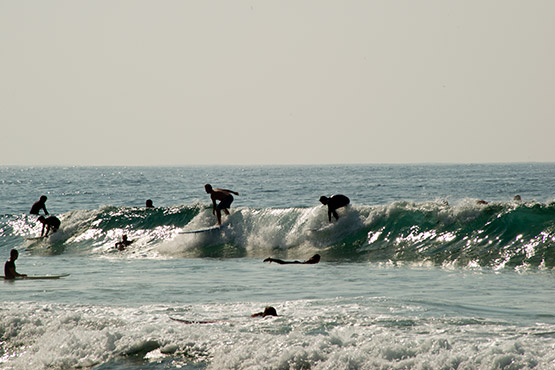 It's getting crowded out there. Picture: © Sydney.com.au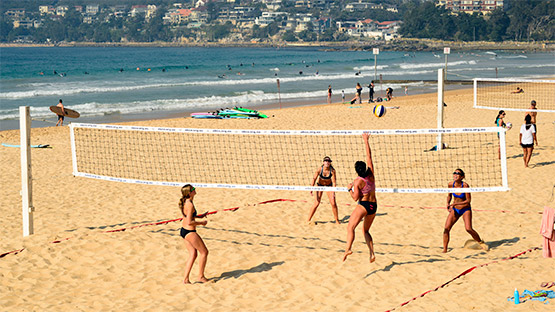 Competition is fierce among this group of volleyballers at one of the six volley ball courts mapped out out in the sand on Manly Beach for weekend play.
Picture: © Sydney.com.au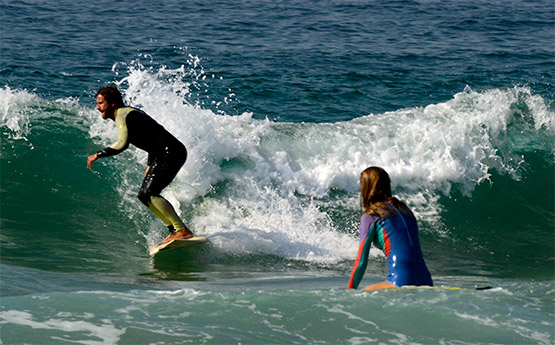 Easy does it. Picture: © Sydney.com.au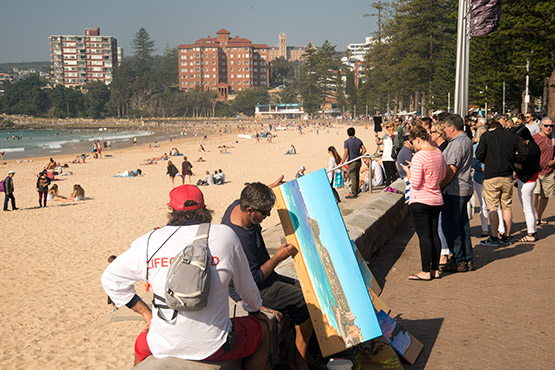 A beach artist applies the finishing touches to his latest masterpiece.
Picture: © Sydney.com.au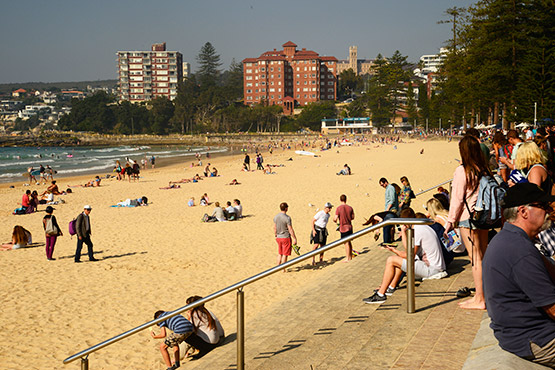 New arrivals scan the Manly Surf Club end of the beach for a spot to set up for the day. Picture: © Sydney.com.au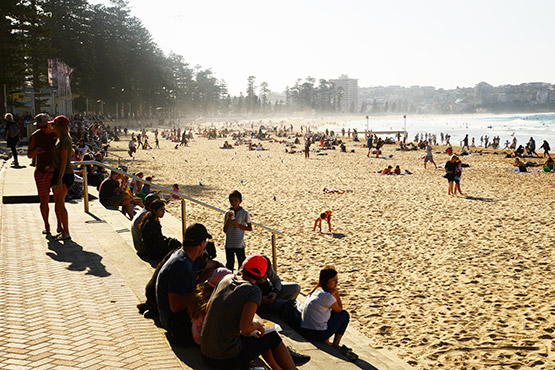 It's 11am and other parts of Manly Beach are buzzing with sun worshippers.
Picture: © Sydney.com.au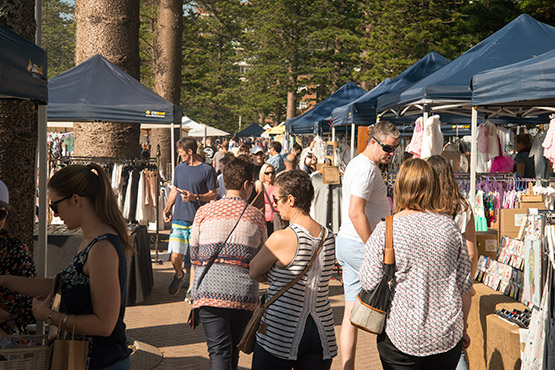 A weekend market draws more visitors to Manly Beach. Picture: © Sydney.com.au