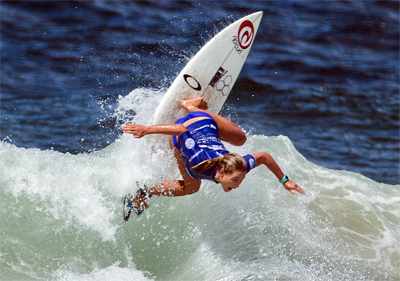 The type of surfing that won Nikki Van Dijk the winner's crown in the 2016 Aussie Bodies Women's Pro final. Picture: ©owenphoto.com.au
Australian Open of Surfing at Manly
The Australian Open of Surfing is held at Manly Beach each year in February and/or March.
The event sees some of Australia's and world's finest men and women surfers compete over a week's competition in QS6000 men's and women's WSL-sanctioned surf contests, and two men's and women's world junior star-events.
Stars competing include Leonardo Michael Wright, Garrett Parkes, Nikki Van Dijk, Kobie Enright, Jess Grimwood, Bronte Macaulay and Laura Enever (Australia) Fiovaranti (Italy), Deivid Silva and Tomas Hermes (Brazil), Torrey Meister, Malia Manuel and Zoe McDougall (Hawaii), Sofia Mulanovich (Peru) Arashi Kato, Hiroto Arai and Ren Hashimoto (Japan), Brett Simpson and Quincy Davis (USA). Top juniors include Australia's Isabella Nichols, Lucas Silveira (Brazil)
The event also includes world-class skateboarding and live music and is now regarded as a lifestyle festival.

2016 Australian Open of Surfing - Round 3


2016 Australian Open of Surfing - Finals


2016 Australian Open of Surfing - Winners