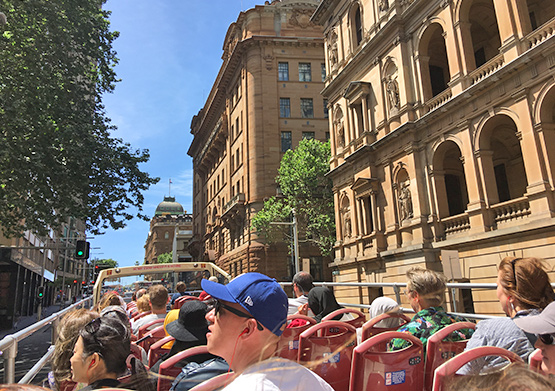 The hop-on hop-off bus is a familiar sight in most cities around the world and Sydney is no exception. Picture: © Sydney.com.au
Best way to see Sydney is to climb
aboard the hop-on hop-off bus

The best way to orientate yourself with Sydney's sights is to ride the Hop-on hop-off bus. You can get off at any of the 34 designated stops, spend as much time as you like sightseeing, and then hop on the next bus that comes along. You can hop on and off as many times as you wish.

You can purchase a ticket that's valid for 24 hours or 48 hours, and buses run every 15-20 minutes.
The double-decker buses offer passengers 360-degree views of the city from the open top, which means great photo and video opportunities without leaving your seat.
There's professional audio commentary in English or six other languages plus a children's channel. Complementary earphones are available from the driver.
The Sydney Hop on hop off bus service is divided into two separate tours: the Sydney Tour and the Bondi Tour. Tickets can be used on both tours.
The Sydney Tour stops at 24 points of interest in the CBD and connecting locales. It starts and finishes at Circular Quay, which is Sydney's main ferry terminal. From Circular Quay you can access popular parts of Sydney Harbour via the large number of ferry services that operate throughout the day. (Note: ferry rides are not included as part of the bus ticket.)
The Bondi Tour starts at Central Railway Station and stops at 11 places of interest including Bondi Beach.
The two tours overlap at three stops, so you can change tour routes.
The full journey on either service is 90 minutes.
CITY TOUR STOPS
1. Circular Quay (Alfred St, cnr Pitt St)
2. Elizabeth Street (Elizabeth St, near King St)
3. Cook & Phillip Park (College & William St, opposite Australian Museum)
4. William St (100 William St, between Crown and Palmer Sts)
5. Kings Cross (Darlinghurst Rd, outside Kings X train station)
6. El Alamein Fountain, (Macleay St, opp El Alamein Fountain)
7. Woolloomooloo Bay (Cowper Wharf Rd, outside Woolloomooloo Hotel)
8. Sydney Opera House (Macquarie St, next to underpass)
9. Botanical Gardens (Macquarie St, Crystal Palace Gate)
10. State Library (Macquarie St, opposite Hunter St)
11. Hyde Park (Prince Albert Rd)
12. Central Station (Eddy Avenue, Bay 5)
13. Power House Museum (Harris St, cnr Macarthur St)
14. Sydney Fish Market (Harris St, cnr Pyrmont Bridge Rd)
15. The Star (Pirrama Rd, opp casino steps)
16. Maritime Museum (Murray St, opposite Pyrmont Bridge Hotel)
17. Convention Centre - Stop Temporarily Closed
18. Chinese Gardens/Imax Theatre (Wheat Rd, beside IMAX theatre)
19. Sea Life Sydney Aquarium (Wheat Rd, under foot-bridge)
20. King St Wharf (Erskine St, cnr of Shelly St)
21. Barangaroo (Hickson Rd, access to Barangaroo Reserve)
22. Dawes Point (Hickson Rd, nr Ives Steps Wharf)
23. The Rocks (George St, cnr Hickson Rd)
24. Circular Quay (George St, cnr Alfred St, opposite DFS Galleria)
BONDI TOUR STOPS
A. Central Railway Station
B. Chinatown (627 George St, near corner of Gouburn St)
C. Sydney Tower Eye (Bathurst St, between George St & Pitt St)
D. Cook and Phillip Park (College & William St, opposite Australian Museum)
E. William Street (100 William St, between Crown and Palmer streets
F. Paddington Town Hall (Oxford St)
G. Centennial Parklands (Oxford St, between Jersey Rd and Queen St, Paddington)
H. Bondi Beach (Campbell Parade, near corner of Roscoe St)
I North Bondi (Campbell Parade, opposite Brighton Boulevard)
J. Rose Bay (735 New South Head Rd)
K Double Bay (401 New South Head Rd, next to the Commonwealth Bank)
Note: Sydney and Bondi Tours interchange at the following stops:
Central Station
Cook & Phillip Park
William Street
Ticket prices*: (24-hour, 48-hour)
Adult $45.00, $65.00
Children (5-16) $25.00, $40.00
Student/Backpacker $35.00, $50.00
Senior $30.00, $45.00
Family (2 adults + 2 children) $120.00, $180.00

*Ticket prices are in Australian dollars and are inclusive of GST

Explorer Sydney and Bondi Bus terms and Conditions