Sydney Aquarium, Darling Harbour, takes you on a tour of the seas and oceans surrounding Australia's vast coastline and the rivers, waterways, estuaries and swamps of our large and diverse yet dry land mass.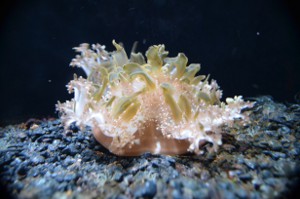 Coral & Aneome, Sydney Aquarium
Situated in Darling Harbour the aquarium houses over 13,000 animals from over 700 species of Australian sea life and water dependent mammals.
Joined by near to 60 metres of underwater tunnels, the Sydney Aquarium presents the animals in 14 themed zones. The zones include habitats for animals that reside in: Sydney Harbour and along the shoreline, in mangrove swamps, shark habitats and habits, fresh water streams and billabongs, the Great Barrier Reef and rockpools, We get up close to sharks, crustasians, rays, penguins, seahorses, octopuses, jellyfish, turtles and dugongs
Six million litres of water house this varied and colourful exhibit. See these animals up close, as they swim about in their "near to natural" environments and observe them as they look back at you and as you wonder about them, they're probably doing the same of you. Captain Nero has nothing on this!
And you can't leave Sydney without first visiting the Taronga Zoo, one of the most picturesque zoos in the world.