Walks in Sydney
Pathways hug the harbour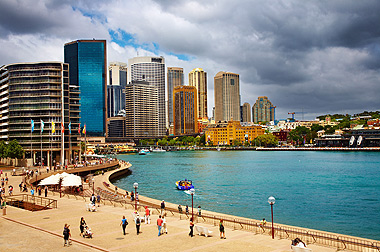 THE BEST WALK IN SYDNEY. Start at the Royal Botanic Gardens and walk to the Opera House, go on to Circular Quay and The Rocks, and you then have the option of continuing on and walking across the Harbour Bridge. The location pictured above is approaching Circular Quay and the CBD, having just left the Opera House behind.

IF YOU'VE got time on your hands, walking is the best way to see the main attractions of Sydney.
Most of the main tourist sights - the Harbour Bridge, Circular Quay, Opera House, Hyde Park Barracks Museum, Darling Harbour, The Rocks and the Royal Botanic Gardens - lie on the perimeter of the central business district and are within easy walking distance from the CBD. You could see all these attractions in two or three days. With a spring in your setep, you could probably see them all in a day.
If you're staying in the city, or coming into the city by public transport, you'll have no trouble walking to any of the above.
Other attractions, such as the Centerpoint Tower, Queen Victoria Building and dozens of historical buildings are within the CBD and even easier to get to.
You don't have to be all that fit as you can always stop at any point and hop on to a bus, or pop down into a subway, or even catch a tram. Hop-off Hop-Off buses travel in a loop around most sights, so if you don't feel like walking you can pay a small fee and hop on the red bus.
For those who like a stroll, here are some of the walks you can engage in.
If you've only got two or three days in Sydney and want to make the most of it, this is the walk to do. This walk covers Darling Harbour, The Rocks, the Sydney Harbour Bridge, the Sydney Opera House and Royal Botanic Gardens. Much of Sydney's sights and attractions are based around the CBD and in three days you can see lots.
Sydney has a number of harbourside walks that skirt around various points of the harbour and offer breathtaking views of the harbour.
Coastal walks
The walks along Sydney's ocean suburbs are truly spectacular.
Spend a day walking the through the streets and back lanes of the historic Rock area and discover more about the way people lived in the times of the early colony of Sydney.
The iconic Sydney Harbour Bridge has a pedestrian walkway where you can get some unparalleled views of the Sydney Opera House and Sydney Harbour's other attractions ... all for free!