---

Cruise boats and ferries cut across each other's path as they go about their business on the harbour. Photo: ©Jiri Foltyn/123RF.COM
Sydney Harbour cruises
To visit Sydney and not venture out onto the harbour would be to deny yourself of one of the world's great travel experiences. The beauty and splendour of Sydney Harbour is something that has to be experienced first-hand - no picture or video can do justice to it.

Sydney Harbour is in fact just one of a number of bodies of water that form Port Jackson, but it is the main - and most beautiful - waterway. The other waterways, which are accessed from Sydney Harbour, are Middle Harbour, North Harbour and Lane Cove, and Parramatta Rivers.

The Sydney Harbour Bridge and Sydney Opera House are the best known faces of Sydney Harbour, but they are just two of the many spectacles that make up the harbour. These are other points of interest you should look out for on your harbour cruise, with the view to seeking them out for a visit:

Northern side of the harbour

Kirribilli House, the Sydney residence of the Prime Minister of Australia, and Admiralty House, the official Sydney residence of the Governor General, the Queen's official representative in Australia. Both residences sit on the point at Kirribilli, immediately to the east of the Sydney Harbour Bridge.
Neutral Bay, the first bay east of the harbour bridge, is an affluent harbourside suburb of Sydney. The origins of its name lies in the early colonial times, when different bays were zoned for different vessels entering the harbour. All foreign vessels were permitted to dock in this bay, which gave rise to the name "Neutral Bay". English-born children's author and painter May Gibbs, the author of the Gutnut Babies series of books, lived for a time in a two-storey Federation home in Phillips Street before building Nutcote at Kurraba Point.
Mosman Bay, once the location for a whaling station, is now one of the most sought-after places to live in Sydney. It is also a safe haven for hundreds of yachts. There's a walking path from the ferry terminal that takes you along the foreshore to Cremorne Reserve. Once around Cremorne Point you get to see some of the best views of the harbour. Along the way you get a good look at the fine homes that line the point. The path loops back to the ferry terminal.
Little Sirius Cove, a gorgeous small cove with a sandy beach next to Taronga Zoo. It was named after the flagship of the First Fleet, HMS Sirius,
Taronga Zoo, one of Sydney's major attractions, which boasts the world's most scenic setting for a zoological garden. The giraffes, in particular, enjoy amazing views of the Opera House and harbour.
Bradley's Head, in the Sydney Harbour National Park. There is an excellent 5km harbourside walk from Bradleys Head to Chowder Bay, captured by Google's Street View Trek, which provides more great harbour views.
Chowder Bay, once the site of Middle Harbour gun placements guarding Port Jackson. The former Gunners Barracks is now a restaurant.
Middle Harbour, the gateway to a whole lot more bays and coves. Much of the shore of the Middle Harbour is covered with bushland and lies under the protection of parks and reserves.
North Harbour, the gateway to Manly and Manly Beach, Sydney's second most-famous beach.
North Head, heavily forested and larely part of the Sydney Harbour National Park.

Southern side of the harbour

Farm Cove, Royal Botanic Gardens, Mrs Macquarie's Chair
Fort Denison, a former penal settlement and naval defence for the harbour.
Garden Island, a major Royal Australian Navy base. The RAN Heritage Centre museum, on the northern tip of the island, open to the public.
The Prime Minister of Australia, Malcom Turnbull's, private waterfront home at Point Piper. A 1930s Mediterranean-style home looking out onto Lady Martin's Beach, it is thought to be worth more than $50 million. Point Piper is Sydney (and Australia's) most exclusive suburb with harbourfront homes worth tens of millions of dollars. These properties rarely come onto the market.
Rose Bay, famous for its seaplane terminal, which in 1938 became Sydney's first international airport.
Shark Island, a former quarantine station and naval depot up until 1975, when it became part of Sydney Harbour National Park. Named because of its shape, which is claimed to resemble a shark. Barely 1.5 hectares (3.7 acres) in area and 250 metres by 100 metres, interestly parts of the island were actually set aside as a recreation reserve as early as 1879.
Vaucluse, one of Sydney's most exclusive suburbs.
Watsons Bay, popular with tourists who venture to Doyles seafood restaurant on the beach and nearby Camp Cove, featuring a small, picturesque beach.
South Head, a great vantage point for viewing the annual Sydney to Hobart yacht race.

Vagabond Cruises
has something for everyone!

From delicious lunch & dinner cruises to explosive live entertainment shows, we provide first class catering & the longest cruising route on Sydney Harbour at the most competitive prices! A wide range of private packages are also available! Call now on +61 29660 0388.

Whale Watching &amp Sydney Harbour Buffet Lunch Cruise

Enjoy Sydney sightseeing, a BBQ lunch and whale watching on the ultimate Sydney Harbour cruise. Relax while you see the sights of Sydney from the water as you cruise around Sydney Harbour and dine on a delicious buffet lunch served on board. Then head out into the open sea to go whale watching, passing through the Sydney Harbour Heads and into the Pacific Ocean.

Numbers are restricted on this whale-watching cruise, with plenty of room inside and out for whale watching in comfort on board your spacious sightseeing vessel.
VISTAS OF SYDNEY HARBOUR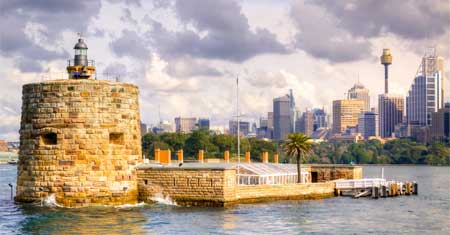 Fort Denison, once an infamous penal site, then a military fortress, but now
a harbour tourist attraction and setting for a popular restaurant.
MOST POPULAR CRUISES
Dinner Cruises
1.Sydney Harbour Sky Deck
Gold Dinner Cruise


Without doubt the best dinner experience on the harbour. Canapes and champagne starters followed by a six-course dinner degustation dinner - each course accompanied by different wines - on the exclusive sky deck of the Sydney MV 2000 - with the spectacular backdrop harbour at night.
Details and reviews
2. Sydney Harbour Dinner Cruise

Book a table aboard the MV Sydney 2000, the most prestigious dinner cruise in Sydney, enjoying a two-and-a-half hour Sydney dinner cruise, while a team of international chefs prepare a three-course meal.
Details and reviews
3. Sydney Harbour Sunset Dinner Cruise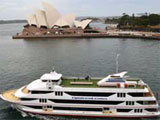 Watch the sunset on the harbour and enjoy an early dinner aboard the MV Sydney 2000.
Details and reviews
4. Sydney Harbour Tall Ship Twilight Dinner Cruise

Buffet dinner on an authentic sailing ship as you enjoy the iconic sights of Sydney harbour, including the Opera House and Harbour Bridge.
Details and reviews
LUNCH CRUISES
1. Sydney Harbour Luxury Cruise including Lunch

The ultimate luxury harbour cruise. This small-group, four-hour luxury tour of Sydney Harbour aboard a motorized yacht takes in all the attractions of the harbour plus hidden coves and secluded beaches. BBQ lunch, drinks provided and a lunch-time swim.
Details and reviews
2. Sydney Harbour Luxury Sailing Trip including lunch

Cruise the harbour aboard a 40-foot luxury sailing yacht, with lunch served while anchored in one of Sydney Harbour's secluded bays. Maximum of eight passengers, drinks provided. Sailing under the bridge and past the Opera House.
Details and reviews
3. Sydney harbour Top Deck Lunch Cruise
Lunch cruise aboard Sydney Harbour on MV Sydney 2000. Enjoy stunning views of the harbour from the upper deck with optional guaranteed window seating.
Details and reviews
4. Sydney Harbour Tall Ship Lunch Cruise

Two-hour cruise on Sydney Harbour aboard an authentic tall ship, including a buffet lunch.
Details and reviews
OTHER CRUISES
1. Sydney Harbour High Tea Cruise

High tea cruise on Sydney Harbour with assortment of hot and cold treats.
Details and reviews
2. Sydney Harbour Hop-on Hop-off

Hop on and off at any number of stops, including Darling Harbour, Circular Quay, Taronga Zoo, Watsons Bay, Manly and Luna Park. Disembark at any destination, stay as long as you like, then board another boat.
Details and reviews