Sydney beaches
Take the ferry to Manly
A trip to Sydney is not complete without catching a ferry out to Manly, a suburb near to Sydney Heads, where Port Jackson meets the Tasman Sea. More than six million people a year make the trip to Manly.
It's a 40-minute or so ferry ride and takes in views of Sydney Harbour Bridge, the Opera House, Fort Denison, the waterside suburbs with their stunning homes and many secluded sandy beaches, coves and bushland.
As your ferry passes Sydney Heads it begins to rock with the power of the entering Tasman Sea until you reach the calm of Manly Cove where you alight at the Manly Wharf. If you haven't already, now is your chance to collect your maps and assorted tour paraphernalia, and maybe even hire a couple of bicycles, at the Information Centre.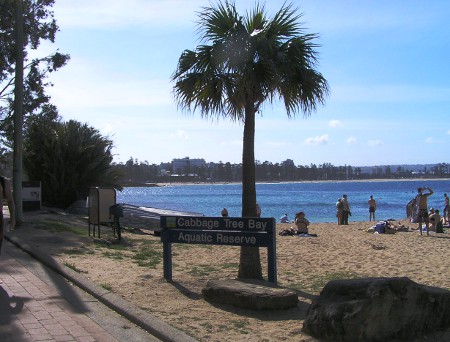 Cabbage Tree Bay, Manly
On or near the wharf you can stop and get a coffee, do a bit of shopping, or make for the attractive, village-like town centre. If you walk down The Corso you will very quickly come to Manly's ocean beach side.
The beach is lovely and stretches for miles and you can easily spend a day surfing, swimming, enjoying the sun or just mucking around in the sand. Maybe even play the game, "spot the celebrity".
For lunch or dinner there are many eateries and restaurants and even a couple of pubs, or do what so many do, buy your fish and chips and wander down to the beach and eat while watching the surf break (while slipping the odd chip to the odd seagull). The local seagulls are rather aggressive and if you hold out a bit of fish they will swoop and try to grab it. So be warned.
But Manly is also a major area of historical interest as it was one of the first places in Australia to be honoured with a name. In 1788 Governor Arthur Phillip was on a mission to find fresh water in the harbour and when some Aboriginals greeted his boats he noted down in his journal that they were "manly" in appearance and so the name stuck.
If you are interested in military matters then a trip to North Fort should be on your agenda. It is the site of the Royal Australian Artillery National Museum and not only has some glorious views of the harbour, but you can take in the collection of big guns that have protected Australia's shoreline.
There are also tours of a network of military tunnels built into North Head. Fully Guided Tours of North Fort are available on Wednesdays and Weekends and Self Guided Tours available on Thursdays and Fridays.
Within the Sydney Harbour National Park south of Manly is the old Quarantine Station used to house immigrants before arriving in Sydney. The historic station is now a museum and you can surmise as to its past by the fact it now has ghost tours.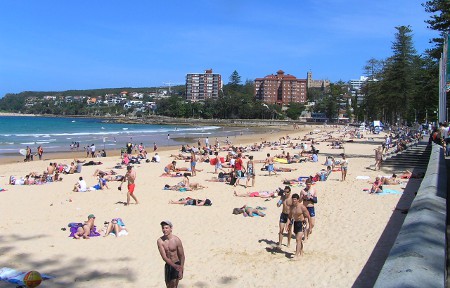 Manly Beach, Sydney
If you are more into nature then there is a wealth of native animals living within the Sydney Harbour National Park, which covers most of the shoreline and its environs from Manly village to North Head.
Art lovers should take time out to visit one of New South Wales most respected venues - the Manly Art Gallery and Museum, which is on the West Esplanade.
Located on the West Esplanade, about two minutes walk from the Manly wharf you'll find Oceanworld which has tunnel tours under aquariums, touch pools for youngsters and you can even hop into a tank with some pretty large sharks.
If that isn't enough in the way of water activities you can always visit the Manly Waterworks - just behind Oceanworld - that has three giant water slides for everyone to have a wow of a time on. The waterworks are open from late September/early October until mid April.
For accommodation in Manly, try these