Harbour ferry hub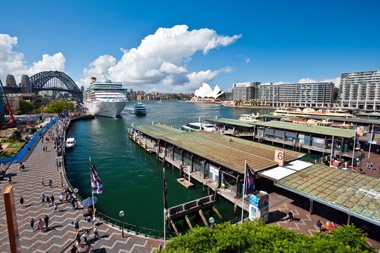 The main ferry terminus in Sydney, Circular Quay, is situated at Sydney Cove, the site of the original settlement for Sydney. Picture: Christopher Howey
Sydney's Circular Quay
Circular Quay is the hub of Sydney Harbour, situated at a small inlet called Sydney Cove, the founding site for Sydney and Australia. It is a stepping-off point for most attractions based around the harbour and an exciting place to be on a warm summer's day.
The quay is a vibrant, bustling place with ferries leaving every few minutes to different parts of the harbour, including Manly, Watsons Bay, Mosman and Taronga Park Zoo.
There are great views of the Harbour Bridge, a short distance away.
On the southern side of Circular Quay is a walkway that leads to the Sydney Opera House and Royal Botanical Gardens; while on the northern side, a short walk along lovely landscaped walkways takes you to the Harbour Bridge and The Rocks, one of the oldest, most attractive and most interesting parts of Sydney.
Circular Quay is at the foot of the central business district and the older, historic end of the city. Buses depart here for Bondi and the eastern suburbs.
There is a major railway station at the quay, which is part of the underground City Circle , which skirts around the CBD. Alongside the ferry terminals are a number of small outdoor cafes and the area is a magnet for buskers of every description.
Looking for Accommodation in and within walking distance of Circular Quay.
More pictures
Circular Quay at night.
Circular Quay is pictured at the back with The Rocks in the foreground.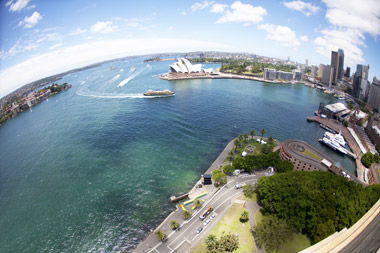 A birds-eye view of Circular Quay shows its close proximity to the Sydney Oprera House.
The passenger ship terminal is pictured on the western side of Circular Quay with the Sydney Harbour Bridge as a backdrop.