Circular Quay is the main ferry terminal in Sydney and the most central point for visitors to the city. Sydney's two iconic attractions - the Harbour Bridge and the Opera House - are easily accessible a short distance away. Picture: © Christopher Howey, via 123RF.com → More pictures of Circular Quay below
Vibrant and always throbbing with
activity, Circular Quay is a buzz
If you visit Sydney it's more than likely you will spend time at Circular Quay, arguably Sydney's No.1 buzz place.
"The Quay" is the city's main ferry terminus - situated in the very heart of Sydney Cove, the founding place for the settlement of Australia. It serves as a gateway, connecting visitors to Sydney's major attractions - Sydney Harbour, Sydney Opera House, Sydney Harbour Bridge and The Rocks.
It's a vibrant, bustling hub with ferries leaving every few minutes to different parts of the harbour, including Manly, Watsons Bay, Mosman and Taronga Zoo. Aside from catering to tourists, it is a vital link for Sydneysiders commuting to and from work and as a gateway for the thousands of locals journeying to Manly's surf beach on weekends.
Circular Quay is at the foot of the central business district and the older, historic end of the city. Buses depart here for Bondi and the eastern suburbs. It is also a major railway station on an underground railway known as the City Circle, which loops around the CBD.

On weekends, it throbs with activity. On special event occasions, people mill through the area in their thousands. Everyone loves The Quay. Buskers take turns at setting up on the western side and draw crowds. Some of them are good and people tend to linger longer than they normally would.
Much of its appeal lies in the great many outdoor eating areas set up nearby. On the eastern side, there are banks of open-air restaurants that take up much of the upper and lower promenades between Wharf 2 and the Opera House. The walkway that leads to the Sydney Opera House continues on around the foreshore to the sweeping green spaces of the Royal Botanic Gardens.
There are great views of the Harbour Bridge, day and night, from all points of Circular Quay.
On the western side, the promenade leads along the foreshore to The Rocks, a settlement area for Sydney Cove that gave rise to soldiers' barracks, hospitals, whaling warehouses, rat catchers and the Bubonic Plague. Now it is a vibrant pocket of cafes, restaurants, shops and weekend market stalls set against a backdrop of historic buildings and mysterious passageways. One of the most popular eating areas is a bank of restaurants set up in a row of former wharves.
This part of Sydney is one of the oldest, most attractive and most interesting.
Continue on along the foreshore and you soon find yourself under the Harbour Bridge and beside its huge stone pylons. This area, known as Dawes Point, is a popular setting for wedding photographs.
If you are looking for accommodation in and within walking distance of Circular Quay, these hotels are nearby.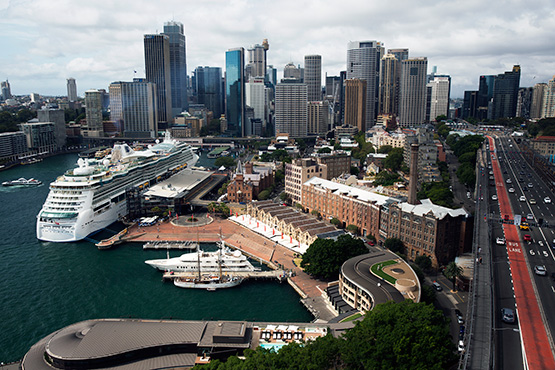 This picture of Sydney Cove shows Circular Quay in the background and the historic area known as The Rocks in the foreground. The cruise ship is moored at Circular Quay's international passenger ship terminal.
Picture: © Guido Vermeulen-Perdaen via 123RF.com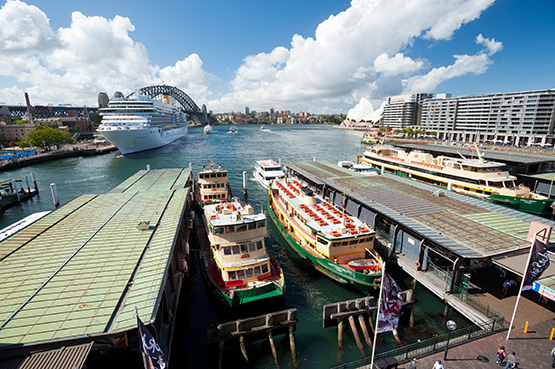 Synomonous with Sydney Harbour are the green-and-yellow, older-style ferries. Picture: © Christopher Howey, via 123RF.com

On the eastern side, a progression of outdoor restaurants leads from the Opera House to Circular Quay. Picture: © Sydney.com.au

Circular Quay is both a railway station (on the City Circle) and a ferry hub.
Picture: © Sydney.com.au

Restaurants back onto the railway station with the outdoor eating areas looking out onto the wharves. Picture: © Sydney.com.au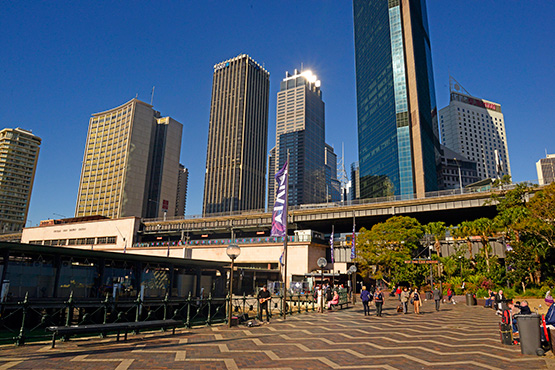 The western end of the Quay is referred to by some locals as "Buskers Point" because of the number of buskers who set up here. Picture: © Sydney.com.au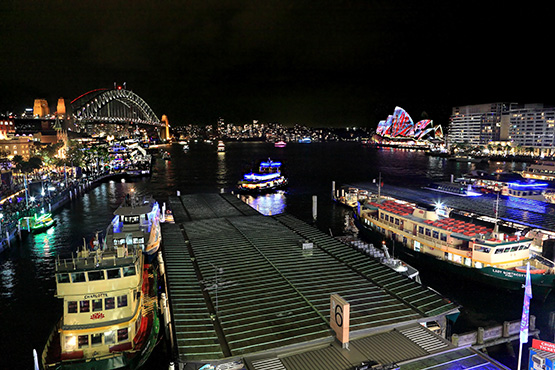 Circular Quay lit up at night. Picture: © Leah-Anne Thompson, 123RF.com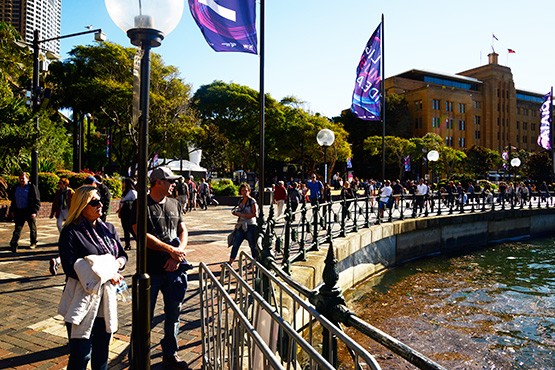 This promenade on the western side leads to the Museum of Contemporary Art and The Rocks. Picture: © Sydney.com.au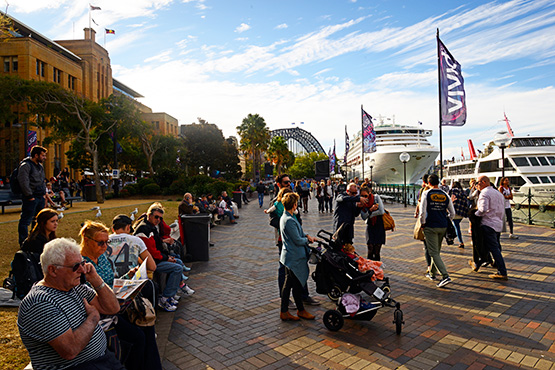 A top spot to enjoy the winter's sun. Picture: © Sydney.com.au

Schoolchildren on a field outing to the Museum of Contemporay Art get to have their lesson beside the Quay. Picture: © Sydney.com.au