Sydney's Royal Botanic Garden offers visitors a sanctuary in one of the world's leading gardens - just minutes from the busy city district.
Picture: © Sydney.com.au → More pictures below
Royal Botanic Garden celebrates
200 years beside Sydney Harbour
The Royal Botanic Garden, which is just a short walk around the water's edge from the Sydney Opera House, is situated in one of the most picturesque settings of gardens anywhere in the world.
The garden is on the shores of Farm Cove, on the eastern side of the Sydney central business district, and laid out on undulating harbourside land. From the top of the garden there are panoramic views of Sydney Harbour.
At the foot of the gardens a harbourside walking path skirts around Farm Cove, from the Sydney Opera House to Mrs Macquaries Chair, a sandstone bench carved by convicts in 1811 for the then-governor's wife. The "chair" is situated on a point that offers some of the best views of Sydney Harbour.
The area set aside for the garden is roughly a third the size of the CBD. It comprises large, sweeping lawn areas with large trees providing shade in summer months. Sydneysiders working in city office buildings make use of the garden during their lunch breaks.
The Royal Botanic Garden has more than one million specimens and there is even a small hop-on hop-off red "train" to get around on for the less energetic. The garden is a sanctuary away from the noise of the city and situated close to Hyde Park and some of the major city hotels.
Entry to the Royal Botanic Garden is free.
How to get there
Take a train to Circular Quay railway station and walk around the forshore to the Sydney Opera House. Continue past the Opera House, keeping to the foreshore, and you soon enter the gardens.

Alternatively, take a train to St James railway staion, walk east along Prince Albert Road, turn left into Art Gallery Road and walk one block to Hospital Road.

The Sydney Explorer Buses also stop near the gardens.
Royal Botanic Garden information

Location:

Eastern edge of the CBD & bounded by Macquarie Street, the Cahill Expressway & Mrs Macquarie Road

Telephone:

Monday-Friday 02 9231 8111 (Int) +61 2 9231 8111
Saturday, Sunday 02 9231 8125 (Int) +61 2 9231 8125

Opening Hours:

Oct 7am to 7.30pm
Nov - Feb 7am to 8pm
Mar 7am to 6.30pm
Apr & Sep 7am to 6pm
May & Aug 7am to 5.30pm
Jun & Jul 7am to 5pm

Amenities:

Toilets, shop, Visitor Information Centre, restaurant and cafe

Services:

Free Guided Walks, Education Service, Friends of the Gardens, Trackless Train Tour & Wheelchair Hire

Special Features:

Sydney Tropical Centre
Cadi Jam Ora
Sydney Fernery
Herb Garden
Rose Garden
Hongkong Bank Oriental Garden
Palm Grove
Palm House
Government House Grounds
Rare & Threatened Plants Gardens
The Wollemi Pine
Exhibitions in the Calyx

Sydney's Royal Botanic Garden celebrated its bicentenary in June 2016.
Picture: © Sydney.com.au

Statues on a fountain at the top of the gardens rise up against the CBD background. Picture: © Sydney.com.au

City workers duck into the gardens during lunch breaks. Picture: © Sydney.com.au

A huge and old Morton Bay fig tree is a feature of the gardens.
Picture: © Sydney.com.au

Part of the circular structure of the Royal Botanic Garden new horticultural display space, the Calyx, which opened in June 2016.
Picture: © Sydney.com.au

This small island serves as a centrepiece of the new Calyx display.
Picture: © Sydney.com.au

Ape-like creatures made from plants and wire greet visitors to the Calyx.
Picture: © Sydney.com.au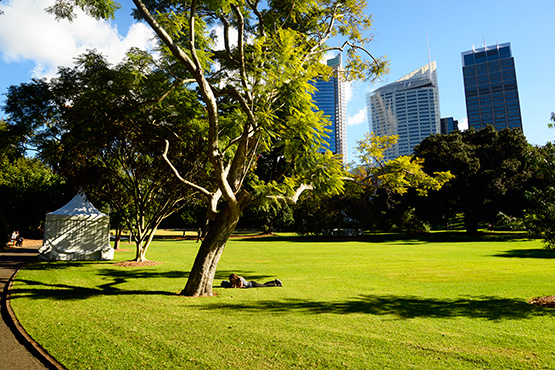 Sweeping lawns offer respite from the hustle and bustle of the city.
Picture: © Sydney.com.au

The restaurant and cafe at the gardens. Picture: © Sydney.com.au

Visitors take delight in the large public spaces of the gardens.
Picture: © Sydney.com.au

The path from the restaurant leads past a lagoon to the harbour.
Picture: © Sydney.com.au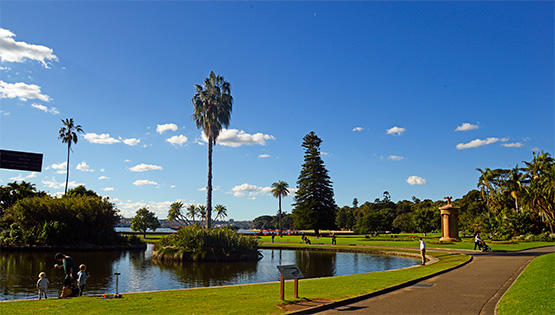 The gardens present an idyllic setting on the doorsteps of the central business district. Picture: © Sydney.com.au

A lagoon with island sanctuaries for nesting birds. Picture: © Sydney.com.au

The area of the Royal Botanic Garden that skirts around the foreshores of Farm Cove. Picture: © Sydney.com.au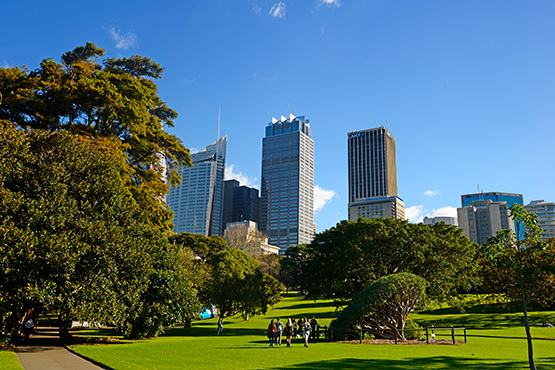 Looking from the harbour foreshores up the hill to the top of the gardens and the CBD. Picture: © Sydney.com.au

The Farm Cove walking path is popular with lunchtime joggers.
Picture: © Sydney.com.au

Schoolchildren are regularly seen in the gardens on field excursions.
Picture: © Sydney.com.au

A bride and groom pose for wedding photographs on the harbourside path. Picture: © Sydney.com.au

The small red train that carries people around the gardens. Picture: © Sydney.com.au

Looking back on the gardens from the walkway that runs alonside the Opera House, on Bennelong Point. Picture: © Sydney.com.au