Bringing colour to winter at Sydney's Royal Botanic Garden in July 2017.
Picture: © Sydney.com.au → More pictures below
Royal Botanic Garden's Calyx displays
The Calyx, in Sydney's Royal Botanic Gardens, is a circular glass and wood building designed to host floral displays. It features an exhibition room and learnign centre, a display courtyard and a tiny island surrounded by a circular walkway with pergola.
In July 2017, the RGB produced a free floral display in The Calyx, called All About Flowers, which was was designed to "bring colour into winter".
The display showcased colourful arrangements of exotic plants including moth orchids, begonias, hydrangeas and garvineas.
Also on show was Australia's largest green wall - standing six metres high and stretching across 50 metres - which, according to the RGB, is considered "a living watercolour painting, paying poetic homage to the masters of Impressionism".
The pictures below provide a glimpse of this particular display.


Australia's largest green wall, in the Calyx, stands six metres high. Picture: © Sydney.com.au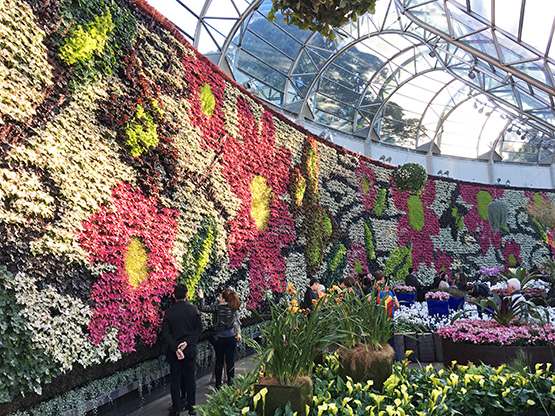 The 50-metre long green wall, according to the RGB, is considered "a living watercolour painting, paying poetic homage to the masters of Impressionism". Picture: © Sydney.com.au

A huge and old Morton Bay fig tree is a feature of the gardens.
Picture: © Sydney.com.au

Part of the circular structure of the Royal Botanic Garden new horticultural display space, the Calyx, which opened in June 2016.
Picture: © Sydney.com.au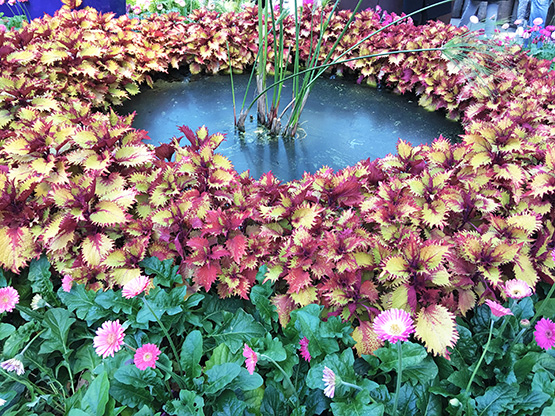 This small island serves as a centrepiece of the new Calyx display.
Picture: © Sydney.com.au

BELOW: A montage of images that show the colour and splendour of plants in the All About Flowers display.
Picture: © Sydney.com.au
Orchids were undoubtedly the star of the All About Flowers display.
Picture: © Sydney.com.au