Manly's famed surf beach is a magnet for beach lovers on a warm Sydney day. Picture: © Kevin Hellon 123RF.com → More pictures below
Manly offers much more than a famous surf beach and legendary ferry ride
If you're visiting Sydney the one thing you must do is catch a ferry to Manly, a beachside suburb near Sydney Heads.
More than eight million visitors make the trip to Manly each year. More than 800,000 of these are from overseas. In fact, of all the international visitors to Sydney in 2014, 30 per cent made their way to Manly.
It's not hard to understand why. Manly Beach is one of Sydney's two famous surf beaches (Bondi, of course, is the other one) and is spectacularly beautiful with a grand beachside promenade lined with Norfolk pine trees.
But you don't have to lie on the beach or be a sun worshipper to want to visit Manly. The destination has much to offer all visitors. The return ferry trip is the best ferry ride on Sydney Harbour and offers glorious views of the Sydney Harbour Bridge, Sydney Opera House, posh waterside suburbs with their stunning homes, and secluded sandy beaches, coves and bushland.The ferry ride is probably the best anywhere in the world.
SYDNEY FACES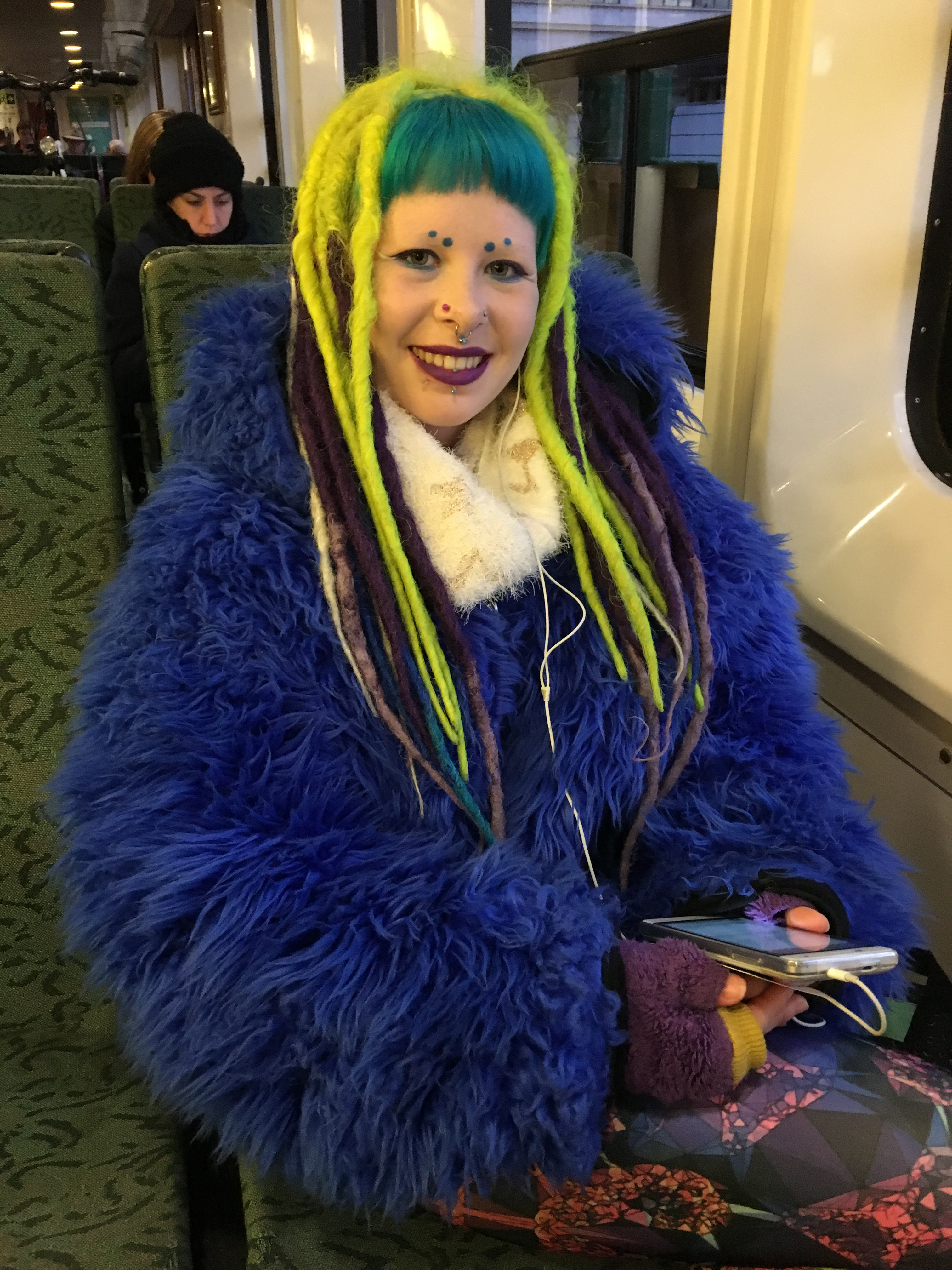 Ellie, on board the Manly ferry, looks amazing as she brightens up a bleak Sydney day.
Read more
Besides its famous surf beach, Manly has sheltered beaches either side of the ferry wharf in Manly Cove with shaded sitting areas, scenic walking paths around the coastal foreshore, fun attractions including water slides and an aquarium, shops galore, and a diverse selection of cafes, restaurants and bars.
There is always a buzz at Manly, particularly on weekends when locals and visitors alike flock to the beaches, cafes and bars. Manly has more than 100 cafes, restaurants, bars and eateries and more than 200 shops.
Alighting at Manly Wharf, you will find an information centre and a facility to hire bicycles. The Manly Wharf is now a huge complex of cafes and restaurants where on weekends it's a battle to get a seat.
Opposite Manly Wharf is The Corso, a part-mall, part street that bridges the short distance between the wharf and Manly Beach.
At the surf beach, there is promenade running the length of the beach. It's lined with Norfolk pine trees, which make wonderful shade trees. Seats are placed along the promenade for those who prefer some respite from the sun.
The street running alongside the promenade is called South Steyne at the southern end and North Steyne at the northern end.
On the corner of South Steyne and Wentworth Street is a huge brick building that takes up a lot of land. This is the Royal Far West Health Scheme, a not-for-profit charity that provides specialist medical care and health support services for children from remote areas of the state. It provides beachside accommodation for the children and their families, and schooling for the children, during their stay.
Cafes and restaurants can be found along South Steyne and North Steyne, in Wentworth Street, Rialto Square, Darley Street and The Corso. There are some hipster-like cafes in Market Place, in the vicinity of the Manly Library.
At the southern end of the beach is the Manly Surf Club. From here, every morning at 7am, hundreds of locals enter the water and swim 750 metres to Shelly Beach, and then back. You can follow the swim on a picturesque path along the foreshore. The Shelly Beach walking path starts at the Manly Surf Club. There is a restaurant and cafe at Shelly Beach that is hugely popular with locals for Breakfast and lunch.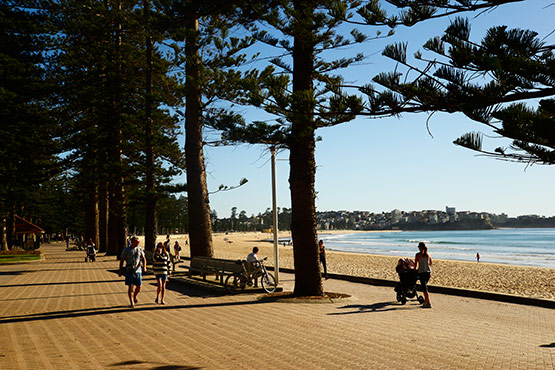 The crowds haven't descended on the Manly Beach promenade yet, but that's because it's 6.45am on a week day. Picture: © Sydney.com.au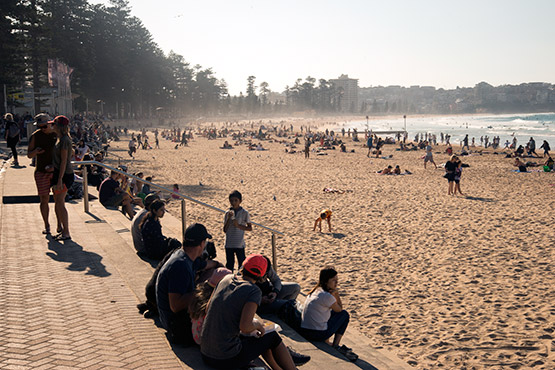 Late on a Sunday autumn morning Manly's famed surf beach is a magnet for beach lovers. Picture: © 123RF.com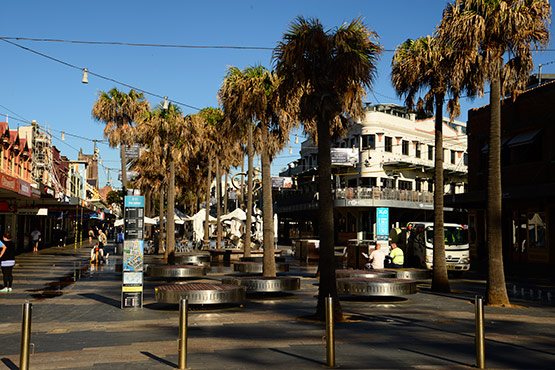 The Corso, looking back from Manly Beach, where there are shops and cafes. Picture: © Sydney.com.au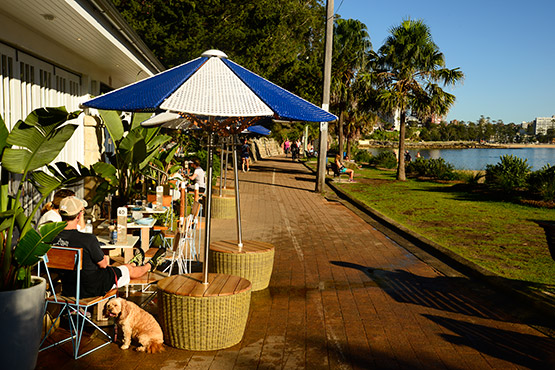 Locals enjoy an early breakfast at The Boat Shed cafe at Shelly Beach, a short walk from Manly Beach. Picture: © Sydney.com.au
Manly is an area of major historical interest as it was one of the first places in Australia to be honoured with a name. In 1788, Governor Arthur Phillip was on a mission to find fresh water in the harbour and when some Aboriginals greeted his boats he noted down in his journal that they were "manly" in appearance and so the name stuck.
If you are interested in military matters then a trip to North Fort should be on your agenda. It is the site of the Royal Australian Artillery National Museum and not only has some glorious views of the harbour, but you can take in the collection of big guns that have protected Australia's shoreline.
There are also tours of a network of military tunnels built into North Head. Guided tours of North Fort are available on Wednesdays and Weekends and self-guided tours available on Thursdays and Fridays.
Within the Sydney Harbour National Park, south of Manly, is the old Quarantine Station used to house immigrants arriving in Sydney. The historic station is now a museum and even has ghost tours.
There is a wealth of native animals living within the Sydney Harbour National Park, which covers most of the shoreline and its environs from Manly village to North Head.
Art lovers can visit the Manly Art Gallery and Museum, which is on the West Esplanade.
Also situated on the West Esplanade, about two minutes walk from the Manly Wharf, is Oceanworld, which has tunnel tours under aquariums and touch pools for children. You can even hop into a tank with sharks.
The Manly Waterworks - just behind Oceanworld - has three giant water slides. It opens from late September/early October until mid April.