Cruising Sydney Harbour was where this couple wanted to celebrate their wedding day with family, friends and guests. Wedding cruise boats that can cater for any size wedding employ expert co-ordinators that plan every aspect of the wedding and wedding reception. The co-ordinators will also work with a bride and groom's own wedding planners to ensure an outstanding event.
See how spectacular wedding cruises can be
Sydney has a host of spectacular
settings for the perfect wedding


Sydney has some amazing locations for wedding photography. Brides and grooms come from far and wide to have their pictures taken under the Sydney Harbour Bridge, beside the Sydney Opera House, in The Rocks, on cruise boats on Sydney Harbour and on beaches and rocks around the harbour.
The wedding photography industry in Sydney is booming with bookings streaming in from South-East Asia and Asia, even in the cooler months. Photographers are jubilant because they know they have the world's most picturesque city as a backdrop. They know all the prime points around the harbour sure to produce stand-out wedding shots.
Sydney wedding photographers also know of many "secret places" - locations that most visitors and many Sydneysiders wouldn't know about.
We've managed to grab a few snaps of brides and grooms being photographed on their special day.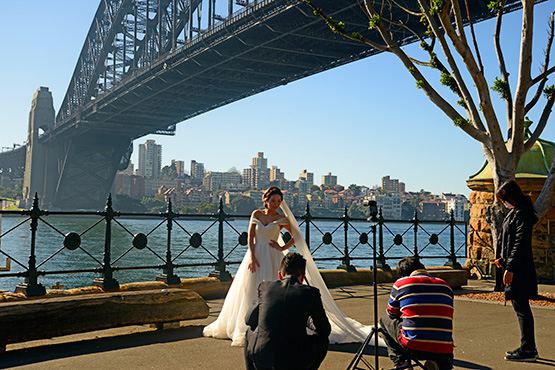 Under the Sydney Harbour Bridge at Dawes Point, which is just a short walk from Circular Quay, is a dramatic setting for any wedding photograph.
Picture: © Sydney.com.au

The extremes to which some wedding photographers will go for the perfect shot. This bride was photographed on the sand and rocks at low tide at Bradleys Head on a May autumn day. You can't help but admire the photographer's choice of location as the textures and colour of the rocks, along with the green algae on the rocks, privide an exquisite canvas for the bride's flowing gown. Below: a close-up of the above photo shows the bride with her powder-blue gown laid out on the sand and rocks. Hopefully the sand crabs weren't too active that particular day. pictures: © Sydney.com.au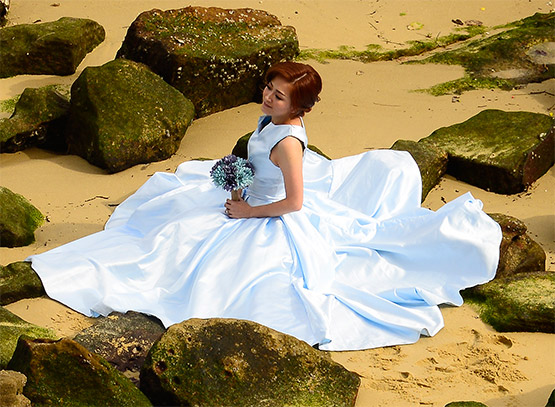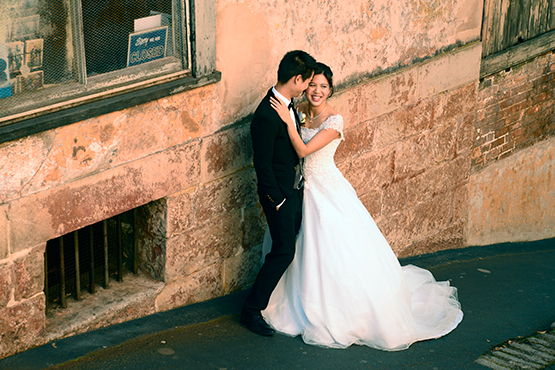 Having Susannah Place Museum as a backdrop adds old-world charm to this couple's marriage. The rustic tones of the 132-year-old stone building built by Irish migrants brilliantly complement the bride's white gown with lace bodice. Picture: © Sydney.com.au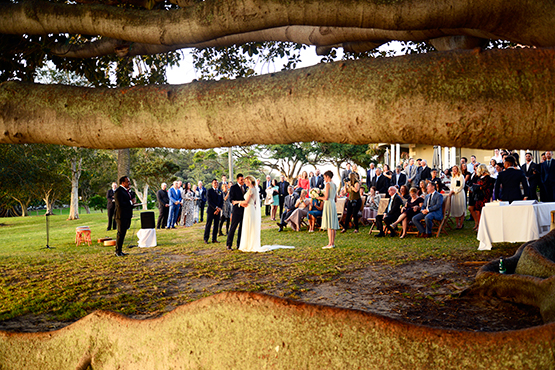 A wedding beneath the canopy of a giant Moreton Bay fig tree on the foreshores of Watsons Bay was the perfect start to married life for this couple. pictures: © Sydney.com.au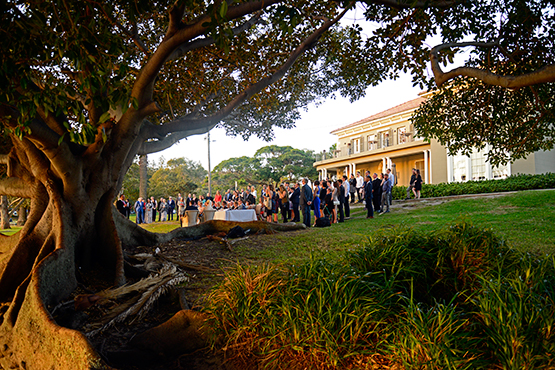 This bride chose traditional wear for her wedding pictures, which were taken on the forteshores of the Royal Botanic Garden. Picture: © Sydney.com.au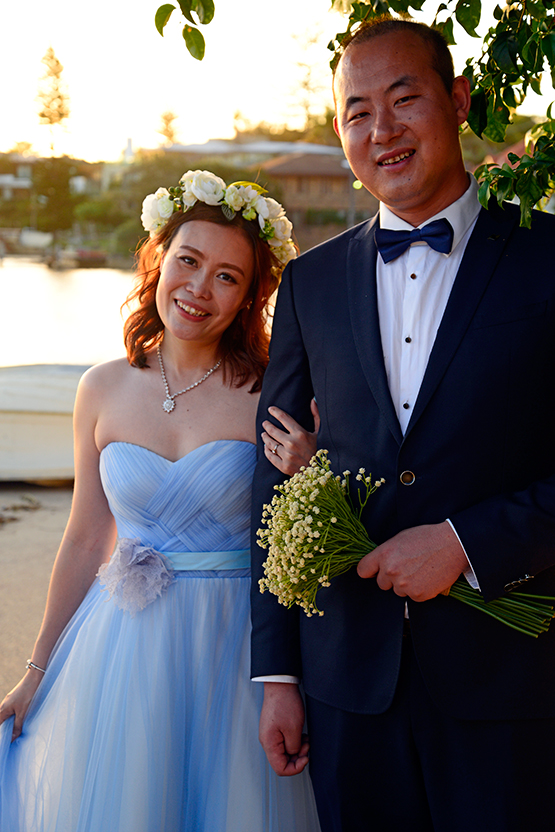 The beach at Watsons Bay was this couple's choice for their post-wedding photographs. The bride looked radiant in a soft-flowing gown in shades of pale blue. Picture: © Sydney.com.au