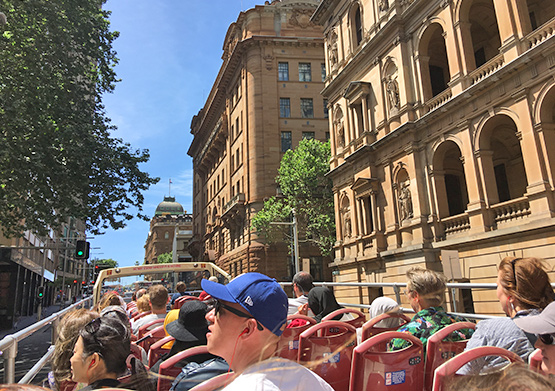 The hop-on hop-off bus is a familiar sight in most cities around the world and Sydney is no exception. Picture: © Sydney.com.au
The best way to see Sydney is
from the Hop-On Hop-off Bus
The best way to orientate yourself with Sydney's sights is to ride the Hop-on hop-off Big Bus. You can hop off at any of the 34 designated stops, spend as much time as you like sightseeing, and then hop on the next bus that comes along. You can hop on and off as many times as you wish or else stay on the bus for the duration of the tour..
You can purchase a ticket that's valid for 24 hours or 48 hours – buses run at a frequency of approx. 45mins for the Sydney Tour and approx. 2hrs for the Bondi Beach Tour.
The ticket price includes two interchangeable tours - the Sydney tour and the Bondi Beach tour - with 34 stops in total. Points of interest along the city route include the Sydney Harbour Bridge, Sydney Opera House, Circular Quay, The Rocks, Darling Harbour, Sydney Fish Market, Maritime Museum, Chinese Garden of Friendship, International Convention Centre, King Street Wharf, Barangaroo Reserve and the Royal Botanical Gardens.
The double-decker buses offer passengers 360-degree views of the city from the open top deck, which means great photo and video opportunities without leaving your seat.
There's professional audio commentary in 8 language channels on all buses - English, Spanish, French, German, Italian, Japanese, Korean and Mandarin. Complementary earphones are available from the driver.
Free wifi is onboard all Sydney and Bondi Beach buses
The Sydney Hop on hop off bus service is divided into
two separate tours
: the Sydney Tour (Red route) and the Bondi Tour (Blue route). Tickets can be used on both tours.
Sydney Tour (Red Route)
The Sydney Tour stops at 23 points of interest in the CBD and connecting locales, starting and terminating at Sydney's main ferry terminal, Circular Quay (Stop #1). The round trip takes approx. 90 minutes. The first tour starts at 10am with buses running throughout the day at approx. 45 minute intervals*. The last Sydney tour departs from Stop #1 at 2pm and all tours terminate at 3.30pm.
Bondi Tour (Blue Route)
The Bondi Tour stops at 11 points of interest during the return trip to Bondi Beach. The first service starts at 10.15am at Central Railway Station (Stop #12/24), from Bus Bay 18 on Pitt Street (opposite Wake Up! hostel) Buses run at a frequency of approx. 2hrs*. The last Bondi Beach tour departs from Central Station at 2.15pm and all tours terminate at 3.45pm.
The Sydney and Bondi tours overlap at three stops - Central Station, Australian Museum and William Street - at which you can change tours.
The full journey on either service is 90 minutes.
The health and safety of bus staff and customers is the number one priority, so operatots have introduced a number of enhanced health and safety measures and continuously follow government advice and the requirements of local health authorities to reduce the risk of COVID-19 transmission.
Click here for full details, including list of all stops.