PLACES OF INTEREST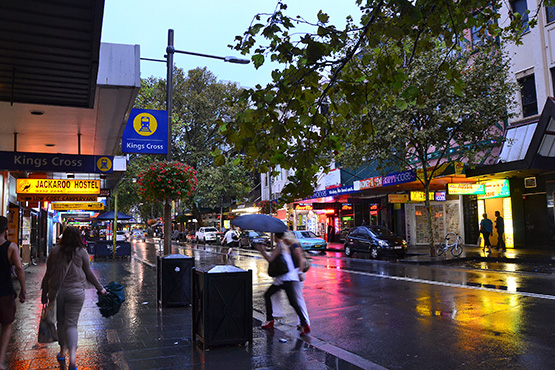 Kings Cross, once the sleezy capital of Australia, is quickly developing into a vibrant lifestyle precinct. Picture: Sardaka, Wikimedia Commons
Kings Cross evolving into a
vibrant lifestyle precinct
King's Cross has for a long time been known to most Australians as the drugs and red light capital of Australia. Most Australians who have visited Sydney at one time or another have wandered through "The Cross", if only for a look at how the "other half" live and play.
In recent years, however, this once-sleezy pocket of Sydney has started to evolve, albeit ever so slowly, into a rich, vibrant lifestyle precinct.
The strip clubs, topless waitresses, adult bookshops and tacky nightclubs are still there, but small, trendy cafes have sprung up on the fringes of the Cross that are attracting a different type of visitor. The Cross is most sleazy at night, when the bright lights come on and the action hots up. During the day it can look a lot less threatening.
Visitors to the area should be careful, especially at night, as people do get mugged here. The other thing to be careful of is the spuikers outside nightclubs: they can be intimidating and aggressive and have been a problem in recent times.
You will see some pretty strange sights around the Cross, an area frequented by people from all walks of life, and although generally it is OK to look, don't stare or make snide remarks as this could land you in trouble.
If you're keen to stay in the Kings Cross area, Potts Point is perhaps the most desirable location. It's at the lower end of the Cross, somewhat up market and sufficiently removed from the "action". From here you can access and enjoy all the color and richness of the Cross without getting too much caught up in it.
There is a wide range of hotel accommodation in Kings Cross and nearby Darlinghurst.
Wander around Kings Cross and Darlinghurst and you'll will have your taste buds tempted by the many restaurants, bars, cafés and hotels that offer a wide array of menus.