SYDNEY ISLANDS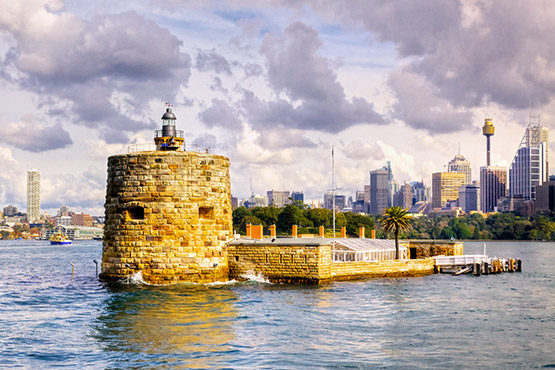 Once a penal colony, then a harbour fort, Fort Denison is now a museum. The tiny island is situated near Mrs Macquaries Seat and not far from the Sydney Opera House. Picture: 123RF.com, copyright David Steele
Once a harbour penal colony,
Fort Denison is now a museum
Fort Denison, which can be seen from Mrs Macquaries Seat, was used in the early days of settlement as a place of punishment and confinement for the convict population. During the mid 19th century a fort was built on the island to protect Sydney Harbour.
The former prison and battlement is now a tourist destination for visitors to Sydney Harbour with the Martello Tower museum worth a visit for its collection of colonial artefacts.
There are two tours daily to Fort Denison and tours can be booked by visiting the Sydney Harbour National Park Information Centre, located in Cadmans Cottage at The Rocks or by phoning (02) 9253 0888 (int) 61 2 9253 0888.
Selected Hop-On Hop-Off Cruises stop at Fort Denison. Entrance Fees apply.