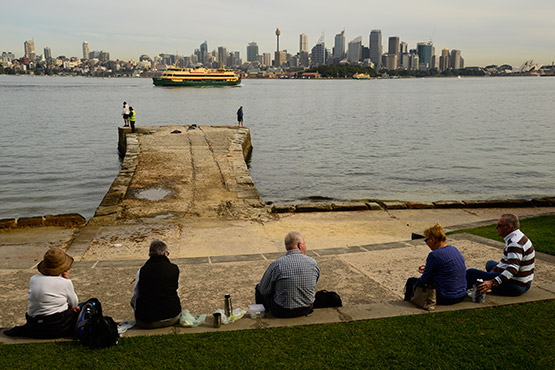 Members of a walking group enjoy a cuppa while watching fishermen cast their lines off the stone jetty at Bradleys Head. Picture: © Sydney.com.au
Bradleys head the perfect place
to sit and watch sea life go by
Bradleys Head is a picturesque headland protruding from the northern shores of Sydney.
It is easily accessible and is part of the Sydney Harbour National Park and managed by the National Parks and Wildlife Service.
The Parks service has created a recreational area at Bradleys Head, with lawned areas, stone paths and steps, and seats placed strategically at points where visitors can enjoy panoramic views of Sydney Harbour.
The views from Bradleys Point are memorable with excellent views of the Opera House, Sydney CBD and Sydney Harbour Bridge.
The Bradleys Head reserve is one of the most popular harbour foreshore vantage points for people watching the New Year's Eve harbour fireworks (no alchohol is allowed).
It's also a popular spot for picnics and family outings, and wedding photography.
A lawned amphitheatre has been created near the foreshore edge and it looks out onto a stone jetty jutting into the harbour. The Bradleys Head Amphitheatre is hired out by the National Parks & Wildlife Service for wedding functions.
Walking groups and strollers on the Taronga Zoo wharf to Bradleys Head walk, and who then proceed to Balmoral Beach, often stop at Bradleys Head for a break or a cuppa.
GETTING THERE:
Take the ferry to Taronga Zoo. At the zoo wharf, walk up the pedestrian walkway that follows the foreshore. About 100 metres or so you come to one of the zoo's entrances. Directly opposite the entrance is the start of the Taronga Zoo to Bradleys Head walking path. The 1.5 km walk is an easy one, on mostly level terrain.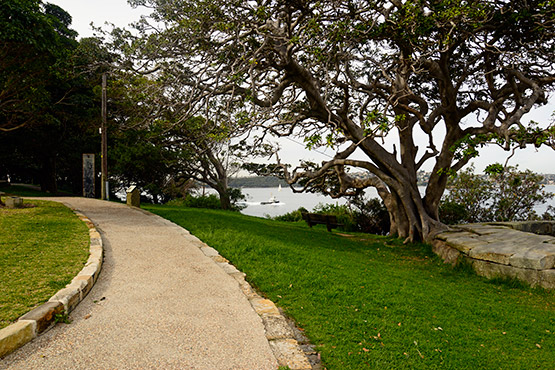 >
Stone walls and lawn seats offer ideal vantage points to watch ferries and yachts on Sydney Harbour. Picture: © Sydney.com.au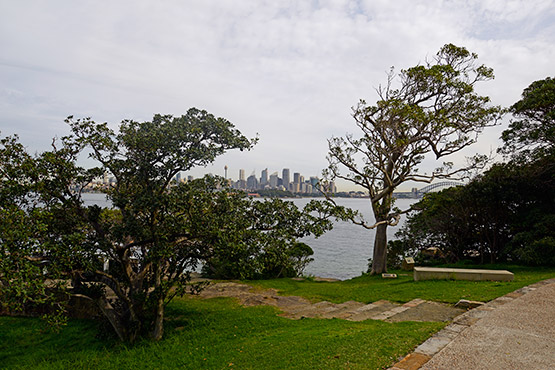 Beautiful big trees, stone paths and steps, and lots of lawn area are a feature of the Bradley Head reserve. Picture: © Sydney.com.au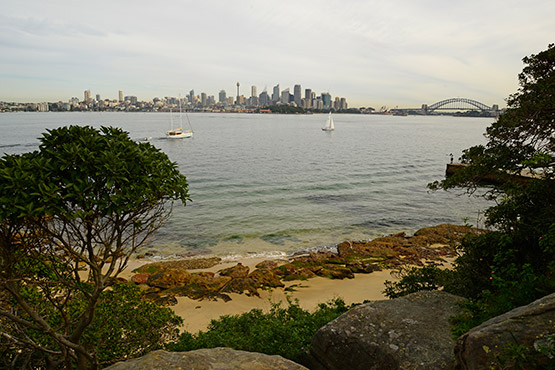 The Sydney CBD can be clearly seen from this vantage point.
Picture: © Sydney.com.au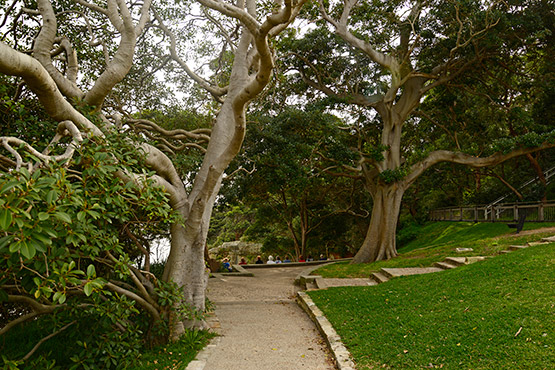 Large trees mark the entrance to the Bradleys Head Amphitheatre.
Picture: © Sydney.com.au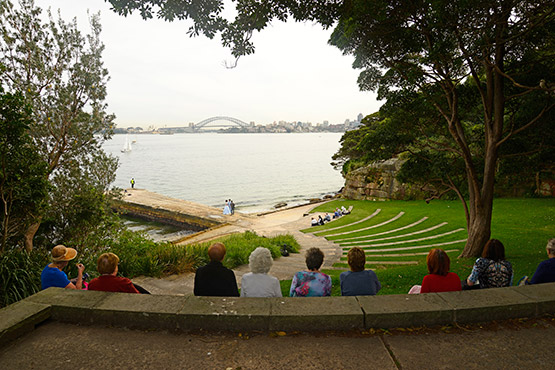 The amphitheatre is an ideal setting to sit and look out on Sydney Harbour. Picture: © Sydney.com.au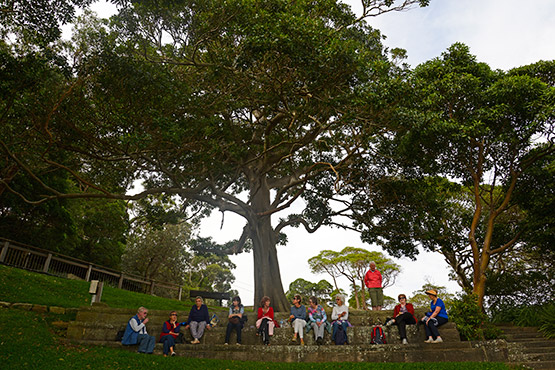 It's also popular with walking groups, like this one from the Mosman area. Picture: © Sydney.com.au
The rocks and sandy foreshore around Bradleys Head is a favourite of wedding photographers. Picture: © Sydney.com.au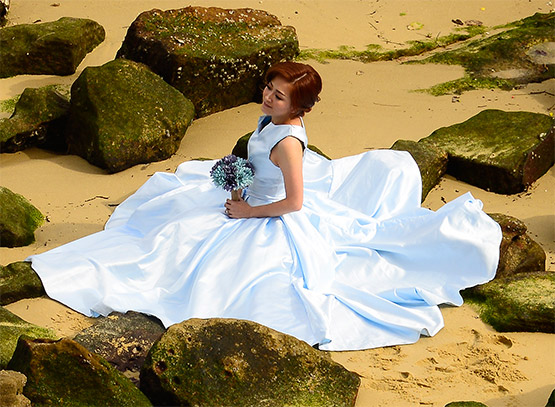 On this occasion, the bride's wedding dress looks stunning against a background of sand and rocks with green algae. Picture: © Sydney.com.au