A panoramic view of the southern end of Darling Harbour. Picture: Greg O'Beirne - Wikimedia Commons
Darling Harbour tiny, but big in terms of attractions and things to do
Darling Harbour is one of the Sydney CBD's buzz places comprising cafes, restaurants, shopping complex with food hall, IMAX cinema, maritime museum, Chinese gardens and entertainment attractions.
A former dockside area, the small harbour has been transformed into a major tourist site and leading convention and exhibition centre.It now hosts an extraordinary number of water-front restaurants and its wharves are home to a number of cruise and function boats.
Darling Harbour is split in two by the historic Pyrmont Bridge, with attractions on both the southern and northern sides of the bridge.
Entertainment takes place on a regular basis at points around Darling Harbour and on Saturday evenings there is a fireworks display over the southern part of the tiny harbour.
The main attractions at Darling Harbour are:
SOUTHERN SIDE (COCKLE BAY)
Cockle Bay Wharf - a three-level eating out complex with restaurants of every description skirting the length of the eastern side of Cockle Bay.
Harbourside Shopping Centre - a shopping complex with 150 shops on two levels, several waterfront restaurants and an International Food Court with 40 outlets.
Chinese Garden of Friendship - one of the largest traditional Chinese gardens outside China.
Imax Theatre - the world's biggest cinema screen - 10 times the size of a traditional cinema screen - and you can see both 2D and 3D films on it at Darling Harbour..
Saturday night fireworks - why wait for New Year's Eve when you can enjoy a free spectacular fireworks show over Cockle Bay on Saturday nights.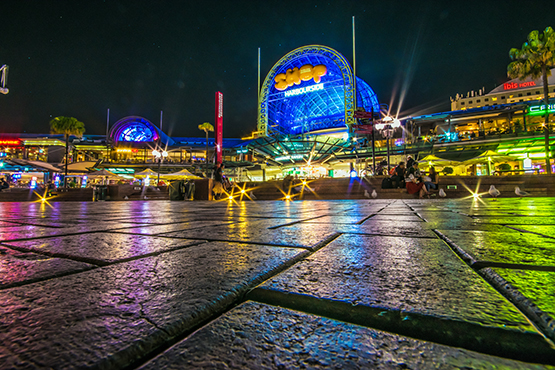 Harbourside Shopping Centre, with shops and food courts, is on the south-western part of Darling Harbour. Picture: © Nondhawat Wittayasarnronnayuth - 123RF.com
NORTHERN SIDE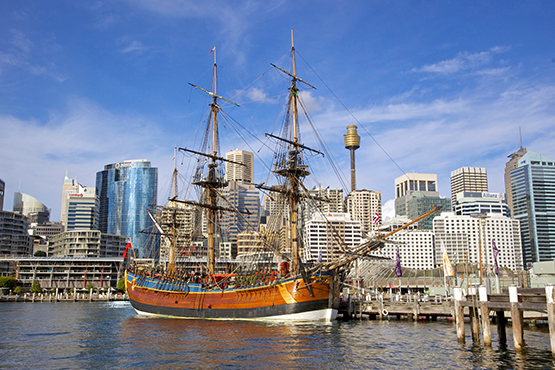 A replica of Captain Cook's ship Endeavour is one of the stars of the National Maritime Museum at Darling Harbour. Picture: © David Steele - 123RF.com

Wulugul Walk, a promenade along the waterfront where Sydney and Darling harbours meet.

King Street Wharf restaurants, coffee lounges and bars.
Australian National Maritime Museum - a museum showcasing Australia's naval history with seven galleries to walk through plus three naval ships - HM Bark Endeavour Replica, destroyer HMAS Vampire and submarine HMAS Onslow - to board and explore. Aso the home of the Sydney heritage Fleet - 10 historic ships.
Madame Tussauds - international movie stars, singers and sporting heros come to life in the shape of wax figures.
Sea Life Aquarium - one of the largest aquariums in the world with more than 5000 different Australian fish displayed in their natural habitats.
Wild Life Sydney Zoo - a small zoo that lets visitors interact with some animal species.
Interestingly, a monorail system used to connect the Sydney CBD to darling Harbour. It ran from 1988 to 2013.
MAP OF DARLING HARBOUR
Map: Google Maps