WALK BACK IN TIME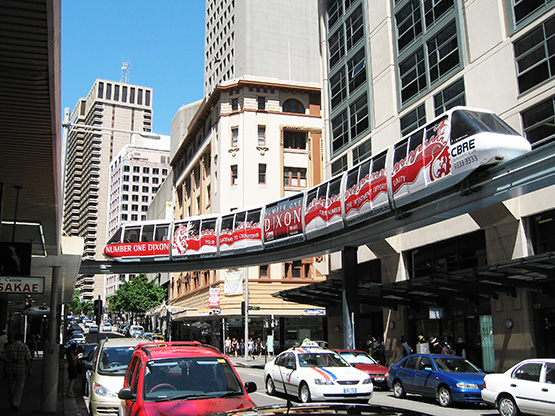 The Sydney Monorail, which ran from 1988 to 2013. Picture: Greg O'Beirne, Wikimedia Commons
Sydney Monorail
The Sydney Monorail closed in June 2013.
It was a 3.6-kilometre elevated single-loop monorail transport system that opened in 1988, and which ran through part of the Sydney Central Business district.
Sydneysiders mostly saw it as a "white elephant", of little use in providing efficient city transport and a system designed as a tourist attraction and primarily for transporting visitors to the major attraction, Darling Harbour.
There were seven stops, although four of these were in, or near, Darling Harbour.
When it was dismantled in 2013, the then NSW Transport Minister Gladys Berejiklian, was quoted in news reports as saying, "It was always more of a novelty rather than an actual transport purpose."
A commercial monorail service, it operated around the main retail area of the central business district running down to Darling Harbour and skirting the harbour, before returning to the city area. A return trip was a good way of getting some perspective on the upper part of the central business district. It also gave visitors an elevated look at picturesque Darling Harbour.
Historic information
Hours
Monday to Thursday: 7am-10pm.
Friday and Saturday: 7am-midnight.
Sunday: 8am-10pm.
Stops (Stations)
1. City Centre - Get off here for:
Sydney Tower Centrepoint
David Jones
Grace Brothers
Pitt Street Mall
Sky Gardens shopping centre
Piccadily Court
Sheraton Hotel
Sydney Hilton hotel
2. Darling Park - Get off here for:
Cockle Bay Wharf
Sydney Aquarium
IMAX Theatre
Matilda Cruises
Park Royal Hotel
Hotel Nikko
3. Harbourside - Get off here for:
Harbourside Shopping Centre
Resturants and cafes
National Maritime Museum
Sydney Casino
Ibis Hotel
4. Darling Harbour Exhibition and Convention Centre - Get off here for:
Convention and Exhibition Centre
Chinese Garden of Friendship
Australian Motor Vehicle Museum
Merlin Centre
Novotel Hotel
5. Haymarket - Get off here for:
Sydney Entertainment Centre
Powerhouse Museum
Powerhouse Brewery Tavern
Chinatown
Carlton Crest Hotel
Panama Hotel
6. World Square - Get off here for:
Museum Underground Station
Planet Hollywood
George Street Cinema
Southern Cross Hotel
Waldorf Apartment Hotel
7. Park Plaza - Get off here for:
Town Hall Underground Station
Queen Victoria Building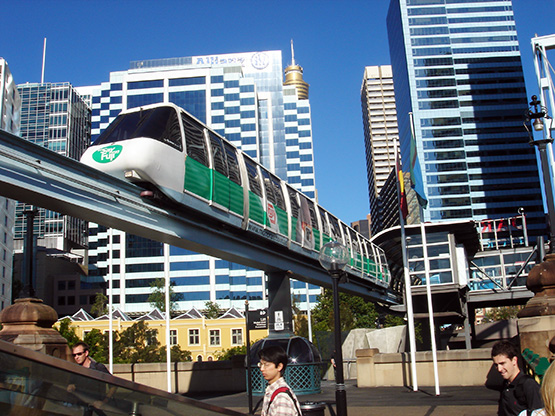 The Sydney Monorail passing through Darling Harbour. Picture: k-ish, Wikimedia Commons