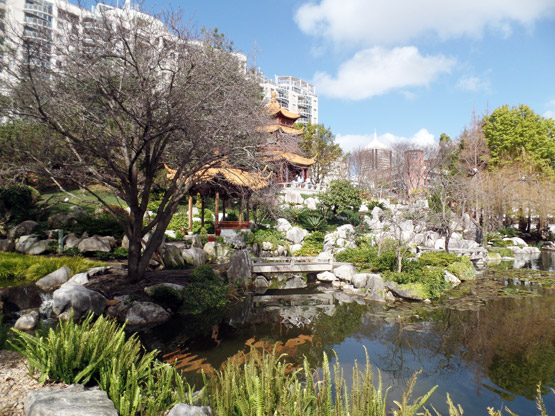 The Chinese Garden of Friendship, ideally situated at Darling Harbour in the very heart of Sydney, is the ideal place to peacefuuly while away a few hours.
Chinese Garden of Friendship a place of peace and serenity in the city
The Chinese Garden of Friendship was designed in China to celebrate the Australian Bicentenary and was a gift to Sydney from its Chinese sister city of Guangdong.
It is one of the largest gardens of its type outside Asia, with pavilions, lakes, waterfalls and a Chinese teahouse. The gardens were designed by landscape architects and embody principles dating back to the 5th century.
The garden combines the elements of water, plants, stone and architecture and presents visitors with a green and peaceful sanctuary in the midst of a major bustling city. It allows for and an ideal escape from the concrete surrounds of Darling Harbour.
If you want an hour or two of solitude, this is the place to be. Running water, towering willow trees, cool lagoons with lotus plants and large colorful fish all make this an idyllic spot to sit and while away the time or simply read a book.
Location

The Chinese Garden of Friendship is situated on the southern fringe of the Darling Harbour precinct, about 80 metres south of the Imax Theatre, near the Sydney Enterianment Centre and adjacent to Chinatown. The Light Rail Service from Central Station stops at Paddy's Markets, which are a short walk from the gardens.

Opening Hours: 09:30 to 17:00 (Except Good Friday & Christmas Day). Summer daylight savings hours (Oct-Apr): 9:30 to 17:30. Access by wheelchair is difficult because of the stairs and rocky pathways.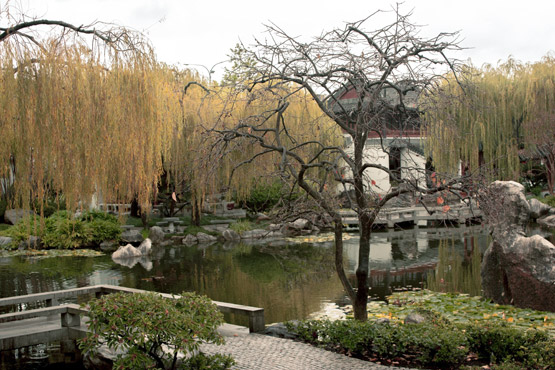 The garden occupies approximately one hectare combining waterfalls, lakes, pavilions, sculpture and animals, koi fish, water dragons, turtles and a number of bird species. The key features to look out for are the Courtyard of Welcoming Fragrance, Dragon Wall, Water Pavilion of Lotus Fragrance, Twin Pavilion, The Gurr, Rock Forest, and the garden's penjing collection (Chinese bonsai).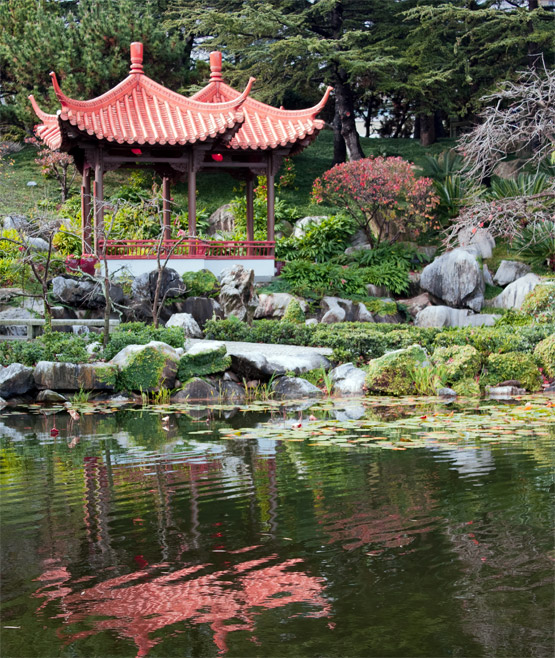 To enjoy the quiet serenity and peacefulness of garden, take the time to have a cup of tea from a selection in the traditional Chinese Teahouse.