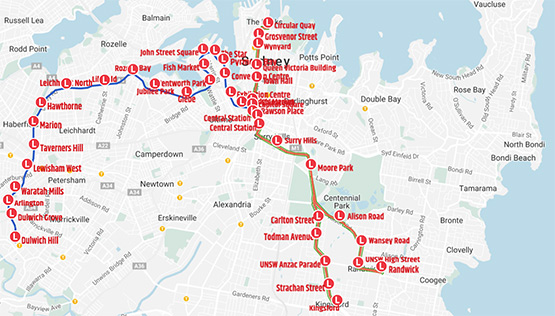 The existing Central Station to Dulwich Hill routes is shown in blue. The proposed route from Circular Quay to Kensington and Randwick is marked in red. Click image for larger map.
Sydney Light Rail Service
Sydney got rid of its extensive tram network in the 1950s and replaced them with bus services. Now, trams are returning to the city with the introduction of one ligh trail service and the building of a second.
The existing service running between Central Station and Dulwich Hill is handy for visitors because it runs through the CBD and stops at Paddy's Market and Chinatown, Darling Harbour and Star City casino.
A South East Light Rail project (CSELR) now being built will see trams run from Circular Quay along George Street to Central Station, through Surry Hills to Moore Park, then to Kensington and Kingsford via Anzac Parade and Randwick via Alison Road and High Street.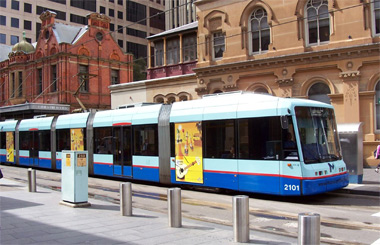 Sydney's light rail service runs past old buildings in the Paddy's Markets area.
Dulwich Hill light rail
Stations on this route are Central Station, Capital Square, Paddy's Market, Exhibition Centre, Convention, Pyrmont Bay, Star City (a short walk to the Pyrmont Growers Market), John St Square, Fish Market, Wentworth Park, Glebe, Jubilee Park, Rozelle, Lilyfield, Leichhardt North, Hawthorn, Marion, Taverners Hill, Lewisham West, Waratah Mills, Arlington, Dulwich Grove and Dulwich Hill.
Hours
24 hours a day, 365 days a year.
The Service between Central and Star City runs:
Every 10-15 minutes from 6:00am to midnight, and then,
Every 30 minutes (approx) from midnight to 6:00am.
The Service between Central and Lilyfield runs:
Every 10-15 minutes Sunday to Thursday from 6:00am to 11:00pm, and,
Friday & Saturday from 6:00am to midnight.
Fares
Fare vary depending on whether you are travelling within Zone One or Zone Two or across both Zones. A full range of tickets and the fare structure may be found here.
A new lightrail service is proposed for the Eastern Suburbs