Sydney beaches
Bondi Beach beckons
Only a 30-minute drive from the centre of Sydney down Oxford Street (it changes to Enfield Drive and then Bondi Road) brings you to the south entrance of Bondi Beach.
Bus 380 from Circular Quay will get you there in about 40 minutes or the train to Bondi Junction, then buses 381 or 382 will drop you off right on the beach as well. The bus from Bondi Junction to the beach takes about 15 minutes.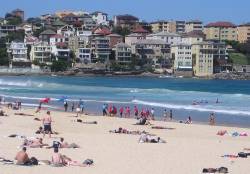 Bondi Beach, Sydney
In the summer season Bondi is a thriving cosmopolitan centre for sun, surf and fun. The beach is part of a large moon shaped bay of white sands and breaking surf. It is fringed by parks and apartments that overlook the blue waters.
Spanning the length of the beach, and across busy Campbell Parade, is a string of eateries, shops, hotels and tourist outlets for the souvenir hunter which bustle with activity most of the time. Set immediately behind the shops are apartments and accommodation for both the short or long term visitor.
Considering dining at Bondi Beach, then select from a range of restaurants to suit any culinary fancy.
Tourist and locals mix on the street and beach when the sun shines to show off their bronzed bodies.
If you're feeling energetic, try the Bondi to Bronte Beach walk.
Also, the Bondi coastline is host of the spectacular Sculpture by the Sea art exhibition, a major Sydney event that is held from late October to early November. Sculptures are placed at visually dramatic vantage points along the 2km coastal walk from Bondi Beach to Tamarama Beach.
Continuing north by car along Campbell Parage (changes to Military Road) for about 20 minutes and you will arrive at Watsons Bay
If you are looking to make your base here and enjoy the sun, sand, coastal walks and restaurants over a few days then plenty of suitable accommodation can be found in the area.