PLACES OF INTEREST
Visit Featherdale Wildlife Park
If you want to get up close and personal with native Australian animals then Featherdale Wildlife Park is the place to visit.
Allow yourself at least a good part of a day if you are coming from Sydney as you need a couple of hours to get there and back and a further minimum of two hours, at a leisurely pace, to give the place a good going over.
Featherdale Wildlife Park is an unobtrusive establishment nestled in the township of Doonside. It would be easy to miss if you weren't looking for it.
On arrival at the carpark it is easy to assume, at first glance, that "there's not much to the place", but once you walk through the entrance a world of Australian fauna opens up for you. Featherdale began as a poultry farm in 1953 to become one of the best wildlife parks in Australia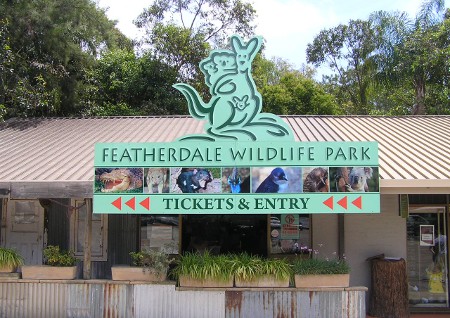 Featherdale Wildlife Park, Sydney: Entrance
As you meander the tree lined pathway of the Park you are introduced to an enormous collection of Australian mammals, birds and reptiles. You can approach many animals to often less than an arms length, some you can lean over and touch.
Throughout the day, at scheduled intervals, you get to meet various inhabitants or watch them being fed. A draw card is their Koala Sanctuary where, at anytime of the day, you can cuddle up to a Koala and get your picture taken. If you're interest in a particular animal then ring ahead to check the time.
Get to see native birds including, eagles, owls, brolgas, emus, cockatoos and penguins; marsupials including, kangaroos, wallabies, echidnas, bilbies, wombats, Tasmanian devils and, of course, koalas and reptiles including, crocodiles, lizards, snakes and frogs.
They even have a farmyard with an assortment of farm animals for the kids to pat and feed.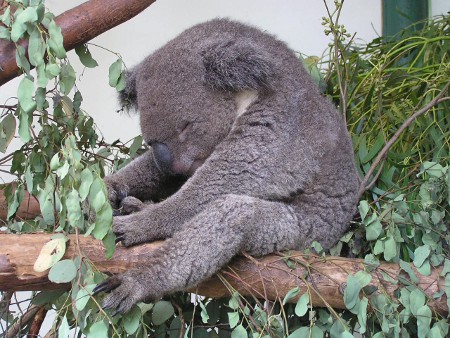 Featherdale Wildlife Park, Sydney: Koalas
You pass by Featherdale Wildlife Park on the way to the Blue Mountains so why not drop in for a visit. Alternatively, you can book one of the following tours that takes in the Park on the way to the Blue Mountains:
Details
Location:
217-229 Kildare Road, Doonside, NSW
How to Get There:
By Train: Depart from Central Station and alight at Blacktown Station. From there catch Bus #725 which drops you off at the Entrance to the Park. The train takes about 45 minutes and the bus another 15 minutes.
By Car: Via the M2, M4, M5 & M7 but the best option is your Satellite Navigator.
Telephone:
+61 2 9622 1644
Opening Hours:
Open from 9.00am - 5:00pm, every day of the year except Christmas Day.
Services:
Parking, Cafe, Picnic Area, & Gift Shop.
Ticket bookings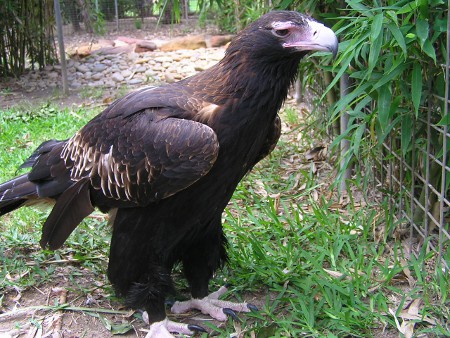 Featherdale Wildlife Park, Sydney: Wedge-tailed Eagle