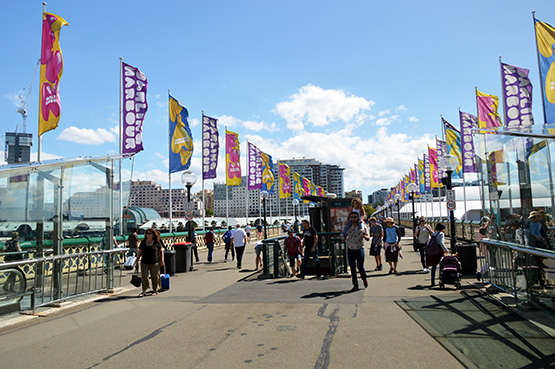 The Pyrmont Bridge splits Darling Harbour in half and provides access from the Sydney CBD to Pyrmont. The best way of getting a perspective of Darling Harbour is to walk across the bridge and look down on the small harbour's many attractions.
Picture: © Sydney.com.au
Pyrmont Bridge designed to swing to
let vessels access Darling Harbour
The Pyrmont Bridge, which is a major feature of Darling Harbour, is one of the world's oldest surviving, electrically operated swingspan bridges.
Although it is now a pedestrian walkway, in the latter half of the 19th century it was a busy thoroughfare for both horses and carts and people. The bridge provided the main transport route between the city and Sydney's growing western suburbs while the swingspan allowed tall vessels to access Darling Harbour.

The bridge was originally built as a wooden pile bridge with an iron centre 'swing panel' to allow ships to pass through, but this was updated in 1902. It was built by the Pyrmont Bridge Company, which charged tolls. People crossing the bridge were charged one penny.
The bridge opened in March 1858 and in the two weeks following the opening, 20,000 pedestrians paid the one penny toll to cross. The government later bought the bridge and abolished the toll.
During its life span the swingspan has opened more than 600,000 times. It still opens now for demonstrations on weekends and public holidays and at other times as required for shipping.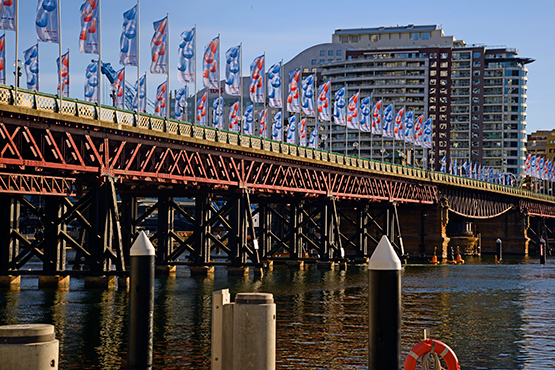 This picture shows the timber and metal structure that supports the bridge.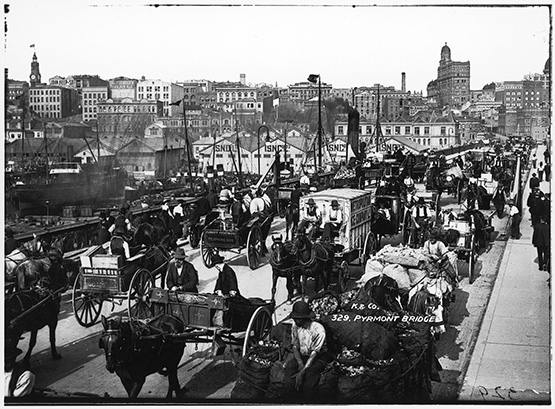 In the late 19th century the bridge was a flurry of activity for horses and wagons, and people.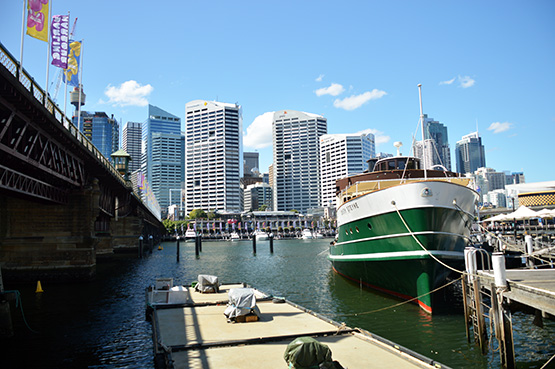 The former Manly ferry, the South Steyne - the world's largest operational steam ferry - is now a floating restaurant tied up alongside the Pyrmont Bridge. The ferry was removed in April 2016 to allow wharf work to be completed.
Picture: © Sydney.com.au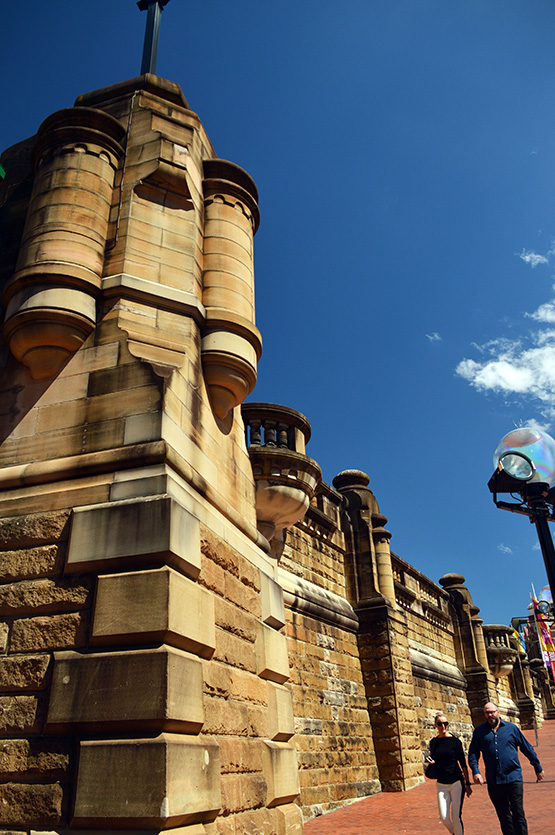 Impressive sandstone abutment walls feature at at each end of Pyrmont Bridge. Picture: © Sydney.com.au