Surfing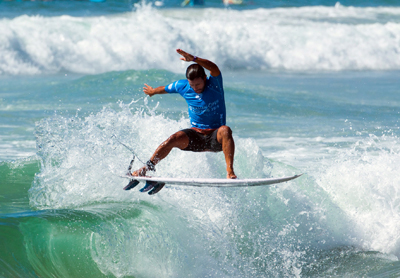 Tomas Hermes was the one to beat in the men's finals at the 2016 Australian Open of Surfing at Manly today. Picture: © owenphoto.com.au
Down to finals day at the Australian Open of Surfing

Three Aussies, three Brazilians, one Italian and a Tahitian surfer remain in contention for the Australian Open of Surfing QS6000 Men's quarter finals title being decided at Manly today.
The three Australians - Cooper Chapman (Narrabeen), Kalani Ball (Stanwell Park) and South Australian, Dion Atkinson are all in with a chance.
Atkinson surfed well yesterday to outpoint Jonathan Gonzalez 15.17 to 8.0. The win sets up an anticipated quarter-final with Heitor Alves of Brazil.

The man to beat is Tomas Hermas of Brazil, a former finalist at Manly. The 33-year-old put on a devastating display yesterday sending Australia's top ranked Championship Tour surfer Matt Wilkinson (Avoca) packing.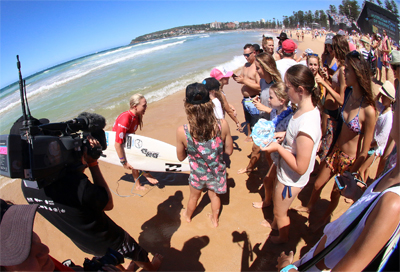 Defending women's champion Laura Enever was favoured to take out the Aussie Bodies Women's Pro final at Manly today. Picture: © @toesforward
In the Aussie Bodies Women's Pro finals, defending champion Laura Enever of Narrabeen is set to grab a back-to-back victory after yesterday winning her heat against Guadalupe's Kim Veteau.
The judges loved what they saw from Enever today; for her consecutive explosive backhand moves Enever scored a 9.73 out of a possible perfect 10. She finished on a two-wave combined heat total of 17.23 to Veteau's 6.56 and has drawn France's Pauline Ado in todays quarter final 3.

Tyler Wright, who re-wrote the record books when she won the Layne Beachley Classic pro tournament at Manly aged 14, is among the other famous names looking dangerous in the small conditions. Wright scored a 9.0 point ride yesterday on her way to eliminating Maud Le Car of France.

World rated top 10 surfer, Nikki Van Dijk (Phillip Island, Victoria) accounted for former World Championship Tour surfer Dimity Stoyle of Buderim, Queensland) in the last heat of yesterday's round.