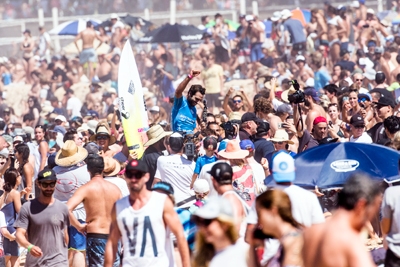 South Australian Dion Atkinson is buried among a sea of wellwishers after winning the men's final of the 2016 Australian Open of Surfing at Manly today. Picture: © owenphoto.com.au
Atkinson and Van Dijk win Australian Open of Surfing finals

It was a big day for "south of the border" surfers at Manly today.
South Australia's Dion Atkinson and Victoria's Nikki Van Dijk won the men and women's finals at the Australian Open of Surfing event.
Atkinson finished ahead of Italy's Leonardo Fioravanti to take home the $33,000 men's prize.
.
In the Aussie Bodies Women's Pro finals, Phillip Island surfer Nikki Van Dijk was a winner over Malia Manuel from Hawaii to pocket the $13,000 women's prize.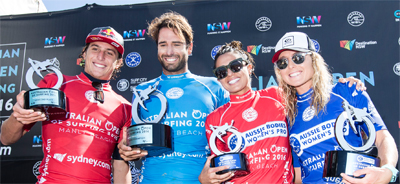 From left, men's runner-up, Leonardo Fioravanti of Italy, men's winner Dion Atkinson from South Australia, women's runner-up Malia Manuel from Hawaii and women's winner Nikki Van Dijk from Victoria. Picture: © owenphoto.com.au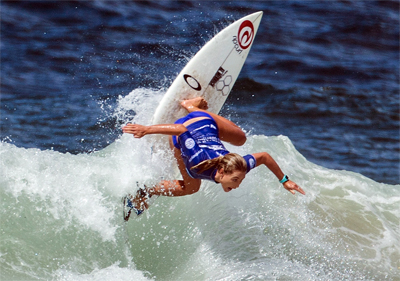 The type of surfing that won Nikki Van Dijk the winner's crown in the Aussie Bodies Women's Pro final. Picture: © owenphoto.com.au