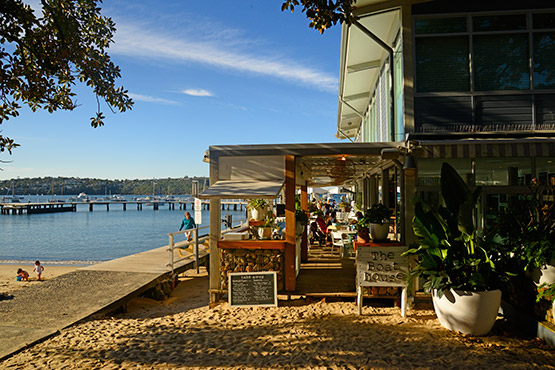 The Boathouse is a popular restaurant and cafe at Balmoral Beach, situated on a wharf in Balmoral Bay, which offers patrons outdoor eating and picturesque panoramic views of the bay. Picture: © Sydney.com.au
At Balmoral, The Boathouse serves up
a smorgasbourd of light and water
The Impressionists would have loved The Boathouse.
Here is a restaurant that presents the visitor with a highly visual and aesthetic experience based on light and water. Wherever you sit there is wonderful light relected off dazzling blue water.
The restaurant - which offers more of a relaxed cafe-style experience - is situated on The Esplanade at Balmoral Beach. It would be more correct to say it is on Balmoral Beach because it sits beside a wharf and you walk into the restaurant off the sand. Seated at the rear of the restaurant, you are surrounded by water and 180-degree views of the bay and headlands across the way.
On the opposite side of the bay is a large tract of dense forested land that forms part of the Sydney Harbour National Park. The two obvious landmarks are Grotto Point, directly opposite, and Dobroyd Head, further on towards Sydney Harbour.
Either side of the restaurant there are peaceful views of Balmoral Bay, the yachts moored there and the beach either side. The beach to the eastern side of the wharf is where the Chowder Bay to Balmoral Beach Walk emerges from the forests that track around Middle Head.
This is Sydney at its very best. With the almost-white sand of Balmoral Beach, this could be a setting in Tahiti or some similar exotic island paradise, yet it is 30 minutes drive from the Sydney CBD.
The culinary offering is not Michelin territory but The Boathouse does serve up "fresh modern Australian cuisine" in a casual and very pleasing beachside setting. If you want a more formal dining experience, you can walk along the beach to The Bather's Pavillion where you will pay twice as much for French cuisine with the option of degustation and vegetarian menus.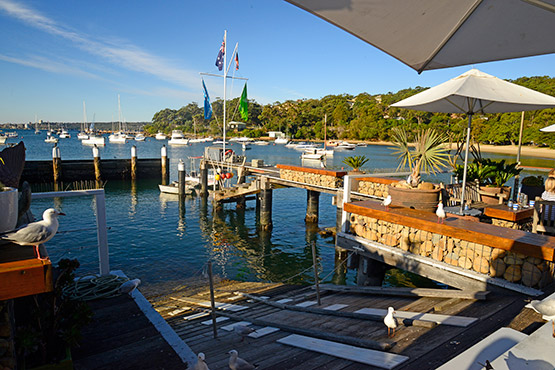 Looking out on the beach where the Chowder Bay to Balmoral Beach walking path ends. Picture: © Sydney.com.au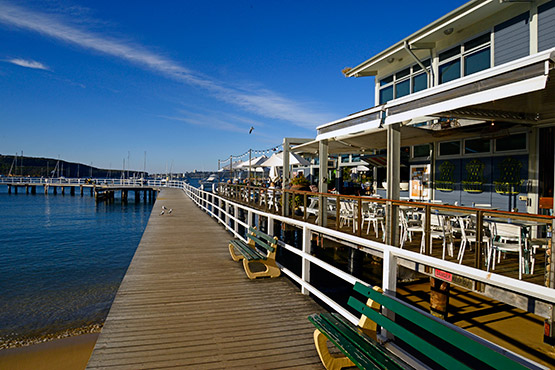 Tables scattered along the wharf side of the restaurant capitalise on a northern aspect. Picture: © Sydney.com.au

Seagulls also like to chill out at The Boathouse. Picture: © Sydney.com.au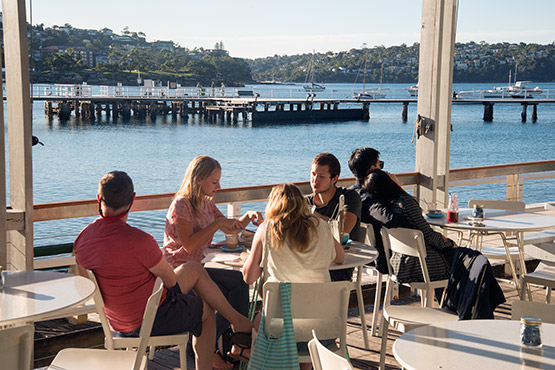 Casual, relaxed dining is the order of the day. Picture: © Sydney.com.au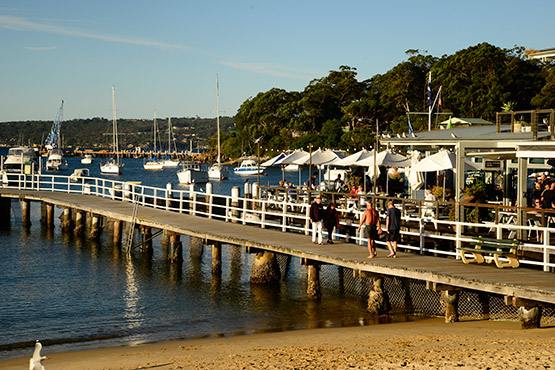 The Boathouse is surrounded by water. Picture: © Sydney.com.au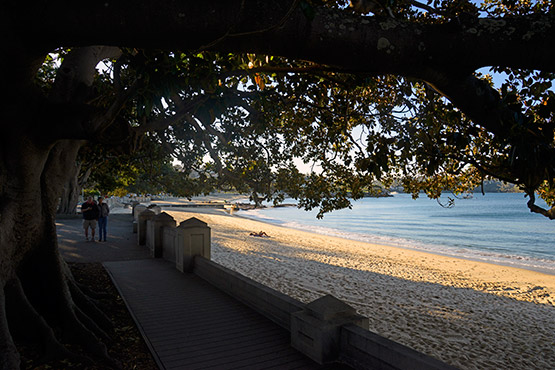 Balmoral Beach is one of the most appealing of Sydney's sheltered harbourside beaches. Picture: © Sydney.com.au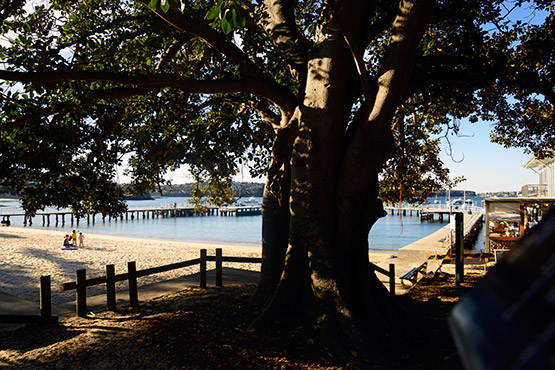 A giant fig Morton Bay fig tree shades the entrance to the restaurant. Picture: © Sydney.com.au