Casual and inviting, Frenchies cafe is a pleasing interlude during a harbourside walk. Picture: © Sydney.com.au
Frenchies is good for the soul
Frenchies is popular with the locals. Whether that's because it's part of the Headland Park Artists Precinct or because its set in quiet and peaceful surrounds, it does get a fair bit of local patronage.
Just how many visitors wander in off the Chowder Bay to Balmoral walking path is hard to say. There could be a lot more - if they knew about it.
And that's the thing about Frenchies - part of its appeal is being "hidden away" in a not-so-well-known part of Middle Head.
Even when you're ambling along the walking path, you eyes are mostly on the harbour and its vistas, and it's easy to miss the turn-off to the artists precinct (and Frenchies) on the left of the path. And you have to go out of your way and walk a short distance to enter the precinct.
Of course the giant wooden sculpture that appears through the trees as you near the precinct might be a giveaway that there is something here to be seen, and visited.
Whatever the case, Frenchies and the parklands and sculptures of the artist precinct are a pleasant diversion from the walking path.
It's easy to spend time here, lolling about in the sun. It's peaceful and quiet and an area where you can chill out and think of nothing except the sun on your face. Most of the cafe's tables are situated outside, across three different areas.
The cafe's not flashy or upmarket. It's modern-casual and suits the precinct's parklands and timber cottages.
You don't need to do the harbourside walk to drop in to Frenchies. It's worth a visit in its own right. Catch a bus from Wynyard to Headland Park and you'll soon be lazing about in the cafe or on the lawns. Definitely good for the soul.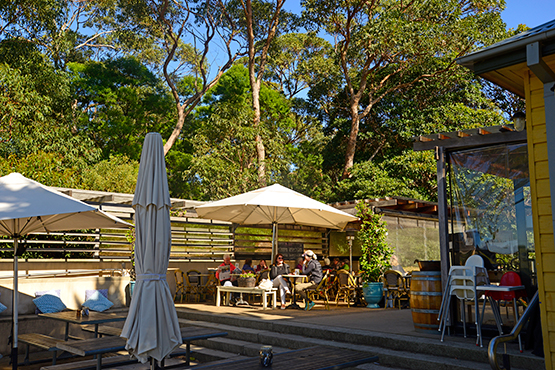 Tables are set up in different areas outside. Picture: © Sydney.com.au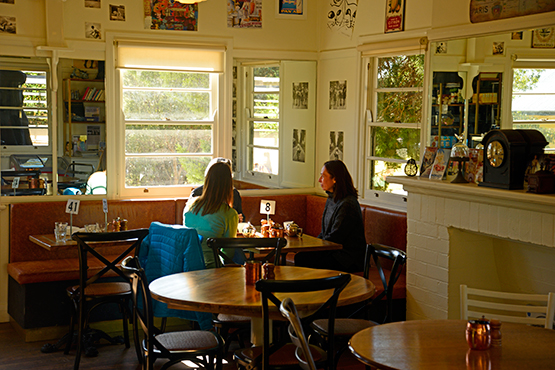 But there's also a booth and tables inside for those adverse to some sunshine. Picture: © Sydney.com.au