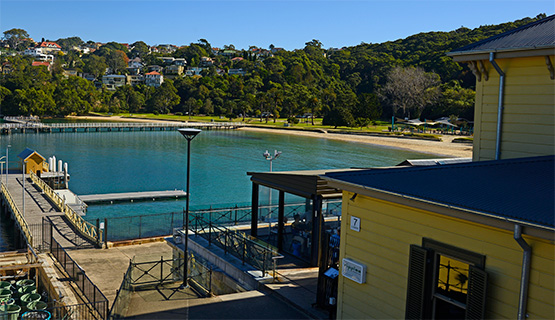 Ripples restaurant and cafe is at the front of Building 7 and looks out onto Chowder Bay, Clifton Gardens beach and Sydney Harbour. Picture: © Sydney.com.au
Stop for lunch or coffee at Ripples
Ripples is a restaurant and cafe located in Building 7 at Chowder Bay that is a popular spot for people doing the Bradleys Head to Chowder Bay (or Balmoral) walks.
The restaurant is open for lunch seven days a week and for dinner on Fridays and Saturdays.
The restaurant is situated on a deck with windows that look out on Chowder Bay, Clifton Gardens beach and Sydney Harbour.
Inside Building 7 is a function room rich in colour and atmosphere. The function room features a spiral staircase that was originally used for storing Aqua Mines in the 1880's and is now used as the cafe's cellar. Hence the function room's present name – the 'AquaMine Room'.

There is also a small cafe area near the front of the restaurant, for more casual dining, with stools and tables. The cafe's snack menu includes large chunky focaccia bread with an olive oil dip for less than $10.

Restaurant-goers take in the views on the deck of Building 7 while enjoying lunch. Picture: © Sydney.com.au

A small cafe area with stools is placed at one side of the restaurant and allows for snacks, coffee and more casual dining. Picture: © Sydney.com.au

The restaurant's function room is rich in colour and atmosphere.
Picture: © Sydney.com.au