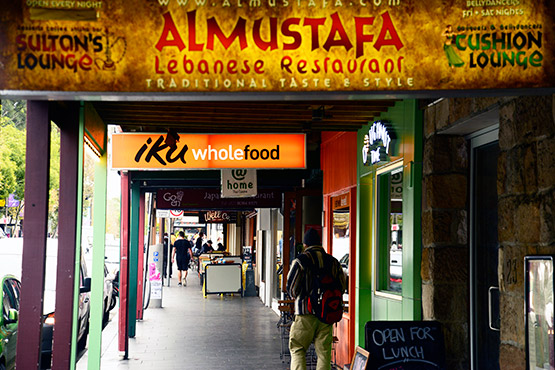 Glebe Point Road is a touch of Bohemia on Sydney's doorstep. Picture: © Sydney.com.au → More pictures below
Glebe's Bohemian cafes draw you
in with their charisma and colour
GETTING THERE
Catch a 431 or 433 Balmain bus at Railway Square, out the front of Central Station, and get off the moment it turns into Glebe Point Road.
If you can't find something you like to eat in this gem of a cafe and restaurant precinct then you're not trying.
The precinct, in Glebe Point Road and just a stone's throw from the University of Sydney, is one of Sydney's most eclectic places to eat out.
There is a 1-kilometre stretch of Glebe Point Road - starting at Paramatta Road and running to Bridge Road - that is lined with quaint and colourful cafes and restaurants. If you don't want to walk the kilometre, there's ample selection and colour at the Paramatta Street end.
Glebe Point Road's cafes are fun places to visit at lunchtime, but at night under bright lights they take on a different guise. Just as delightful, but perhaps beckoning a little more. Local residents and out-of-area visitors rub shoulders with students and staff from the nearby university.
The thing about eating out in Glebe is that you feel at ease and at home among the other patrons. People are very accepting, regardless of your age or how you are dressed. And, you won't spend a fortune.
The precinct originally started out as a small strip of Bohemian-style cafes catering to uni students but has since grown to become an eating-out preceinct in its own right. More recent additions have played on the Bohemian-like character of the area in setting up the look and style of their fooderies. The more casual, the more appealing, it seems.
The cafes are bristling with colour and character, the prices are good and there is a diverse selection of cusine.
One of my favourite cafes from a way back is Sappho Books, which doubles as Sapphos Cafe & Wine bar. It's appeal lies in what is hidden behind the facade. From the footpath it all but appears to be a bookstore, but amble through to the back and you've got a full-on cafe happening.
Badde Manors, on the other hand, is quite explicit in its appeal. Its striking facade, which boasts two cherbubs on the roof gloating over a motor car's grill and shiny fenders that they may or may not have stolen, beckons you through the green metal grill and French doors, promising an adventure inside. The coffee at Badde Manors is excellent.
The great news for visitors to Sydney is that this cafe precinct is very accessible, being just 1 kilometre from Sydney Central Station. Catch a 431 0r 433 Balmain bus at Railway Square, out the front of Central Station, and get off the moment it turns into Glebe Point Road.
If you make the short trip there on Saturdays, an added delight is the Glebe Markets, held from 10am to 4pm in a small park opposite the cafes. There's plenty of lawn space to sit and listen to live music. The markets are big for recycled and vintage wares.
- Rod Ashcroft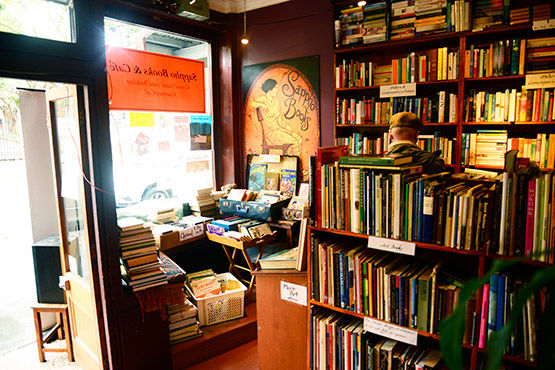 Not just a bookstore, Sappho is also a charismatic cafe. Picture: © Sydney.com.au
More pictures of Sappho Books & Cafe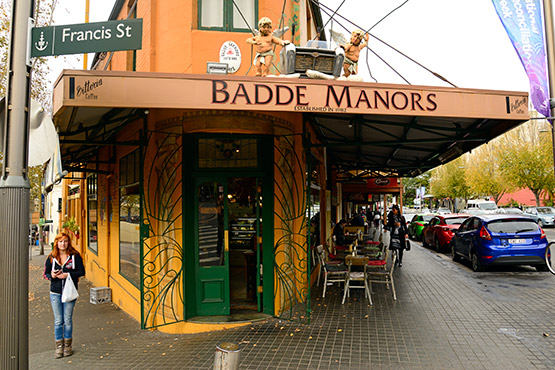 Retro-50s and one of Glebe's best cafe experiences. Picture: © Sydney.com.au
More pictures of Badde Manors

Boxes of LP albums to browse through while you sip a latte.
Picture: © Sydney.com.au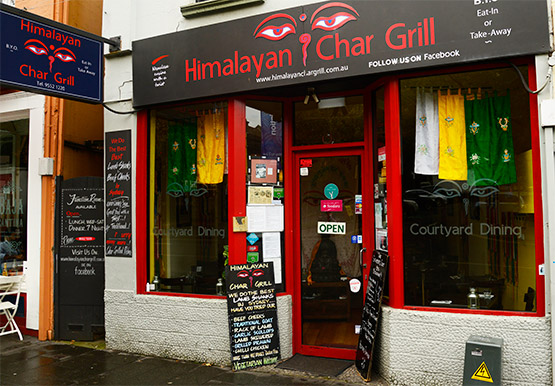 Why go to Nepal when you can go to Glebe? Picture: © Sydney.com.au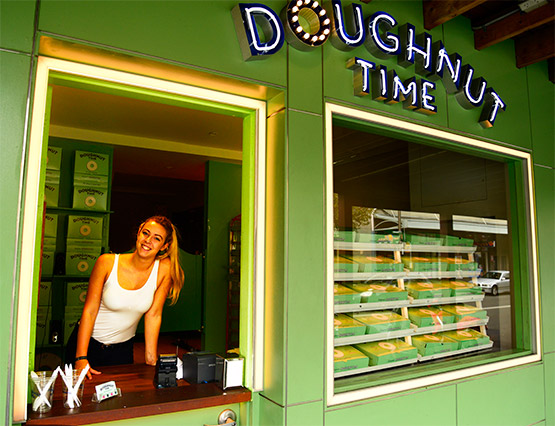 Doughnuts with a welcoming smile. Picture: © Sydney.com.au

Lunch on the terrace. Picture: © Sydney.com.au

Fiesta time in Glebe Point Road. Picture: © Sydney.com.au

Enjoying a quiet moment in Glebe. Picture: © Sydney.com.au

Lots of choice on this menu. Picture: © Sydney.com.au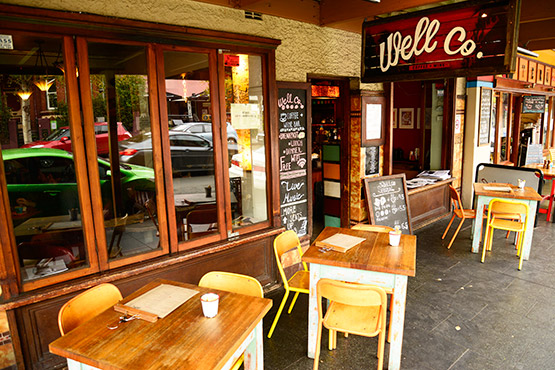 Sidewalk tables beckon at Well Co. Picture: © Sydney.com.au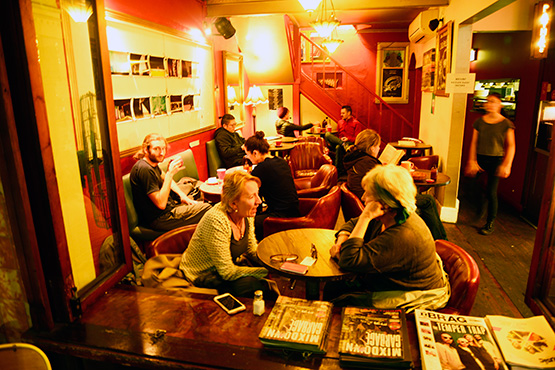 Well Co takes on a different guise at at night. Picture: © Sydney.com.au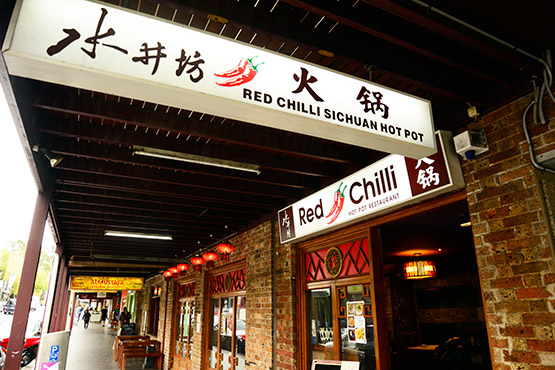 Hot Chinese food in the traditional style. Picture: © Sydney.com.au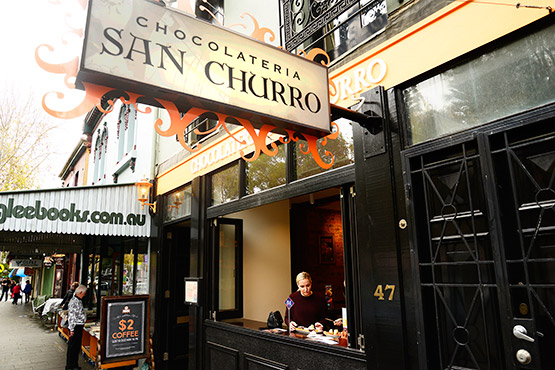 At San Churro you can indulge your passion for chocolate.
Picture: © Sydney.com.au