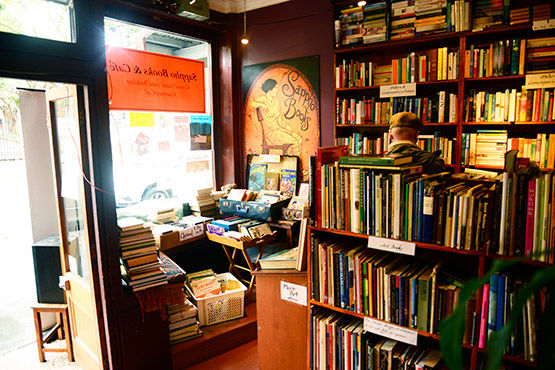 A bookshop brimming with hardcovers and paperbacks beckons to passersby in Glebe Point Road, Glebe. Picture: © Sydney.com.au
Literature is on the menu at Sappho
Sappho Books is my favourite cafe in Glebe Point Road.
If that sounds like a contradiction, it's not. The shop is Sappho Books, the second-hand bookshop, but it's also Sappho Cafe and Sappho Wine Bar.
Owner Meredith has created a delightful santuary for people who love books, music and poetry, but who also like to back up with a coffee and a bite to eat. And that's me.
If you peek into the shop from the footpath, all you see are walls of second-hand books. It's not until you've drifted out into the second room of books, and then turned into a tiny hall, that you emerge in a walkway lined with tables and chairs. The walkway is actually an outside path running alongside the house that has been enclosed for cafe purposes. It's a great solution: rustic and cosy.
On the right of the walkway is a kitchen where lunchtime fare is prepared and where Marco the barista whips up capuchinos with works of art etched into the froth. My cap appeared with a exquisitely etched butterly.
Wander down to the end of the walkway and a small room appears on the right. It's another setting oozing with character. Behind it is a small courtyard with palms and other lush vegetation, a huge outdoor umbrella and a bright blue wall. A fine choice of places to sit and idle away the day.
At night the bookshop closes but the bar remains open and is accessed via a small laneway lit up with fairy lights next to the bookshop.
The bookshop also indulges its patrons with live acoustic music and poetry readings on some nights and opens "early till late".
On a sad note there is a For Sale notice inside the shop, but Meredith puts my mind at ease when she tells me she's selling the cafe and the kitchen, not the bookshop. Which means there will continue to be a fine offering of hardcovers, paperbacks and minestroni soup for those who venture in.
The bookshop-cum-cafe comes highly recommended. According to Meredith, that old grand dame herself, Edna Everage, was heard to whisper "Visit Sappho Books & Cafe". Good one, Barry!
- Rod Ashcroft
There are rooms of books. Picture: © Sydney.com.au

Behind the front rooms books give way to tables and chairs.
Picture: © Sydney.com.au

Love the artwork! Picture: © Sydney.com.au

The room with the artwork on the walls looks completely different at night.
Picture: © Sydney.com.au

At night the bookshop is closed and access to the bar is via a small laneway with fairy lights. Picture: © Sydney.com.au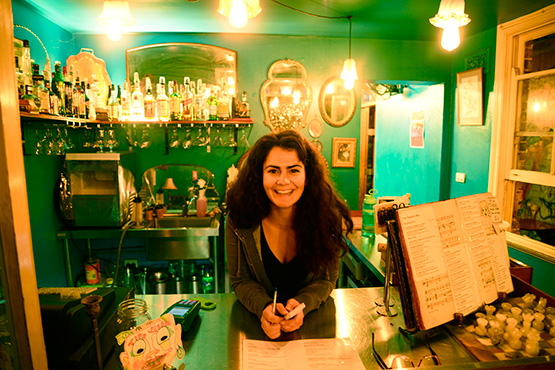 In the wine bar at night, Grace is on hand to serve you. Picture: © Sydney.com.au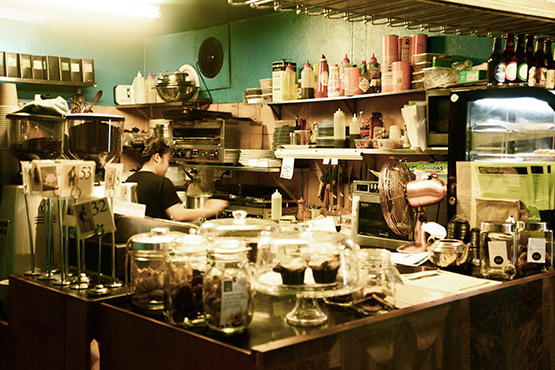 The engine room of Sappho Cafe & Wine Bar. Picture: © Sydney.com.au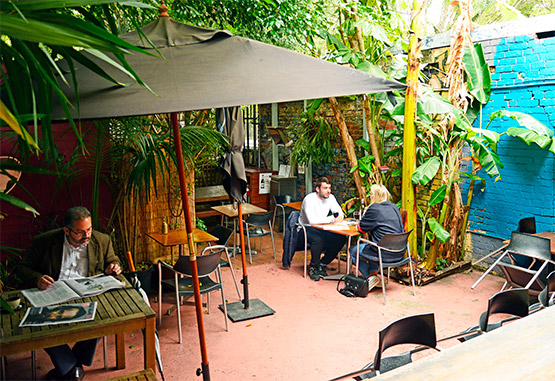 There's even a courtyard. Picture: © Sydney.com.au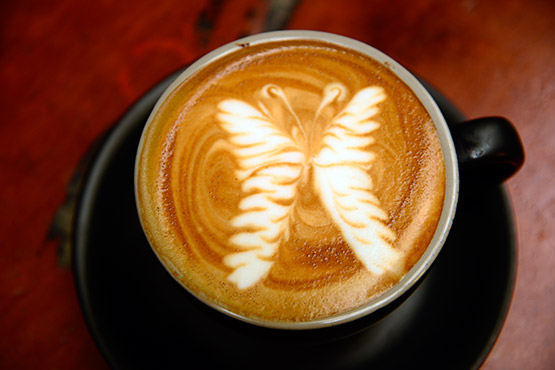 A touch of artistic flair by barista Marco. Picture: © Sydney.com.au