Rainbow, by Chen Wenling, one of the eyecatching artworks in the Sculpture by the Sea exhibition held annually along the Bondi Beach to Tamara Beach walking trail. Picture: © Leah-Anne Thompson, 123RF.com
Sculpture by the Sea - a 2km exhibition on the Bondi to Tamarama coastal walk
The year 2016 marks the 20th anniversary of the Sculpture by the Sea exhibition.
The free exhibition, which is held in late October and early November each year, features more than 100 artworks by Australian and international artists in a temporary sculpture park along the 2km coastal walk from Bondi Beach to Tamarama Beach.
The three-week event is the world's largest sculpture exhibition held outdoors and draws more than 500,000 visitors to Sydney for the event.
Below is a selection of the work featured in this year's exhibition.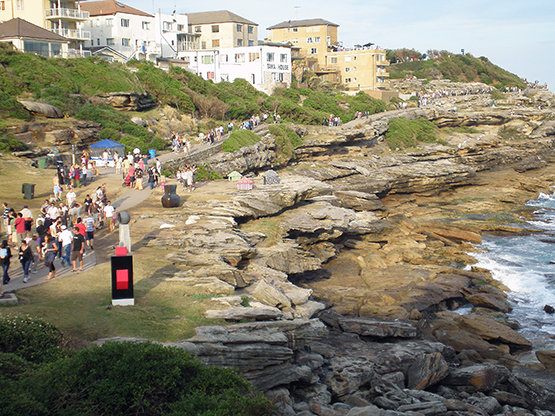 Locals and visitors alike flock to the Bondi to Tamarama walking trail in their quest to view artworks in the Sculpture by the Sea exhibition. Picture: Whats new via Wikimedia Commons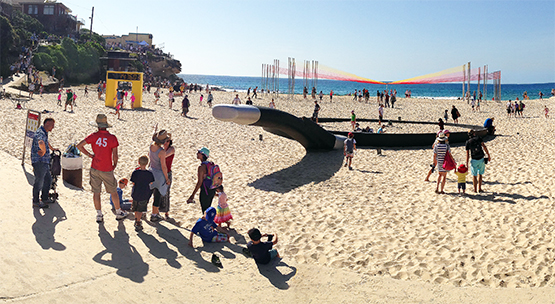 Artworks set up on Tamarama Beach during the 2014 Sculpture by the Sea exhibition. Picture: © Leah-Anne Thompson, 123RF.com

Glamorama, by Linton Meagher, NSW. Materials used are perspex and resin. Picture: © Leah-Anne Thompson, 123RF.com

Sea Anemone, by Rebecca Rose, NZ. Sculpture set up on Tamarama Beach. Picture: © Leah-Anne Thompson, 123RF.com

There's many a slip 'twixt the cup and the lip, by Ken Unsworth.
Picture: © Leah-Anne Thompson, 123RF.com

Coast Totem, by Linda Matthews and Carter Williamson. Made from chrome, steel and synthetic rubber. Picture: © Leah-Anne Thompson, 123RF.com

Our Memory in Your Place, by Byeong Doo Moon, South Korea. Materials are stainless steel and granite. Picture: © Leah-Anne Thompson, 123RF.com

Girl Pointing, by Matt Calvert. Picture: © Leah-Anne Thompson, 123RF.com

Babies, by David Cerny, Czech Republic. Materials used, metalised fibreglass and steel. Picture: © Leah-Anne Thompson, 123RF.com

The Wanderer, by Sean Henry, England. Picture: © Leah-Anne Thompson, 123RF.com

Sisyphus, by George Andric. Lightpainted with a torch for a red glow. Materials, stainless steel. Picture: © Leah-Anne Thompson, 123RF.com

Tribute to workhorse, By Belinda Villani. Picture: © Ilia Torlin, 123RF.com

Detail of a work by Hyoung Kwon Kim. Picture: © Debra Law, 123RF.com

Big Man, by Will Maquire, NSW. Made of hot forged steel. Picture: © Leah-Anne Thompson, 123RF.com