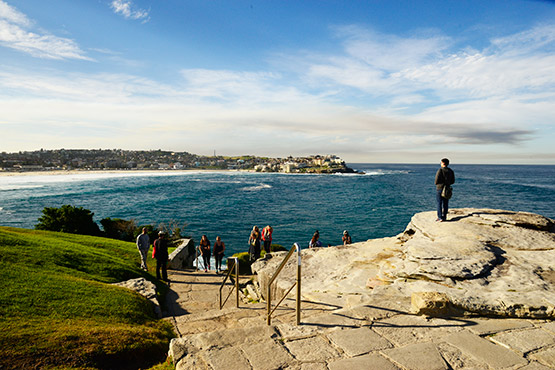 People on the walk are rewarded with glorious views from Marks Park on McKenzie Point. Picture: © Sydney.com.au
Bondi Beach to Bronte Beach Walk - part 3
Spectacular views of Bondi Bay from
Marks Park and Mackenzie Point
Continued from Bondi to Bronte walk - part 2
The last part of the walk, in contrast to the first two parts, is along the more open spaces on top of the cliffs where there are wide panoramas and the coastline winds its way south in the distance.
Marks Park is the name of a small outlook on the tip of Mackenzies Point, mostly rock, which is a guaranteed stopping point.
From here there are grand ocean and coastal vistas and sitting on the rocks watching walkers coming up the path appeals to many. It can get quite crowded here. In the warmer months, even standing room becomes a problem due to the number of people who do this walk,
From Marks Park, the path leads nonchalently down to, and around, a small rocky cove before winding its way around the Tamarama Surf Life Saving Club and skirting around the northern part of Tamarama Bay. The path stops at the bottom of the bay, overlooking Tamarama Beach, and the walk continue along the footpath that runs beside Tamarama-Marine Drive.
It's an uphill walk for a short distance but then the road starts to descend on the way into Bronte Beach. After 200 metres or so you discover a set of stairs that takes you back onto a coastal walking path. This leads into Bronte Beach.
The rock pool at the end of the beach is definitely worth a visit with some impressive high rock walls and views acros Bronte Beach and Nelson Bay.
At Bronte Beach you have the option of catching a bus back to Bondi Junction or further afield. If you want to go back to Bondi by bus, you need to change at Bondi Junction.
Editors note: It should be said that as beautiful and alluring a setting as Marks Park is, it does have a dark chapter in Sydney's recent history, having been the scene of a number of incidents where gay men were bashed and even beaten to death in the 1980s and '90s. In a recent feature story in the Lifetsyle section of the Sydney Morning Herald, journalist Rick Fenely described Marks Park as "a one-time killing field".

A setting in Marks Park ideal for contemplation and perhaps even meditation. Picture: © Sydney.com.au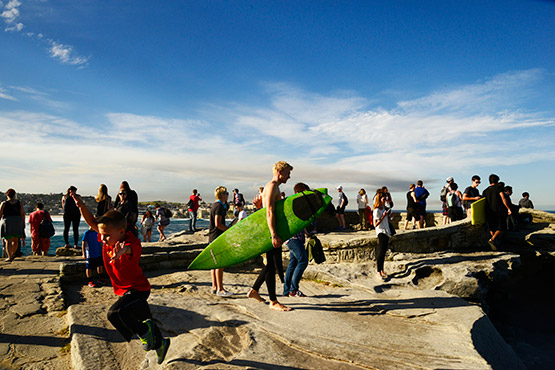 Suddenly there are people everywhere - even a man with a surfboard.
Picture: © Sydney.com.au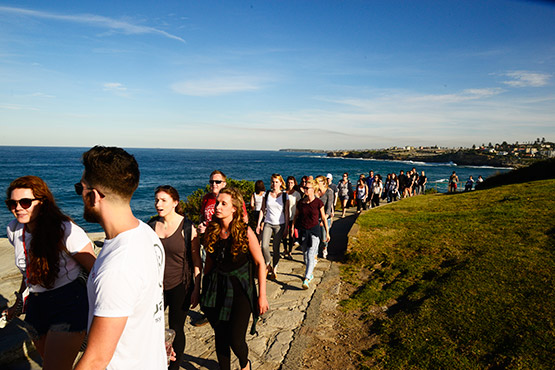 One-way traffic. Picture: © Sydney.com.au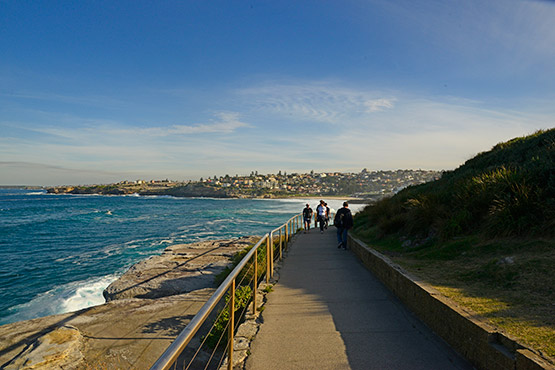 Back on the walking path and on to Bronte Beach. Picture: © Sydney.com.au

The path heads down into Mackenzies Bay. Picture: © Sydney.com.au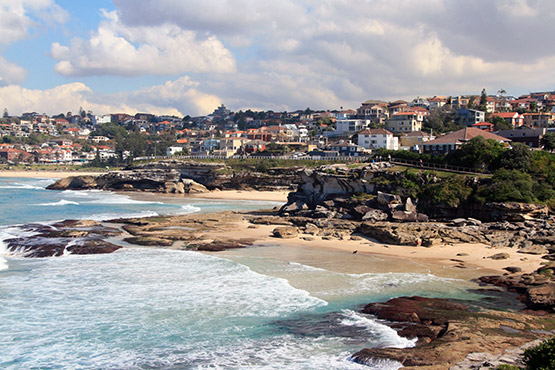 In the foreground, the small inlet known as Mackenzies Bay; the next beach along is Tamarama; and the beach in the distance, Bronte.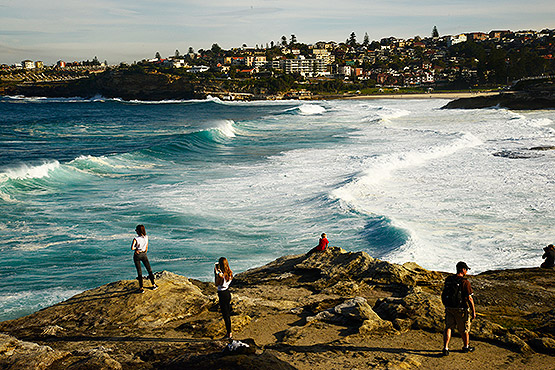 The view across to Bronte Beach. Picture: © Sydney.com.au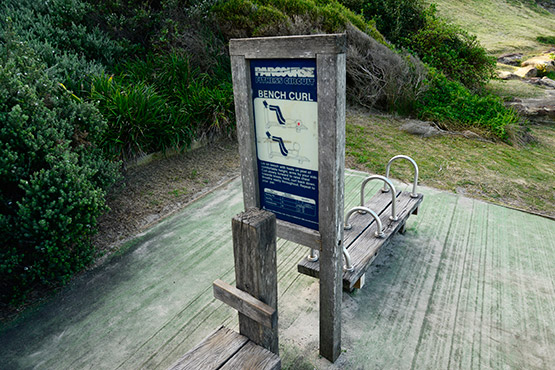 Exercise points appear at regular intervals along the walking path.
Picture: © Sydney.com.au

The view from the point approaching tiny Tamarama Beach.
Picture: © Sydney.com.au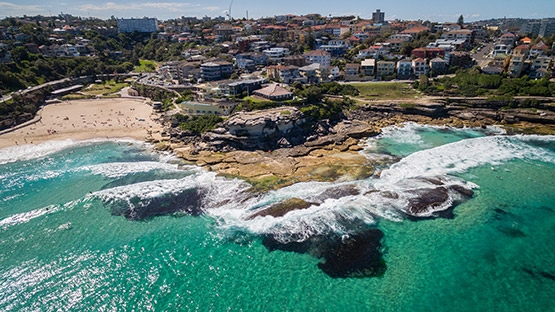 Tamarama Beach.

Looking back on Tamarama Beach. Picture: © Sydney.com.au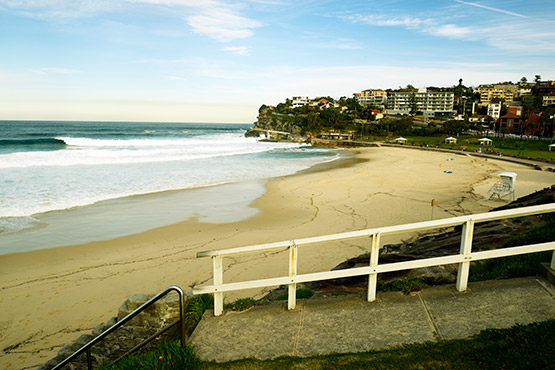 At last, Bronte Beach! Picture: © Sydney.com.au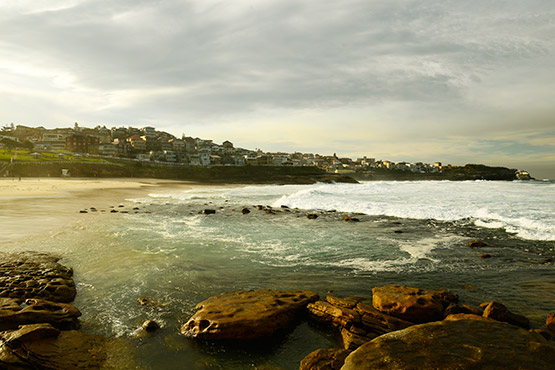 A final look back at the walking path. Picture: © Sydney.com.au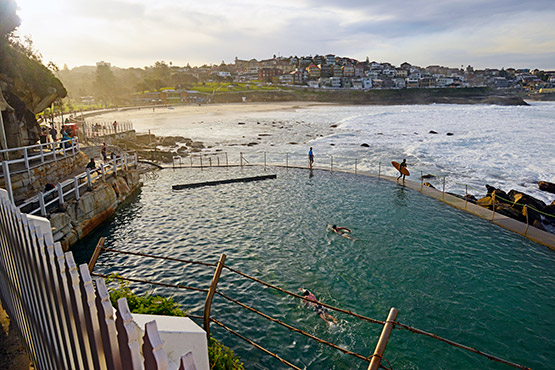 The rock swimming pool at Bronte Beach. Picture: © Sydney.com.au