Brightly coloured rocks are a feature of this part of the walk.
Picture: © Sydney.com.au
Bondi Beach to Bronte Beach Walk - part 2
Last chance to look back at Bondi Beach

Continued from Bondi to Bronte walk - part 1
The walk has now moved away from the foreshore to higher ground and continues along the cliffs south of Bondi Beach and towards Mackenzie Point, where it leavs Bondi Bay behind and snakes around the headland.
In terms of picturesque scenery, this is the most spectacular part of the walk; first as you walk closer to Mackenzie Point and then as you draw near to Mark's Park, right at the very edge of Mackenzie Point.
Along this section of the walk you have yet to turn the point and are able to look back on Bondi Bay, Bondi Beach and North Bondi in the distance across the bay.
The walk is mostly along a path bounded by rocks and vegetation on both sides. The yellow and orange ochres in the rocks every so often give way to darker greys. On the ocean side, the rocks reach down to embrace the blue water below. There is an overwhelming sense of brightness on this walk, enhanced by the colour of the rocks, the ocean and the sky. It's something of a sensory overload.
This part of the walk ends as the path reaches Mark's Park, at Mackenzie Point.



Stairs connect the foreshore path to the upper path. Picture: © Sydney.com.au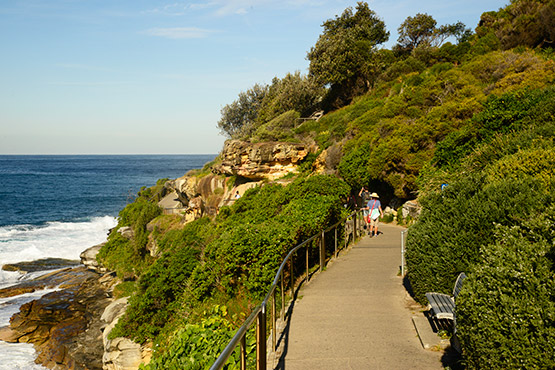 The path now is mostly level walking. Picture: © Sydney.com.au

At this point the path starts to climb more, but not too steeply. Picture: © Sydney.com.au

Seats are placed at strategic points along the way to enjoy ocxean views. Picture: © Sydney.com.au

Looking back at Bondi Beach and, in the distance, North Bondi on the point. Picture: © Sydney.com.au

A couple take time out from the walk. Picture: © Sydney.com.au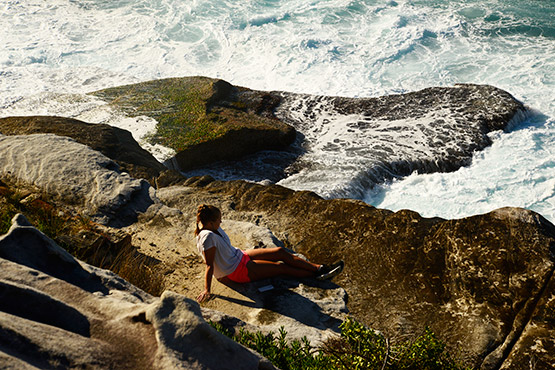 A young woman stretches out in the sun on a rocky ledge. Picture: © Sydney.com.au

The part of the walk where the path winds around the point at Marks Park. Picture: © Sydney.com.au

Textures and colours combine to create an impressive seascape.
Picture: © Sydney.com.au

Marks Park is a great place to stop and take in the views. Picture: © Sydney.com.au

A glimpse back at Bondi Beach, which is disappearing in the distance.
Picture: © Sydney.com.au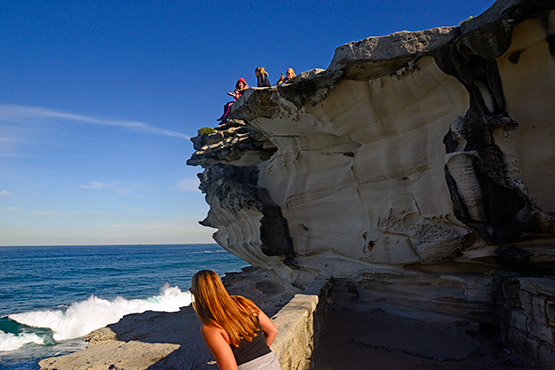 Hanging out on Bondi clifftops. Picture: © Sydney.com.au

At last, steps! Picture: © Sydney.com.au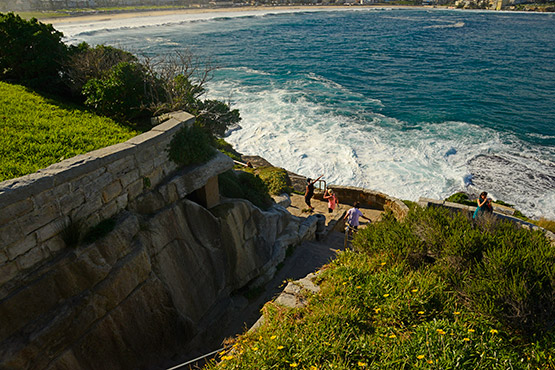 From up here Bondi Beach actually seems closer. Picture: © Sydney.com.au

OK everyone, it's selfie time at Markk's Park. Picture: © Sydney.com.au