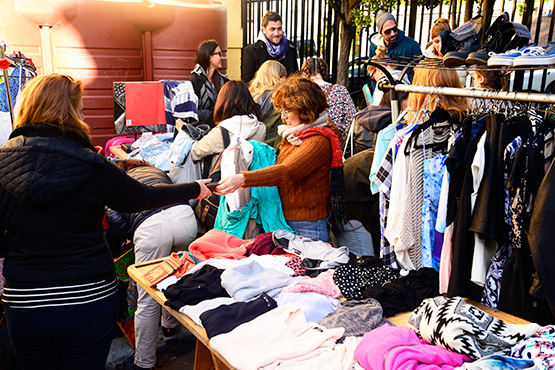 "All these six dollars", cries the stallholder, and the scramble is on.
Picture: © Sydney.com.au
Saturday scramble for vintage and retro
women's clothing at the Glebe Markets
The turn-out is huge, mostly women, and that's because of the large number of stalls selling recycled and new women's clothing.
For some time now Glebe Markets has been evolving from a crafts and bric-a-brac market to a market largely filled with racks, tables, suitcases and piles of women's clothes. And on Saturdays hundreds of young women, and women not so young, rummage their way through what can be considered absolute bargains.
There is a wealth of vintage and retro recycles as well as new, modern chic garments. On some tables and racks all items are $2 or $5 or $10. In one back corner of the market a stallholder shouts "All these $6", and women rush to the table.
There are other stalls selling jewellery, crafts, artwork, soap, perfumes, homewares, freshproduce and artworks, but it's the clothing stalls that get a good workout from buyers.
The market is held every Saturday and has become hugely popular with Sydneysiders, especially young women. There is a lawned entertainment area and this appears to be where the men hang out while women do their runnaging through the stalls.
There's no shortage of entertainment at the markets, both in the designated lawned entertainment area and throughout the stalls. Musicians and performers appear at different times in the live music area while it's not uncommon for a stallholder to pick up a guitar or burst into song. On the day of Sydney.com.au's visit, one talented female stallholder captivated marget-goers with a stirring Spanish-gypsy song.
Food stalls are diverse and popular, but if you prefer something a little more substantial some of Sydney's most appealing cafes are across the road in Glebe Point Road.
Glebe Markets is one of the best of Sydney's small markets and a delightful place to be on a sunny Saturday.
GETTING THERE
Catch a 431 or 433 Balmain bus at Railway Square, out the front of Central Station, and get off the moment it turns into Glebe Point Road. Walk a short distance to the Glebe Primary School grounds, where the markets are held every Saturday from 10am to 4pm. Market stalls, food stalls and live music.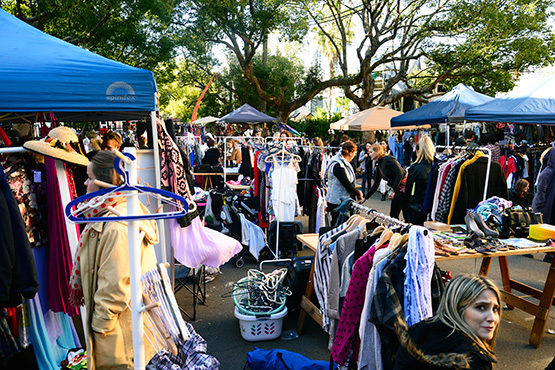 Clothes, clothes and more clothes. Picture: © Sydney.com.au

Hmm. Is that someone trying on a pair of shoes or a stallholder hiding from the customers? Picture: © Sydney.com.au

There's something for eveyone at this stall - both for the young and not so young. Picture: © Sydney.com.au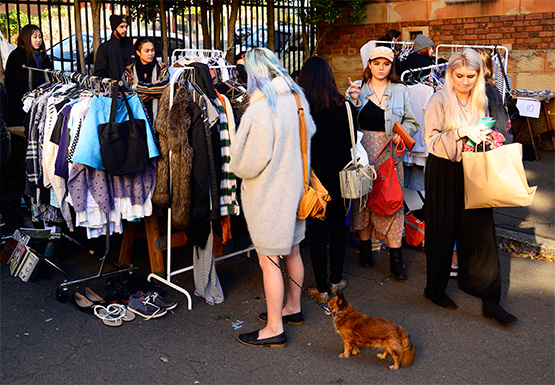 Items are selling fast! Picture: © Sydney.com.au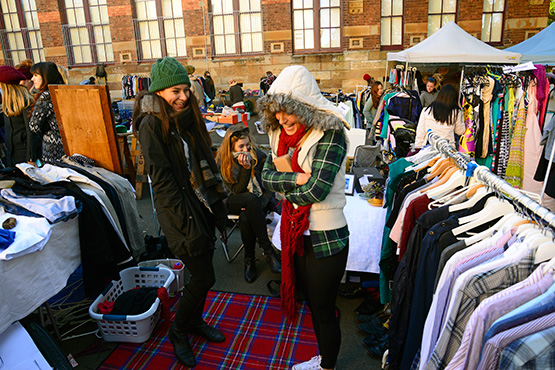 Yes, it was Sydney's coldest morning for 32 years and yes, stallholders are allowed to wear the wares. Picture: © Sydney.com.au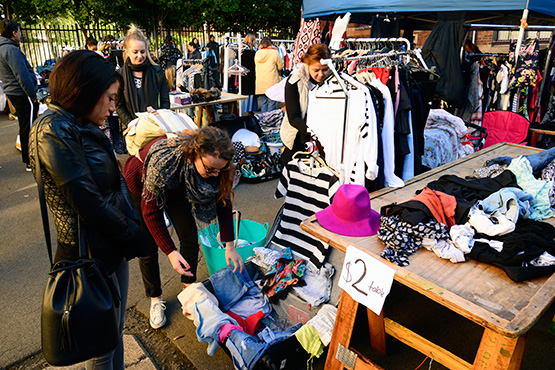 If everything on the table is $2, how much for the items in the suitcase on the ground? Picture: © Sydney.com.au

It might be cold but it's still fun being a stallholder at the Glebe Markets.
Picture: © Sydney.com.au

Nothing like a bit of guitar playing to draw buyers. Picture: © Sydney.com.au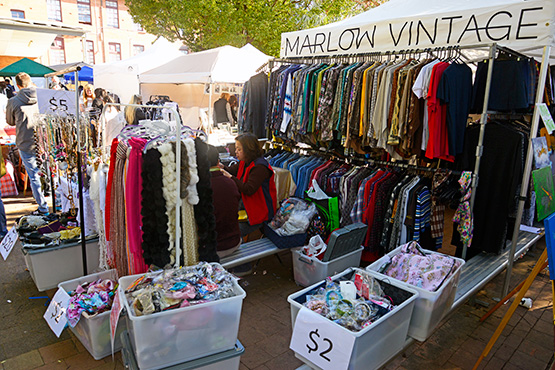 Vintage, vintage and more vintage clothing. Picture: © Sydney.com.au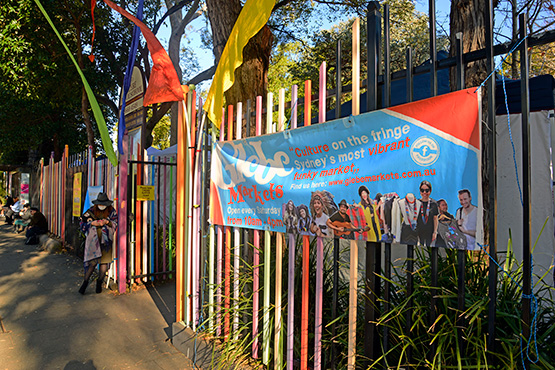 As the banner at the entrance says, "Culture on the fringe" at this "vibrant funky market". Picture: © Sydney.com.au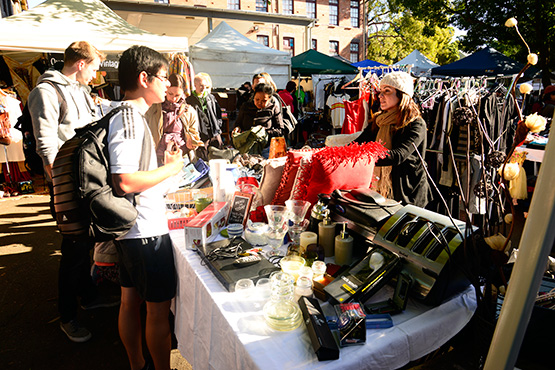 Serious negotiations appear to be taking place. Picture: © Sydney.com.au

A bit quiet at this particular stall at present but these sample clearance items are definitely priced to sell. Picture: © Sydney.com.au

Poor little guy, he's had a busy morning at the markets and is tuckered out. Picture: © Sydney.com.au

Food stalls are popular today. Picture: © Sydney.com.au

A young artist works while she waits for customers to stop and look at her artworks. Picture: © Sydney.com.au