A powerhouse blend of soul and
blues covers from Beth and Joe

Beth Hart/Joe Bonamassa - Seesaw
J&R Associates (through Only Blues Music)
5 stars (out of 5)

Roots music doesn't get any better than this powerhouse blend of soul and blues covers. Songstress Beth Hart and blues guitarist Joe Bonamassa first teamed up in 2011 to record the highly successful Don't Explain, but if that collaboration pushed a tad too hard at times to box the musical compass, Seesaw is more tightly focused. It achieves a perfect stylistic balance without sacrificing energy or conviction.

Hart plays to her strengths as never before, sourcing acknowledged influences from Billie Holiday to Etta James and Aretha Franklin, yet managing to take ownership of the songs they made famous. She segues with amazing ease from a brittle, much-travelled jump-swinger like Them There Eyes – set to Lee Thornburg's brash horn arrangement and Bonamassa's reverb-heavy Les Paul-style licks – to sultry torch temptress on Close To My Fire.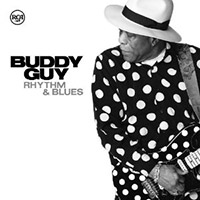 Versatility is a trait Bonamassa shares with Hart. Having paid his dues as a conventional electric blues soloist, Joe gravitated to the heavyweight power-rock group Black Communion, then surprised adherents with his best solo album to date, Black Rock, recorded at Santorini with bluesy folk and world music overtones influenced by its Greek setting.
Teaming with Hart presented the bluesman with fresh stylistic challenges and he tailors his instrument perfectly to Hart's throaty, lived-in vocals, exploring tastefully melodic fills on the slow, seductive Sunday Kind of Love and ripping out raw rock riffs on the Ike and Tina Turner classic Nutbush City Limits.
Nutbush is one of the album's more potent tracks along with Can't let Go, where Hart captures Lucinda Williams's urgent sensuality (a tough act to follow) and Bonamassa reels off a high-speed slide backing.
Encouraged by producer Kevin Shirley, they mix up the tempo, switching from a killer rendition of Buddy Miles's Miss Lady, with Hart rocking and raging to rasping horns and sizzling Bonamassa riffs, to Melody Gardot's atmospheric ballad If I Tell You I Love You, a sly Brecht-Weill homage.
They celebrate the spirit of James (who died last year) and Franklin on the album's two most infectious songs, Rhymes and See Saw, and the eerily gothic Strange Fruit closes in an intense tribute to Holiday, with producer Shirley layering in swamp-like sounds behind Hart's vocal and Bonamassa's echoing guitar cadences.
Shirley played hands-on roles on Don't Explain and Seesaw, including helping select the songs. South African-born and now US-based, he's produced most of Bonamassa's recordings and DVDs, including live gigs in London, New York and Vienna.
But his credits range far wider, from Led Zeppelin and Aerosmith to the Black Crowes and John Hiatt, while Australian bands like Silverchair, Baby Animals and Hoodoo Gurus reaped the benefits of Shirley's earlier Sydney sojourn (his first port of call after leaving Cape Town).
He must have impressed Beth Hart, too, as she also got him to produce her 2012 solo effort, Bang Bang Boom Boom.
* Mike Daly is a former Age journalist and music writer who hangs out at MikeDalyMusic.com