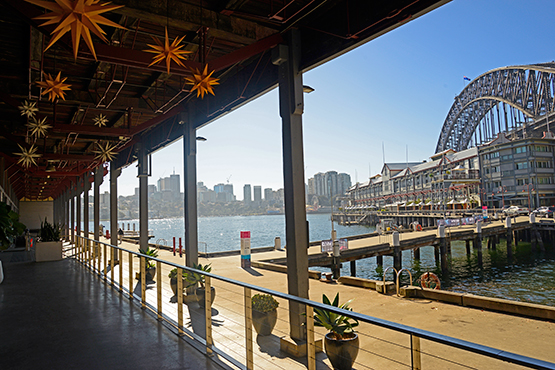 The Pier One development is a luxury hotel make-over of the former No.1 pier alongside the Sydney Harbour Bridge. Picture: © Sydney.com.au
Formerly a P&O ocean liner terminal,
Pier One is now a luxury hotel
Pier One is a luxury Sebel hotel with a difference. It's situated in a historic pier building built in 1912 and is the first of a series of four piers that line the foreshore of small Walsh Bay, hence the name Pier One. The pier was a cargo wharf and passenger terminal for P&O liners until 1977.
Pier One stands in the water at Dawes Point beside the southern pylons of the Sydney Harbour Bridge. It is a stunning location for a hotel and the planners have taken advantage of the supreme harbourside vantage point. Original timber beams and ironwork cleverly highlight the pier building's maritime history and the hotel doesn't feel like a large grand hotel, but more like a luxury boutique one.
Pier One Hotel, which opened in 1999 and was renovated in 2012, has 189 rooms. Four 62-square-metre "Harbour View Balcony Suites" have wrap-around ceiling-to-floor windows that exploit the harbour views. Each suite has its own large private balcony with timber-deck floors and views of the Harbour Bridge and Luna Park. The largest balcony - 40 square metres - protrudes over the edge of the pier.
Twenty two of the rooms face the water.
The hotel's lobby has a section with a glass floor, which reminds guests and visitors that the hotel is over the water. Big exposed wooden beams are a feature of the common areas and also appear in guest rooms.
Commissioned paintings hang on hotel walls in the foyer and common areas.
The hotel encourages public access - probably because of the building's heritage listing - and main attraction for visitors are the Gantry Restaurant and Bar, which overlooks Walsh Bay, and the zinc-clad bar, which dazzles with style.

There is a function and conference facility with floor-to-ceiling views of Sydney Harbour.
The hotel offers free yoga for guests on the pier under the Harbour Bridge and is pet-friendly.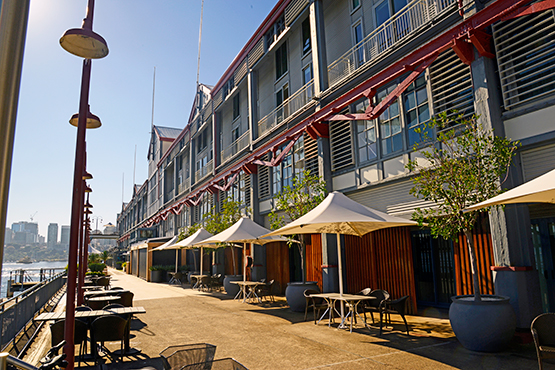 The hotel is able to say its accommodation genuinely comprises waterfront rooms. Picture: © Sydney.com.au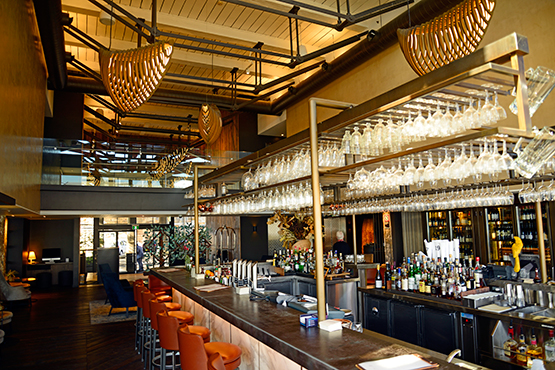 The Pier One main bar and hotel lobbies are a smorgasbourd of colour and interior design. Picture: © Sydney.com.au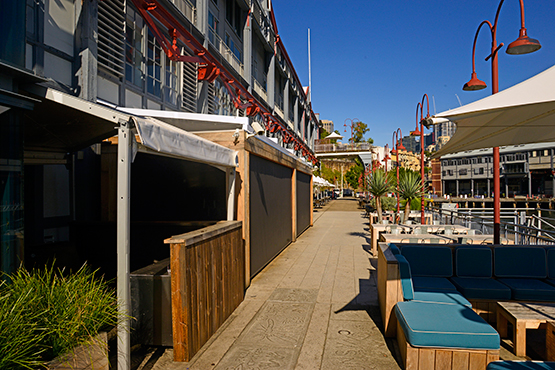 Outdoor tables and chairs line the wharf. Picture: © Sydney.com.au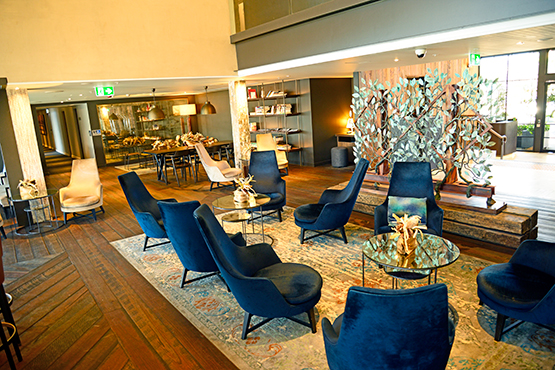 The lounge areas all look inviting. Picture: © Sydney.com.au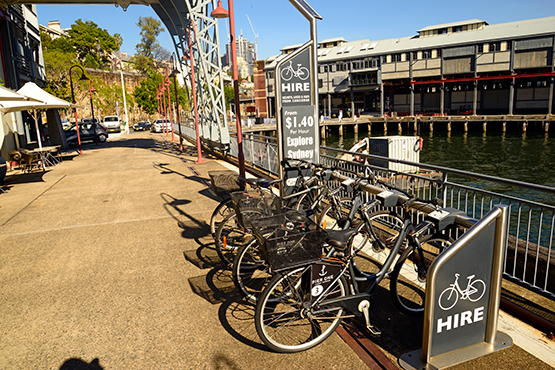 Hop on a bike and explore Sydney Cove and The Rocks. Picture: © Sydney.com.au