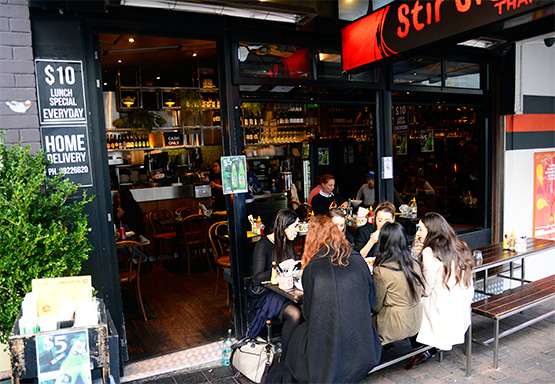 Girls' day out at this cafe in Broughton Street, one of a number of eateries situated beside the Sydney Harbour Bridge in Kirribilli. Picture: © Sydney.com.au → More pictures below
Al fresco dining in Kirribilli, in the
shadows of the Sydney Harbour Bridge
GETTING THERE
Catch the Neutral Bay ferry service from Circular Quay and get off at the first stop, Kirribilli wharf.
Eating out in Kirribilli is eating out with a difference.
Not that the food is all that different, if at all. Generally it's the same lunch and dinner fare that you find in many of Sydney's other eating-out precincts. What is different is the location and the atmosphere created by dining at such a location, and the added experience of getting there.
There are lots of cafes and restaurants scattered around the northern end of the Sydney Harbour Bridge. With some fooderies, you're dining alongside the final section of the bridge before it becomes a motorway to the northen suburbs.
With the bridge towering above you a short distance away, at times it seems as though you're eating under it. No matter where you dine in Kirribilli, you become acutely aware of the bridge's presence.
The other thing different about eating out in Kirribilli is the delight of getting there. Catch a ferry at Circular Quay and you get to enjoy one of the shortest ferry rides on Sydney Harbour. Short perhaps, but undoubtedly one of the most scenic as you get to sail alongside - and almost under - the Sydney Harbour Bridge with the iconic Sydney Opera House on the port bow.
Seven minutes after boarding the ferry you step off at Kirribilli wharf, with a short and pleasant walk up the hill in Broughton Street to where the cafes and restaurants are. There's a good selection of cafes and restaurants from Fitzroy Street up past Burton Street and most cater for sidewalk dining, which heightens the experience of eating so close to the bridge.
After you've finished eating, if you decide to go back on the ferry the walk back down Broughton Street provides a picturesque view of the Opera House a short distance across the water. At night the experience is better with the lights of the bridge and the opera house, and the lit-up ferries darting about the harbour.
If, however, you feel like a walk after lunch or dinner you can opt to walk back across the bridge. At Burton Street you will find the "Bridge Stairs, which take you up onto the bridge's pedestrian walkway. It's about a 1.7-kilometre walk across the bridge until you reach the stairs on the southern side. These stairs lead down into The Rocks and it's an easy walk from there to George Street or Circular Quay.
- Rod Ashcroft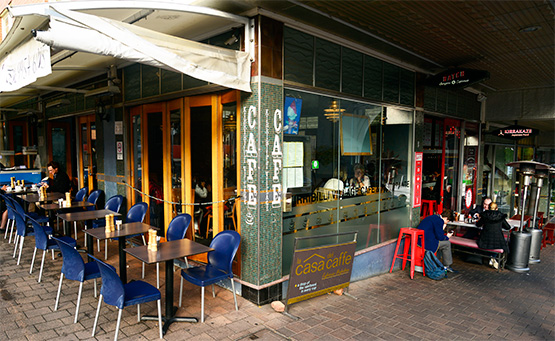 No shortage of tables on the sidewalk here. Picture: © Sydney.com.au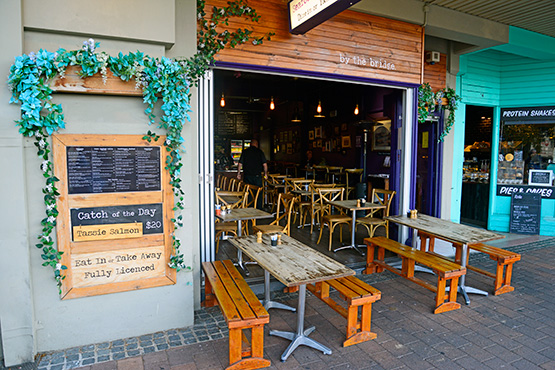 Casual dining by the Sydney Harbour Bridge. Picture: © Sydney.com.au

A table with a bridge view. Picture: © Sydney.com.au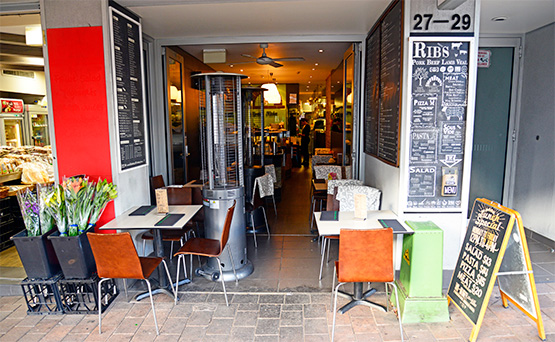 One of the small appealing cafes that give Kirribilli its charm.
Picture: © Sydney.com.au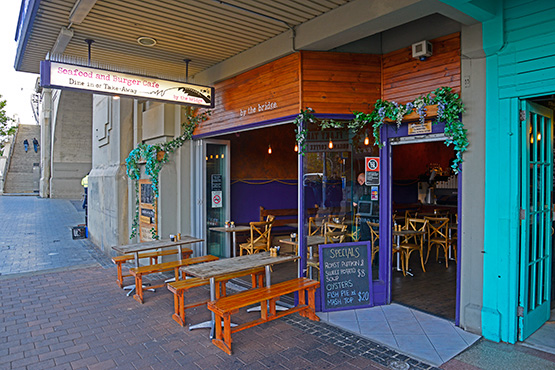 The stairs in the background lead up to the Sydney Harbour Bridge pedestrian walkway. Picture: © Sydney.com.au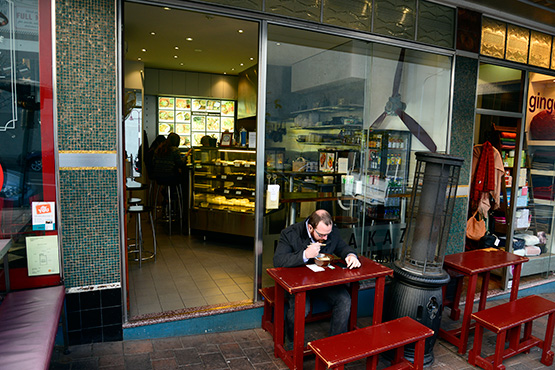 Another cafe bursting with character. Picture: © Sydney.com.au

Sidewalks take up part of the road in Fitzroy Street to allow for more tables and chairs. Picture: © Sydney.com.au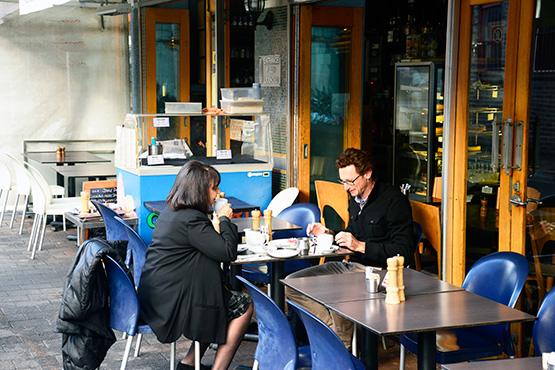 The pleasure of eating outdoors. Picture: © Sydney.com.au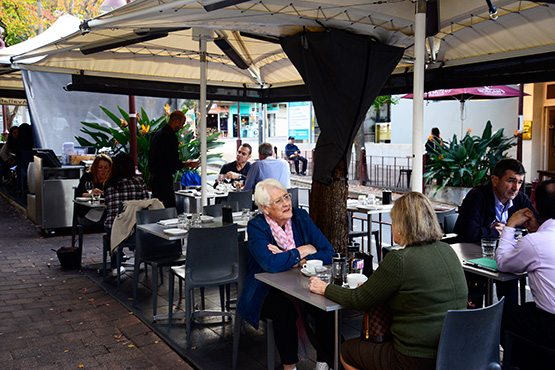 Meeting up ith a friend. Picture: © Sydney.com.au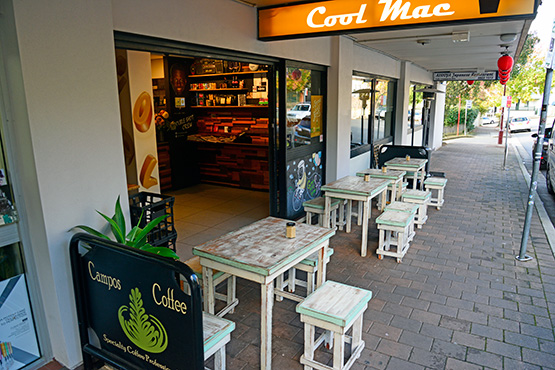 Now that's cool! Picture: © Sydney.com.au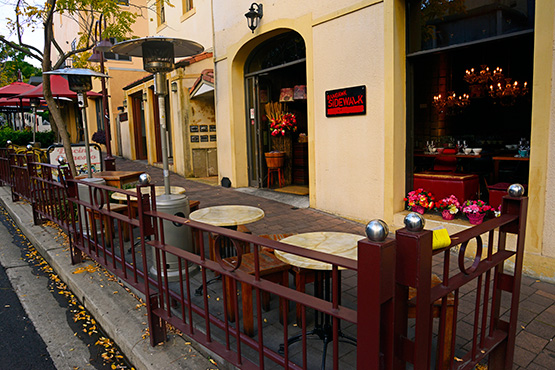 All set up for cooler days. Picture: © Sydney.com.au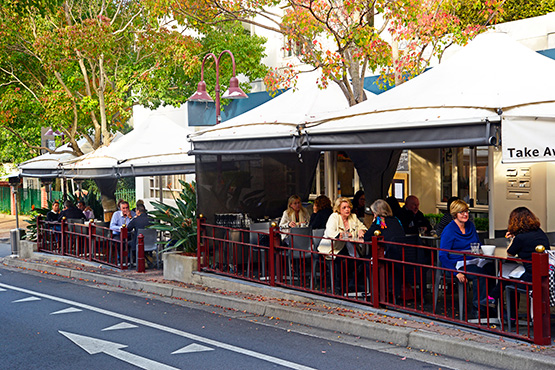 Sidewalk tables are a fixture in this Kirribilli street. Picture: © Sydney.com.au