SYDNEY CHURCHES
The Holy Trinity Church, also known as the "Garrison Church", was the first official military church in the Colony of New South Wales. Picture: Toby Hudson, Wikipedia
Holy Trinity Church
The Holy Trinity Church, in Millers Point, was Sydney's first "Garrison Church", or Australia's first military church.
The foundation stone for the Holy Trinity Church was laid in June 1840 with the first recorded service held in May 1844.
Each morning soldiers from the Dawes Point Battery would march to the church.
Two major oversights are associated with this church; the first relates to its construction - the foundation should have been laid facing North / South but was in fact laid East / West. This is considered a fortuitous oversight, however, as the renowned East Window catches the morning sun. The second is that the church was consecrated in 2000, 160 years after its founding.
Funds were raised in the late 1800's to build the church tower. The tower never eventuated so the funds were applied to roof repairs in 1938.
The Church is situated on the corner of Argyle and Lower Fort streets, Millers Point. It is close to the Sydney Observatory and about five minutes walk west of The Rocks.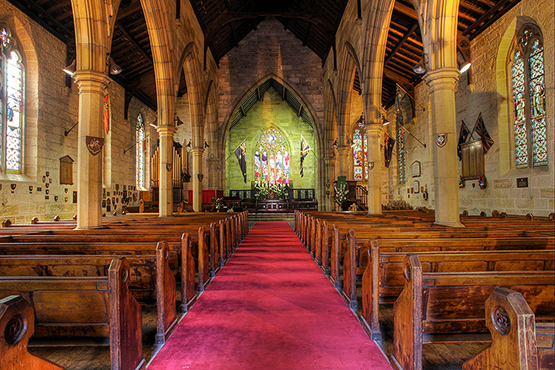 The interior of the "Garrison Church", which was built between 1840 and 1843. Picture: Moonlight0551, Wikipedia
Holy Trinity Anglican Church School in Miller's Point. Picture: Moonlight0551, Wikipedia