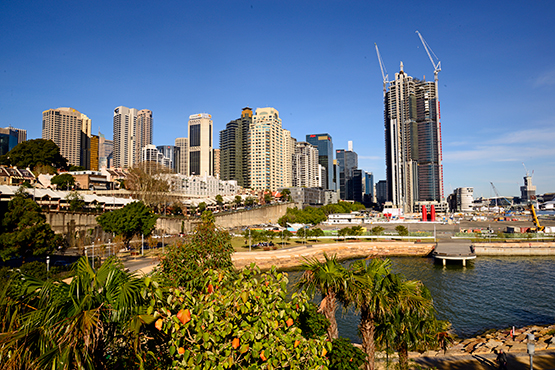 The old Millers Point gasworks site as it is today with high-rise buildings already in place on the water's edge and more about to be built. Picture: © Sydney.com.au
Sydney's first gasworks stood
out on Millers Point foreshores
Sydney's first coal gas street lights were powered in the 1840s from a gasworks situated on what is now some of the prized land on the foreshores of Sydney Harbour.
The gasworks were built by the Australian Gas Light Company (AGL) on the foreshores of Millers point between 1837 and 1840. The gasworks plant dominated the Millers Point foreshores.
The first Sydney gas street lights were lit up in 1841 to celebrate Queen Victoria's birthday but it wasn't until 1843 that street lights started to be installed in some Sydney streets.
The street lights played a key role in Sydney's retail development, providing opportunities for people to browse shop windows at night and also enabling trading after dark. The lights also made people feel much safer after dark.
Many of the lights were placed outside pubs by tavern keepers to deter "riotous hordes of villains".
The site powered the city's first gas street lights, which encouraged night-time shopping and made citizens feel safer after dark.
The gasworks were decommissioned in 1921 as part of the destruction programs that were introduced in Millers Point and The Rocks districts as a result of the Bubonic Plague. A rat-proof wall to stop rodents migrating from the wharves to nearby homes was built as part of the massive clean-up that took place throughout Millers Point and The Rocks. This required the removal of gasworks structures.
Even though the gasworks were decomissioned almost 100 years ago, their toxic legacy remains today with an estimated 150,000 tonnes of contaminated soil - including large deposits of coal tar - buried in the soil. The area will have to be decontaminated before a hotel and three apartment blocks can be built as part of the Barangaroo development.

This historic photo shows the gasworks site from the same vantage point, as it appeared in the mid to late 1800s. Picture: State Libray of NSW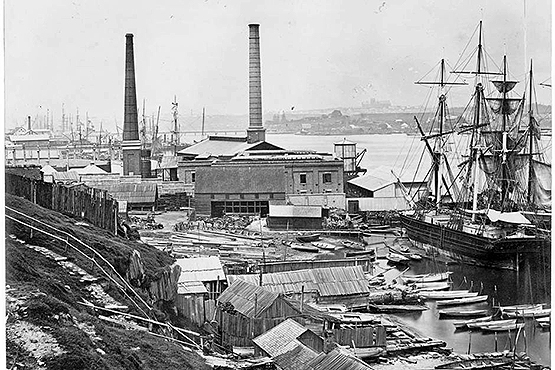 The gasworks clearly dominated the forshores of Millers Point. Picture: State Libray of NSW

A close-up look at the Millers Point Gasworks. Picture: Public Domain