HISTORIC SYDNEY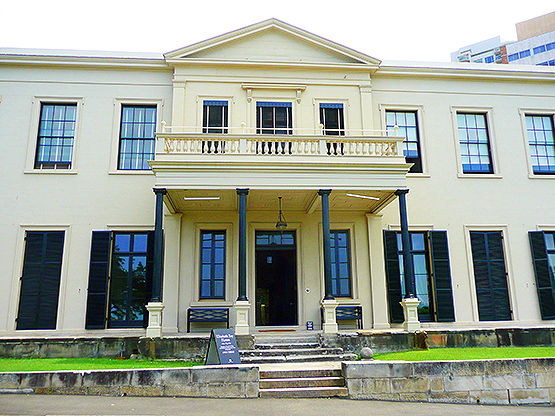 The interiors of Elizabeth Bay House present an evocative picture of life in the 19th century. Picture: Sardaka, Wikipedia

Elizabeth Bay House a superb
example of colonial architecture
Designed by the fashionable architect John Verge for Australia's Colonial Secretary of the time, Elizabeth Bay House is a superb example of colonial architecture in a magnificent setting overlooking Sydney Harbour.
The House, which is now part of Eastern Suburbs suburbia, was originally set in a 54-acre garden.
The ground floor HAS seven rooms, which include drawing and dining rooms, a saloon and library.
The upper floor, access to which is gained via the grand staircase, comprises bedrooms, a morning room and a maid's room.
Most of the rooms are elegantly furnished to the period 1839-1845 and the interiors present an evocative picture of 19th century life.
Spread throughout the drawing room and library are selections from the Macleay botany and insect collections.
For an informative and historic perspective on the Macleay family, Elizabeth Bay House and surrounds, a video - with actors portraying the main characters and a voice over describing the times - is run continuously in one of the two cellars.
Allow at least an hour to 90 minutes to view the house and gardens.
DETAILS
Location: 7 Onslow Avenue, Elizabeth Bay
Telephone: (02) 9356 3022 (Int) +61 2 9356 3022
Opening hours: Friday, Saturday & Sunday 11:00am - 4:00pm (Closed Christmas Day & Good Friday). Available for group bookings Mondays to Thursdays.
Amenities: Gift shop
Services: 18 minute period video; Multi-language tour brochures
Access: There is an admission fee; Wheelchair access - ground floor only
Website: Elizabeth Bay