SYDNEY ISLANDS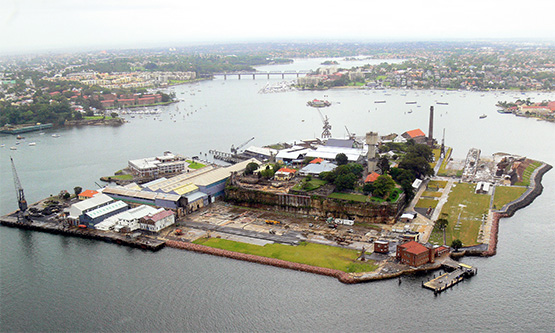 Cockatoo Island, which is on the UNESCO World Heritage List, lies at the junction of the Parramatta and Lane Cove rivers in Sydney Harbour. Picture: Spud Murphy, Wikimedia Commons
Cockatoo Island so significant it has
a UNESCO World Heritage Listing
Cockatoo Island in Sydney Harbour was first a convict prison, then a reformatory school for girls, then Australia's biggest shipyard, and now a place where you can rent a grand heritage home for a short stay, engage in "glamping" or else pitch a tent on the island's camping ground.
The largest island in Sydney Harbour, Cockatoo Island is situated near the Balmain peninsula at a point where the Parramatta and Lane Cove rivers meet.
It's dark history lay in being yet another of Sydney brutal penal settlements, where convicts were put to work building prison barracks, military guardhouse and official residences. The main form of hard labour on the island was quarrying, labouring and construction which saw 580,000 cubic feet of rock excavated to create 14-metre sandstone cliffs to prepare an area to construct Fitzroy Dock. The dock was construcetd between 1839 and 1847 and is Australia's only remaining dry dock to be built using convict labour.
In 1839–40 the convict labour was used to cut deep into the rock and construct underground silos for storing the colony's grain supply.
Quarrying on the island also provided stone for a group of penal buildings on the island and for construction projects around Sydney, including the wall for semi-Circular Quay.
Historical documents reveal that life was so harsh for convicts living on the island, that up to 500 men were forced to share quarters the size of a large modern family house. The conditions were so vile that each man slept huddled up in a 45cm space.
In 1870-80, prisoners were removed from the island and relocated to Darlinghurst Gaol. Afterwards, the island was used for an Industrial School for Girls and a reformatory. A ship, the Vernon, was anchored near Cockatoo Island to train wayward and orphaned boys.
Cockatoo Island is one of 11 penal sites listed by UNESCO. The island, with its impressive dry dock, sandstone convict gaol and barracks, hand-carved silos and other features, was inscribed on the UNESCO World Heritage List in 2010.
Cockatoo Island has a significant maritime history. In 1913 it was designated the Commonwealth Naval Dockyard and Australia's first steel warship was built shortly thereafter.
Between 1945 and 1965, T-Class submarines were refitted there and destroyers HMAS Voyager and HMAS Vampire built. Oberon-class submarines were refitted in the period up until 1992, when the dockyard was closed, machinery sold off and buildings demolished.
Between 1930 and 1945, the island was the major shipbuilding and dockyard facility for the South West Pacific following the fall of Singapore in World War II.
Huge industrial sheds, slipways, wharves, residences, workshops and tunnels are gritty reminders of the island's maritime days. At its peak during WWII, more than 4000 men worked here building and repairing ships. Two tunnels were cut under the plateau of Cockatoo Island, the larger dogleg tunnel built to move workers and materials from one side of the island to the other.
Today this island bursting with history is open to the public. Visitors can arrive by ferry and explore the island's intriguing heritage and magnificent views.
You can book a tour of the island or explore it at your leisure on a self-guided walk. You can engage in "glamping" (where a tent and bedding is provided) or you pitch a tent and camp overnight in the new harbourside campground. Bookings and information are available from the Sydney Harbour Federation Trust in Cadmans Cottage in The Rocks or by visiting the Cockatoo Island website.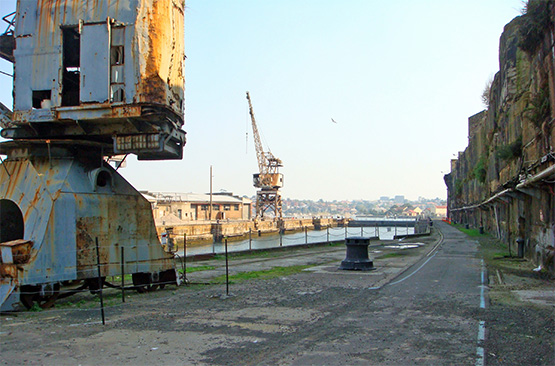 Now neglected with rusty gantries and cranes, Fitzroy dock has a historic place in Australia's maritime history. Picture: Wikimedia Commons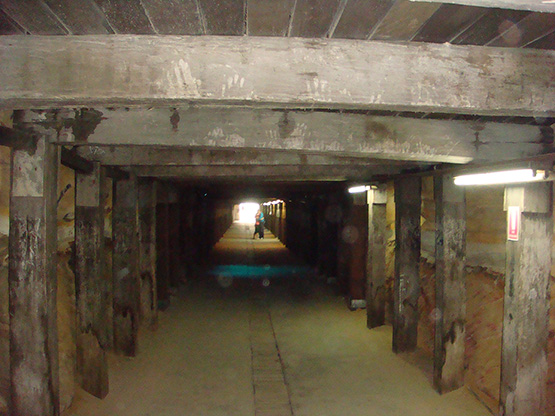 ABOVE AND BELOW: One of two island tunners, the larger dogleg tunnel was built to move workers and materials from one side of the island to the other. Pictures: Wikimedia Commons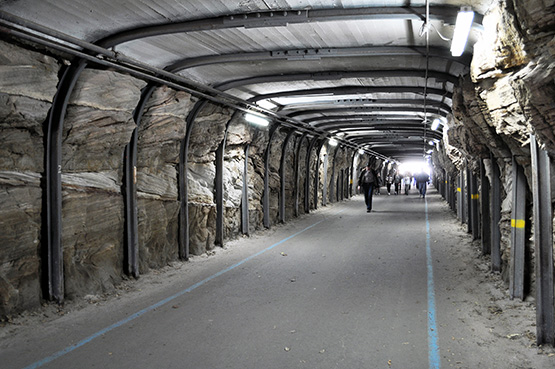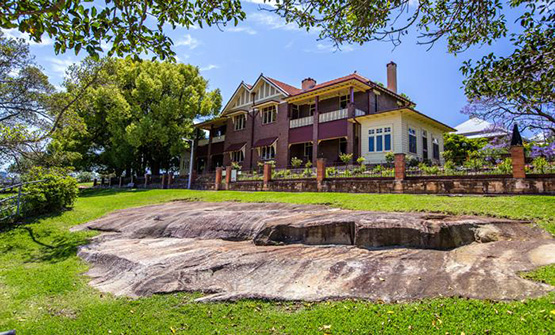 One of the Federation-style heritage homes on Cockatoo Island that can be rented for a short stay. Picture: cockatooisland.gov.au
The magnificent view from the verandah of one of Cockatoo Island's heritage homes. Picture: cockatooisland.gov.au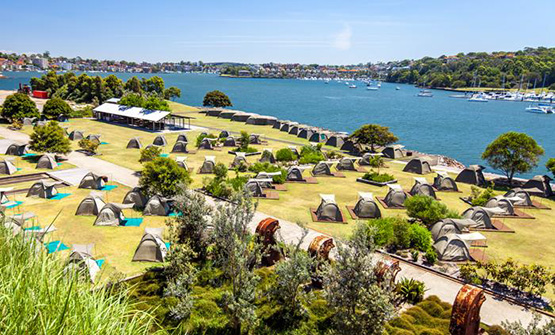 The camping ground on Cockatoo Island -bring your own tent or else try "glamping" with the tents provided. Picture: cockatooisland.gov.au