The first part of the walk skirts along the foreshores of Circular Quay to Dawes Point, directly under the Sydney Harbour Bridge. Picture: © Sydney.com.au
Circular Quay to Barangaroo Reserve and Darling Harbour Walk - Part 1



Explore the foreshores of Sydney Cove
The walk starts at the western side of Circular Quay, where the foreshore curves around towards the Sydney Harbour Bridge.
Stunning scenic views aside, to fully appreciate this walk you need to keep in the back of your mind that you are walking around the earliest settled land in Sydney, and Australia. Try and imagine what it would have been like in the times of the arrival of the First Fleet - rocky shores and dense forest - and then enjoy the spectacle of what it is now.
Keep to the railing that runs along the foreshore and you will see a large building in the near distance, which is directly opposite the Sydney Opera House. This is the Overseas Passenger Terminal and there's every likelihood that an ocean liner cruise ship will be tied up at the terminal. If the foreshore is closed off because of the cruise ship you may need to walk along the front of the terminal, in Circular Quay Way.
At the end of the Overseas Passenger Terminal building you will notice opposite the distinctive shape of the Australian Steam Navigation (ASN & Co) Building, constructed in 1884 in the rare Pre-Federation Anglo Dutch architectural style. You could be excused for thinking the building somewhat looks like a church because its prominent architect, William Wardel, was not only known for designing public buildings, banks and warehouses, but also for churches.
The walk contines past a row of former warehouses built in 1839, called Campbells Stores. These buildings are now the home to a row of trendy waterfront restaurants.
In the background, behind the Cambell's Stores buildings you can see the Metcalf Bond Stores, which were constructed much later (between 1912 and 1916), which were converted to offices and shops in the early 1970s.
From here the walking path skirts around the foreshore past the Park Hyatt five-star hotel. Situated in Sydney Cove, adjoining Circular Quay, facing the Sydney Opera House and in the shadows of the Sydney Harbour Bridge, one could argue that aesthetically the Park Hyatt has the best vantage point of any hotel anywhere in the world.
The walking path leaves Circular Quay and Sydney Cove behind as it reaches out to Dawes Point, a Sydney suburb on the north-western edge of the CBD and southern end of the Sydney Harbour Bridge. Dawes Point was the site where the first guns were mounted in Sydney in 1788, coinciding with the arrival of the First Fleet. It is also the site of Sydney's first cemetery.
Continue to part 2 of the walk
Pictures of the walk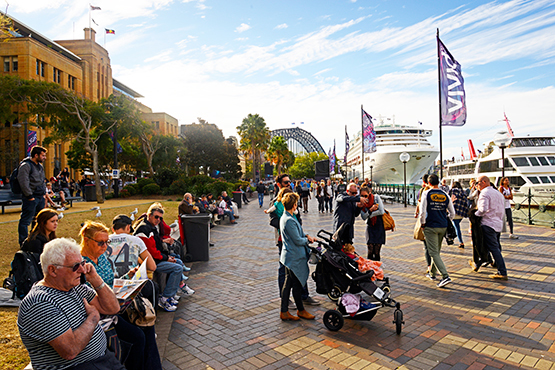 The walk starts at Circular Quay and follows the foreshore around past the Overseas Passenger Terminal, where a large ocean liner cruise ship is usually moored. Picture: © Sydney.com.au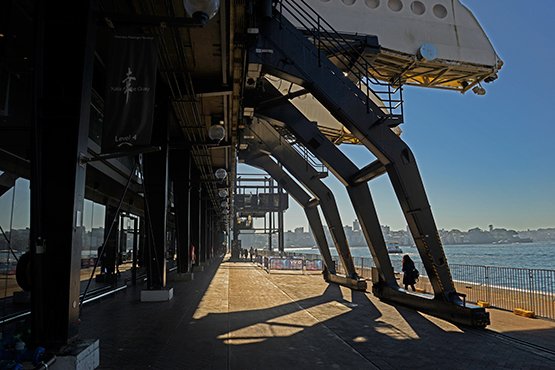 On this occasion the ocean liner terminal is vacant. Picture: © Sydney.com.au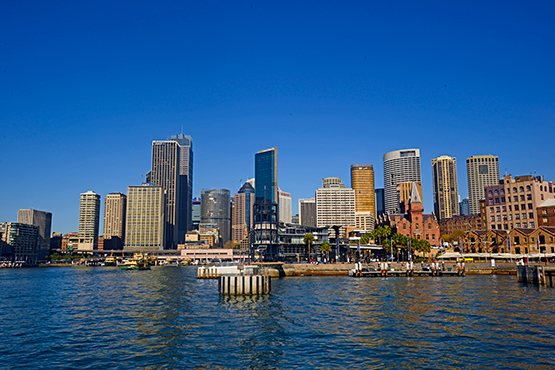 The area of the Sydney Cove foreshore that the walk skirts around. On the left is Circular Quay, in the centre the Overseas Passenger terminal and to the right The Rocks district. Picture: © Sydney.com.au

The walking path swings past the row of former warehouses, which are now trendy waterfront restaurants. Picture: © Sydney.com.au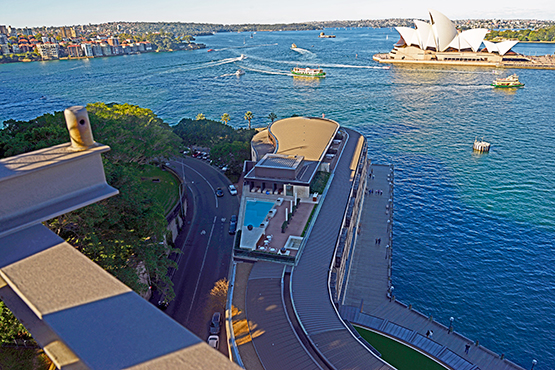 The five-star Park Hyatt sits in a prime position in Sydney Cove, facing the Sydney Opera House and adjacent to the Sydney Harbour Bridge. The walk skirts around the hotel foreshores towards the harbour bridge. Picture: Sydney.com.au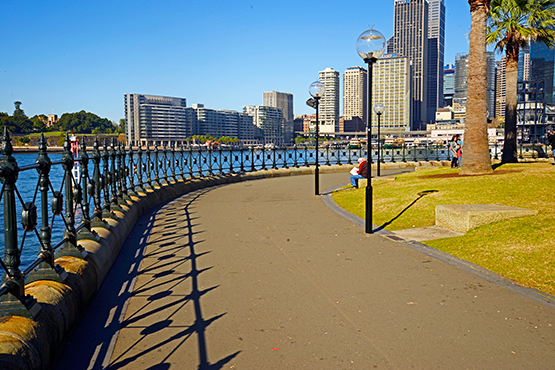 The walking path leaves Circular Quay and The Rocks behind as it winds its way to Dawes Point. Picture: Sydney.com.au