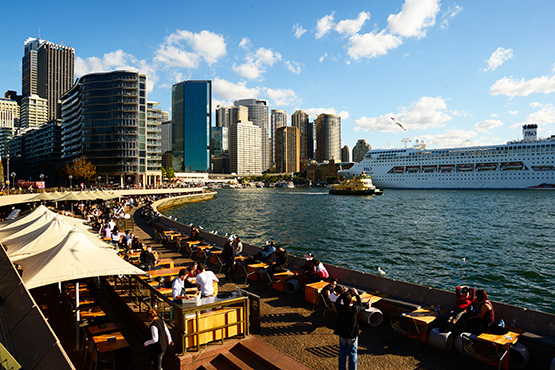 Welcome to Circular Quay and a myiad of restaurants - each with stunning harbour views. Picture: © Sydney.com.au → More pictures of Circular Quay below
Dining with ferries, the Opera House
and iconic Sydney Harbour Bridge
GETTING THERE

Catch a train, bus or ferry to Circular Quay. Walk towards the Sydney Opera House.
The 350-metre strip that lies between Circular Quay and the Sydney Opera House is Sydney's most popular area for eating out, drawing huge numbers of visitors on weekdays as well as weekends.
That's not surprising because Sydney Cove is a hub for people visiting the city and offers an unparalled dining out experience, whether it be breakfast, lunch or dinner.
This is Sydney's No.1 buzz spot because of the spectacular setting and the throb of the ferries coming and going at Circular Quay and people making their way back and forth to the Opera House.
The upper and lower promenades that span the short distance along the foreshore from No. 2 Wharf to the Opera House have largely been given over to restaurants, where most of the dining experience happens outdoors.
Thousands of tables and chairs and stools are set up on upper and lower promenades against a backdrop of the CBD's towering buildings. Look to one side and there is Circular Quay and its quaint older-type yellow and green ferries; look to the other side and the Sydney Opera House glows in the afternnon sun. Across the water, on the far side of Sydney Cove, the Sydney Harbour Bridge is a revelation in steel.
All Sydney's iconic attractions are here in this tiny area that comprises Sydney Cove, and what better place to stop and chill out, and eat or drink, and admire them.
No matter where you choose to take up a table and chair, the views are supreme. Close to the Opera House you eat facing the Harbour Bridge. Back towards the CBD, the Quay and its ferry traffic command your attention. Approaching No.2 Circular Quay Wharf, there is a small group of restaurants with prime waterfront positions - so close to the sea spray that you can almost reach out and stroke the ferries as they depart the wharf. At the quay itself there are small restaurants opposite the ferry wharves, backing onto the Circular Quay railway station.
This is an area visitors love to flock to. You can sit here under a sunny bright blue sky for hours on end and watch the ferries, and the world, go by. At night in winter months the city bursts into light as early as 5pm, and the cove is on steroids with people milling around. Ferries, now lit up, keep coming and going.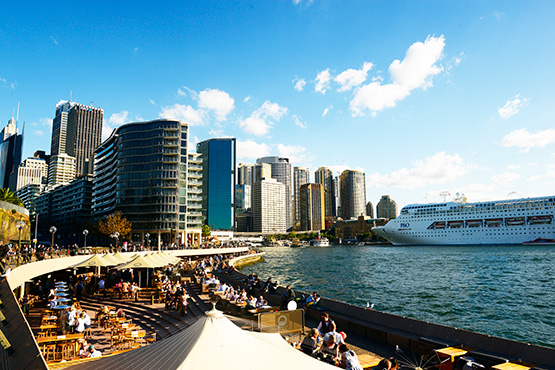 Walking back from the Sydney Opera House you suddenly are aware of an ocean of tables and chairs between yourself and Circular Quay.
Picture: © Sydney.com.au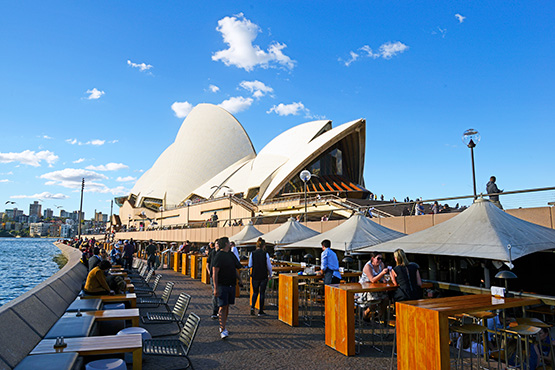 Restaurant tables pop up right outside the Opera House.
Picture: © Sydney.com.au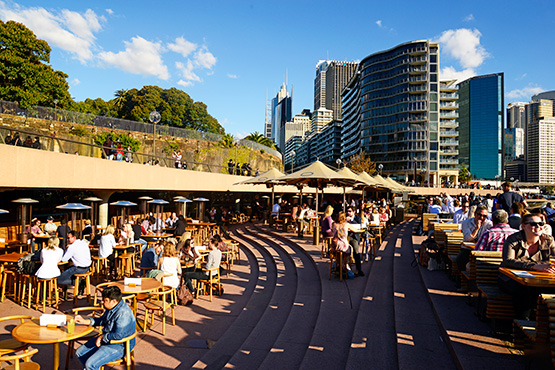 The lower promenade between the Sydney Opera House and Circular Quay. Picture: © Sydney.com.au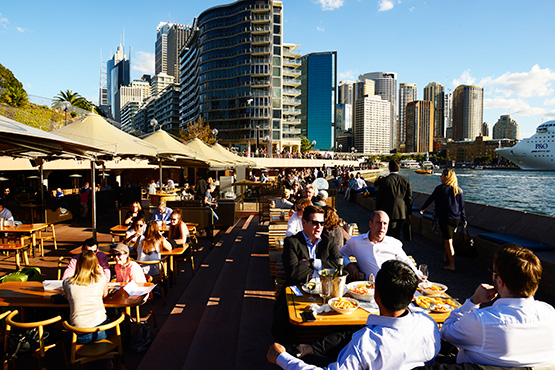 Lunch on the lower promenade with some of the best views of Sydney Cove. Picture: © Sydney.com.au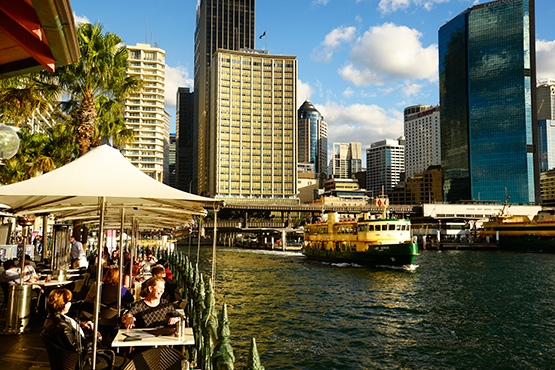 Waterfront restaurants close to Circular Quay. Picture: © Sydney.com.au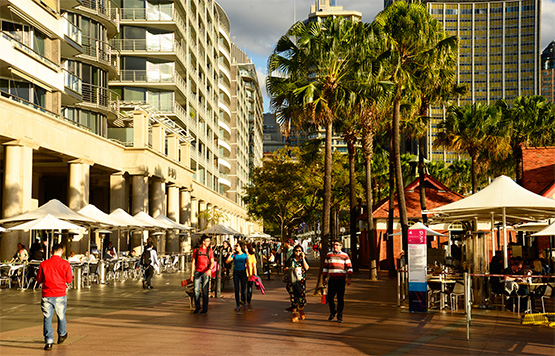 The upper promenade leading to Circular Quay. Picture: © Sydney.com.au

Even in winter, people are drawn to the Quay restaurants.
Picture: © Sydney.com.au

Visitors to Circular Quay restaurants dine under the lights of the CBD.
Picture: © Sydney.com.au

Night vistas of Sydney Cove and the Harbour Bridge. Picture: © Sydney.com.au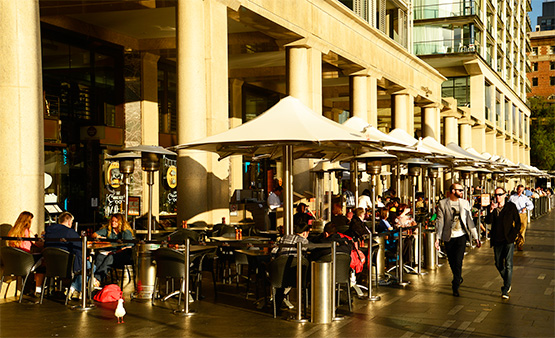 Restaurants are well set up for outdoor dining in Sydney's cooler months.
Picture: © Sydney.com.au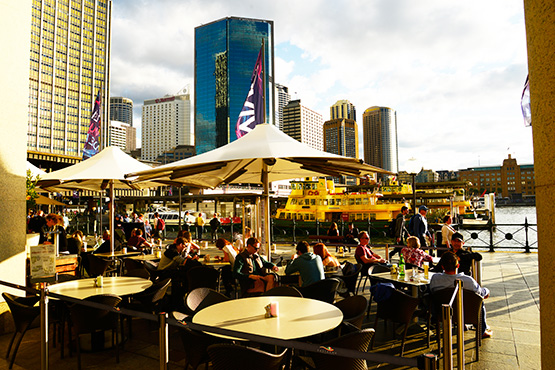 Ferries come and go as lunch-goers soak up the sun. Picture: © Sydney.com.au

Outdoor restaurants opposite ferry wharves at Circular Quay.
Picture: © Sydney.com.au

Cafes and restaurants also pop up ouside the cruise ship passenger terminal, on the western side of Circular Quay. Picture: © Sydney.com.au