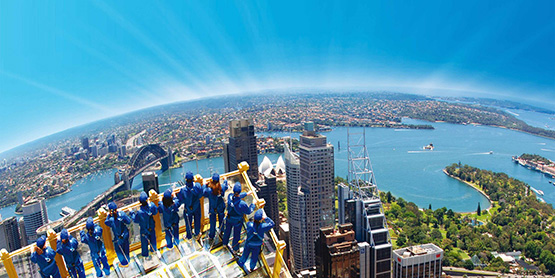 High above Sydney on a platform of glass. Picture: © Sydney Skywalk
Best views of Sydney are from the
250m-high Skywalk glass platform
Sydney Skywalk offers visitors 360-degree views of Sydney and surrounds from the top of Sydney's tallest building.
The skywalk is near the top of the 309-metre Sydney Tower, which is the second highest observation tower in the Southern Hemisphere.
A 45-minute tour includes access to an internal observation deck and a 4-D cinema pre-show before being taken outside for a guided walk around the outside of the tower, culminating in walking out onto a glass platform 250 metres above the city.
The experience provides unmatched 360-degree views of Sydney Harbour and Middle Harbour, Paramatta and Lane Cove Rivers
Guests are fitted out in jump suits with safety belts that attach to chains, thus unsuring complete safety.