Sydney islands
Bare Island near to where Captain Cook landed
Bare Island is historically famous for two key events, it's near to where Captain James Cook first landed (he later referred to the island as that "small bare island"). It's also near to where the French captain Comte de Laperouse established a stockaid and garden.


A small memorial commemorating the settlement now stands on that spot.


In 1877 work began on the building of the fortification on Bare Island with the wooden bridge being erected to the almost completed works in late 1886. The fort appears to never have been completed because of ongoing repairs having to be continually undertaken, due to the shoddy workmanship during construction. By 1908 the Fort ceased to serve any defence purpose.
Since 1908 Bare Island has served as a war veterans home, was recommissioned as a defence post in 1942 to protect Botany Bay from possible enemy attack and was finally acquired in the early '60s by the NSW Government. In October 1967, Bare Island became one of the first historic sites in NSW under the management of the National Parks and Wildlife Service.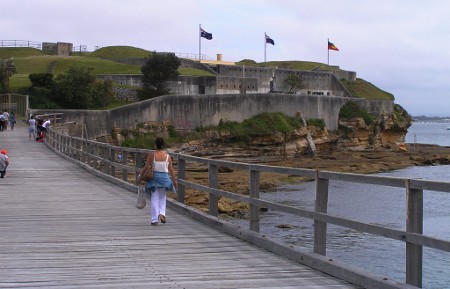 Bare Island, Botany Bay, Sydney
Bare Island is located approximately 14k south of Sydney on the shores of Botany Bay not all that far past the Domestic Terminal of Sydney Airport. Getting there by car is probably the easiest but a regular bus service departing Circular Quay (324 or 325) will get you there. Alight La Perouse.
Take a walk around Bare Island when the tide is out, have a picnic on the large grassed area around La Perouse Museum or take a guided tour inside the Fort but only on Sundays. Tickets can be purchased prior to the tour from the Museum. Bookings are essential.
Information on Bare Island can be obtained from the Sydney Harbour National Park Information Centre, located in Cadmans Cottage at The Rocks or by phoning (02) 9253 0888 (int 61 2 9253 0888).