The Rocks Market, Sydney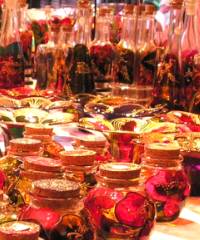 A colourful stall at
The Rocks Market Sydney
Located at the north end of George Street, this is the major tourist Market in Sydney. With the backdrop of the Sydney Harbour Bridge and nestled within the historic Rocks area it's a perfect place for an enjoyable day browsing.
On market days you'll be surrounded by colour and movement from the wide variety of stalls, be tempted by the smells of the food stalls and be entertained by the talented street performers who wander the streets to share their music and performances.
The market, open on Saturday and Sunday between 10:00 and 17:00, caters for all things arts and crafts.
Browsing under the distinctive yellow sails you'll find arts and crafts, photography, australiana, indigenous artware, jewellery, books and much more. In all there are something like 150 stalls.
For more information try here.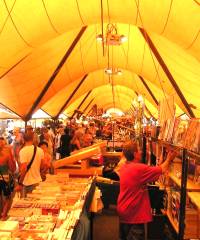 Under the Sails
The Rocks Market Sydney
More Markets Around Sydney.
And for a little further afield,