SYDNEY ISLANDS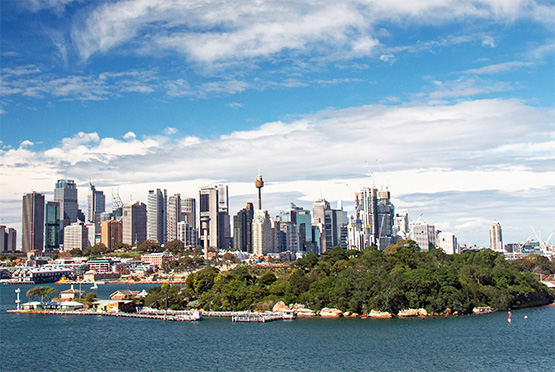 Goat Island started out as a sandstone quarry but ended up being put to a lot of uses, including a harsh prison. Picture: Wikimedia Commons
Goat Island, the largest of the
harbour isles, has a dark history
Goat Island is the largest island on Sydney Harbour and is situated north-west of the Sydney Harbour Bridge, off the shores of Balmain. There are regular group tours to the island.
Over the span of time Goat Island has served as a quarry, convict stockade, explosives store, police station, fire station and boatyard. In recent times it has been used as a film set. The island is now part of the Sydney Harbour National Park.
Its first use, in 1831, was as a sandstone quarry, but the military officials soon put an end to that as the sandstone being taken away was deemed too important for military use, so the island became a storage point for explosives.
Goat Island has a dark history. For years, it was a prison for the worst of the convicts during the early penal colony times. The 18-year-old convict Charles "Boney" Anderson, who is believed to have had a mental illness, made several unsucessful attempts to escape from the island and received more than 1200 in 1835.
He was then sentenced to be chained to a rock on Goat Island for two years in an attempt to break his spirit. At night he slept in a cavity in the sandstone.
Anderson died at the age of 27 or 28 after further imprisonment on Norfolk Island and in Sydney.


A heritage tour of Goat Island includes a visit to Queen's Gunpowder Magazine, which was built by convicts. Visitors get to see what was once a quarry and "Bony" Anderson's couch. A night tour introduces tourists to the island's colourful and grisly past.