The small community of Dawes Point, which had a population of 544 in the 2011 cencus, is situated in the area around the Sydney Harbour Bridge's southern pylons.
Xxxxxxxxxxxxxxxxxx
xxxxxxxxxxxxxxxxxxx
Dawes Point is not hard to find. It's the area under and around the southern pylons of the Sydney Harbour Bridge. As such, it's position was of strategic importance to the English who settled Sydney Cove in the late 1700s and was the site of the settlement's first battery.
lThe area was originally known by the Aboriginal names of Tar-ra and Tullagalla but later renamed in honour of Lieutenant William Dawes, an astronomer with the First Fleet who brought out the first astronomical instruments and set them up at an observatory on the point. One of Sydney's most iconic buildings, the Sydney Observatory - a sandstone building in the Italianate style - was built on Observatory Hill in Dawes Park in 1858.
Since the mid 1800s, Dawes Point has been closely aligned with its neighbouring suburb, Millers Point, due to the maritime people who lived there. Wharf owners and traders lived and worked beside those who worked on the wharves and bond stores.
Today, apart from Dawes Park situated directly under the bridge, the area has largely been claimed by commercial interests in the form of two luxury hotels. The Park Hyatt sits on the eastern side of the bridge's pylons and the Sebel Pier One on the western side.
The surrounding area has a long history of people being displaced by the government of the day, something that is still happening in Millers Point today.
Dawes Point is a picturesque location. It looks out on the harbour to the north-east and east as well as directly across the waters to Milson Point, Lavender Bay and Luna Park on the lower northern shores.
It is such a pretty spot that wedding photographers frequently line brides and grooms up on the foreshore for their wedding photos.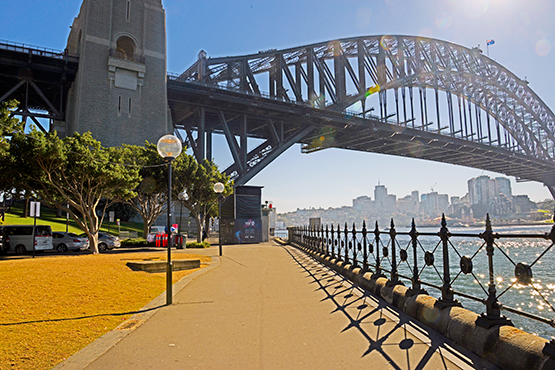 The point faces Lavender Bay, Milson Point and Luna Park on the Lower North Shore. Picture: © Sydney.com.au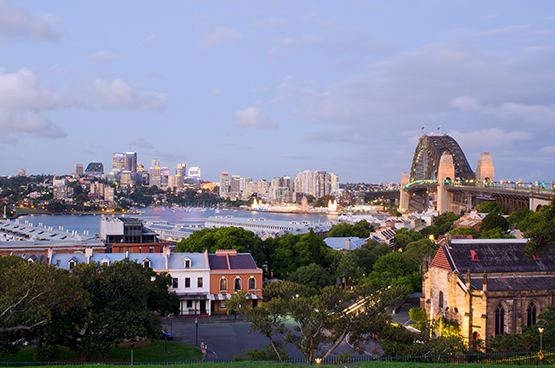 The Walsh Bar Wharves development can be seen beyond the terraces and trees of Dawes Point. Picture: © Sydney.com.au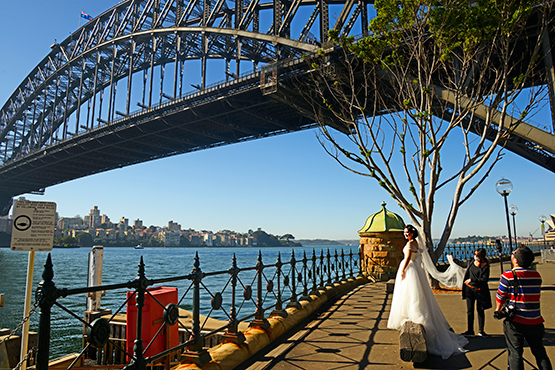 Dawes Point is a favourite spot for newly wed brides and wedding photographers. Picture: © Sydney.com.au

Dawes Point Park, directly under the Sydney Harbour Bridge. Picture: Sydney.com.au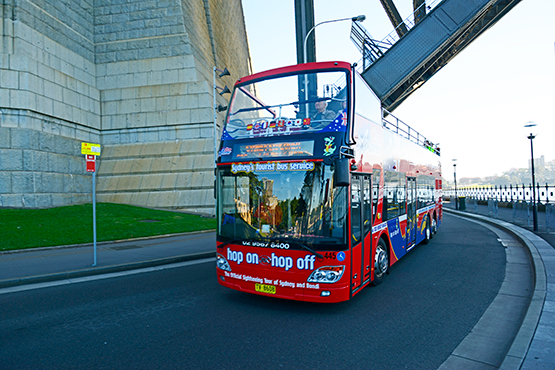 Dawes point is on the list of stops for the Hop on Hop bus. Picture: © Sydney.com.au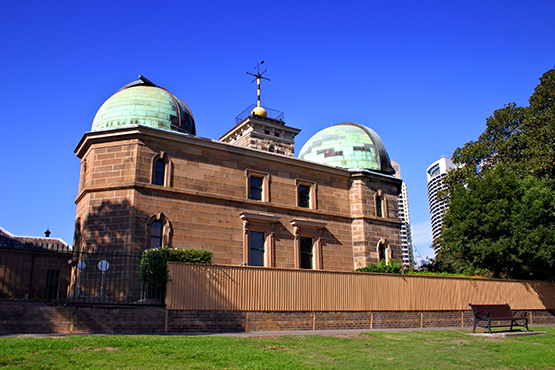 The Sydney Observatory, circa 1858, sits high above the streets of Dawes Point on Observatory Hill. Picture: © Sydney.com.au